And the nomination(s) for the show featuring songs from some of the coolest movies ever made, with fabulous vocalists and dancers, superb supporting band and a multi talented creator, producer and director are........ Steve Steinman and Iconic The Show!
The man has done it again, bringing his latest creation to the stage and entertaining a packed audience in a way he does so well. Following on from his previous successful shows including Vampires Rock, Steinman interacts with the audience from the start and his sense of humour shines through which guarantees you will be leaving the show with a smile on your face. There is not much of a storyline to Iconic, with an aging cinema usher Benson (John Evans), enticing customers into a midnight showing which promises a night to remember, but there is enough to give a platform for Steinman, Evans, Hayley Russell, Penny Johns and Victoria Jenkins to display their incredible talents whether acting, singing or dancing.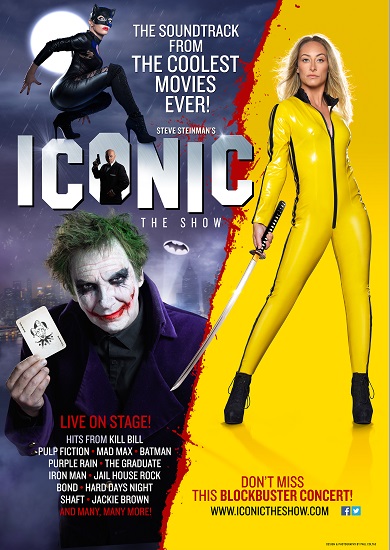 The choreography by Jenkins belies that this is just the third performance of the show and the girls are obviously at ease on the stage. But this is a tried and tested cast that have worked together on Steinman's other shows and the camaraderie between them all is evident.
The dialogue is hilarious if predictable, you get it after just a few sentences and is a clever use of famous movie quotes, songs and titles. First up is a medley of 'Bond' songs and there are clips shown at the back of the stage, but not some poor quality projections, these are superb quality screenings and a great accompaniment to the show along with impressive pyrotechnics . Seeing Steinman appear as Bond...well, I didn't know whether to laugh or cry, such a change from the vampire rocker image I have of him but I needn't of worried, as ever, Steinman doesn't take himself too seriously and pulls it off performing many of the soundtracks of the classic Bond films. With fabulous guitar playing during 'A View To A Kill' and in 'Dead or Alive' with bass guitarist Mary 'Garcia' Garner, guitarist Jamie Hiscox, Drums, Pete Jean and on keyboards Andy Preston this superb band recreate the soundtracks from the Bond era 'GoldenEye', 'Live and Let Die' plus many more including 'Kill Bill', 'Batman', 'Rocky Horror Picture Show' and 'Iron Man'. Evans gave a brilliant rendition of 'Writing on the Wall' from the 2015 Bond film 'Spectre' and later in the with 'Addicted to Love'.
After the interval, its 'derder derder derder Batman!' as characters from the film appear with Benson as the Joker. Enter Young Gun, Steinman and back to the rocker and the classic 'Dead or Alive'. With an amazing duet from Johns and Evans followed by Steinman back in his leather gear and a song with lyrics that depicted the show 'Don't Want to Miss a Thing,' the audience were singing and clapping along and rockin' in their seats. It had to be done, it wouldn't be a Steinman show without it.....'Bat Out Of Hell' brought the house down! (this isn't a soundtrack from a film but hey this is Steve Steinman's show and anything goes!) A standing ovation and loud and clear shouts for more brought a return to the stage with the fabulous 'Purple Rain'.
Iconic The Show, well Mr Steinman what can I say? 'You had me at Hello', 'I'll be back ' this show is just going to 'Infinity and Beyond!' 'Hasta La Vista Baby' …okay I'll get my coat!
Reviewer: Lorna Weekes
Reviewed: 26th March 2017
North West End Rating: ★★★★