Within Sight is a one-woman spoken word theatre show about living with albinism and confronting everyday ableism, particularly through our protagonist's training for, and life-long relationship with, the Paralympics. The live translation by BSL interpreter (Rachel Amey) is thus an integral part of the show's themes as well as of course being a very good thing to be able to offer in of itself.
The show effectively mixes writer and actor Ellen Renton's performance with sound (composed by Jack Hinks and Designed by David Devereux / Tin Can Audio) and video (designed by Kiana Kalantar-Hormozi) in order to bring the sense of the outdoors into the confines of a black box and evoque both the sensation and dangers of running and the streets in general.
Together they offer a very lyrical and powerful insight into a condition which, as the show points out, has a great deal of visibility in terms of Hollywood bad guys, but a lot less when it comes to actual mainstream understanding.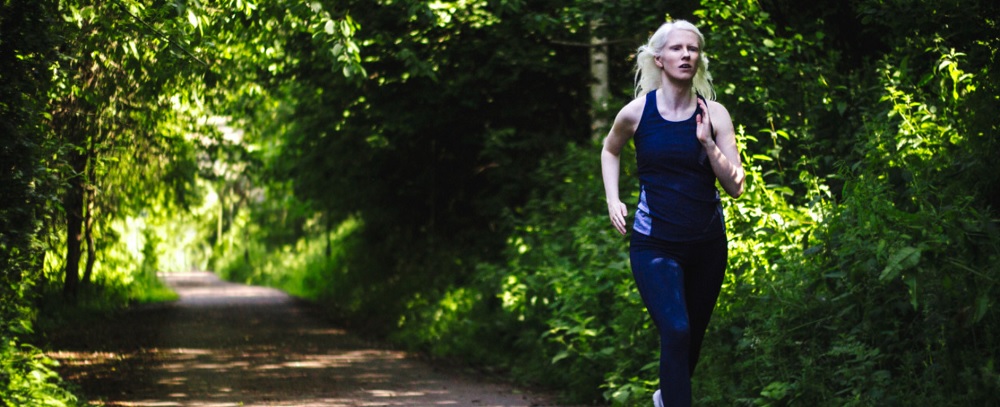 Understandably there is a great deal of anger in the show which, though well expressed, by its very nature may sadly have to miss its true target: however hypocritical or unhelpful its audience might have been and continue to be in their everyday lives, one suspects that those who need to hear this the most are those who would never come in the first place, though admittedly that thinking definitely won't help anyone and may be part of the hypocrisy at play here. Regardless of this probably useless thought, the calling-out of the audience is an entirely valid statement, which also taps into different questions on the nature of the relationship between audience and performer as well as that of the audience and the subject matter of the show.
The show is held together (as it needed to be) by its writer/performer and, though its spoken word aspect occasionally strays into mixes metaphor (does that matter? It didn't to Shakespeare) , it delivers on all the points it should thanks to strong writing, performance and usage of film and audio. Though this statement may annoy the writer, I'm sure this show will strike a chord with many who struggle, and offer a chance to learn to many others.
Reviewer: Oliver Giggins
Reviewed: 5th March 2020
North West End UK Rating: ★★★★