Nana puts the same lottery numbers on every single week, and this week was no different. When she wins the £8.2 million jackpot, her family is understandably over the moon, but what did she do with the winning ticket? Mike Yeaman's original script is extremely funny, and I wasn't the only member of the audience laughing out loud. His clever commentary on family dynamics, ageing, and the desire to better yourself kept me hooked from the first word to the last, and I certainly wasn't expecting the final twist when it came.
The script shone through the brilliant casting of Margaret Williams as Nana, who played the grandmother to perfection, well supported by Ian Tyler (Ronnie) and Victoria Worsley (Janice).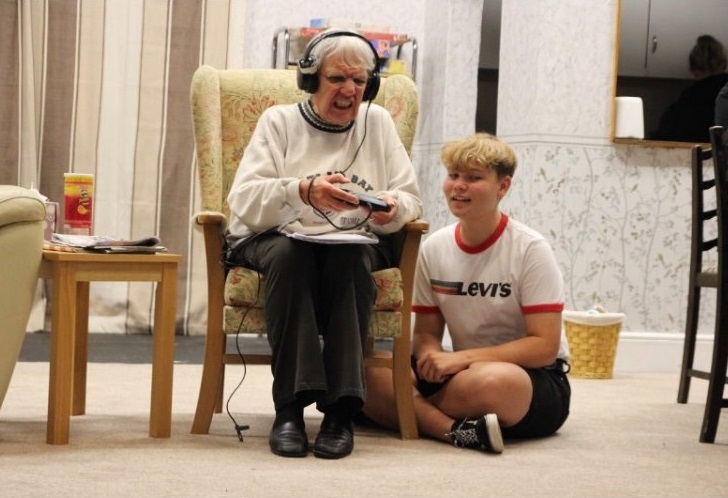 Not only did Williams capture every comedic highlight, working hard to convince the audience and the other characters that she was as batty as she seemed, she also showed many other sides of Nana; whether vulnerable, crafty or frustrated, or anything in between, her performance was natural and believable throughout. The whole cast should be commended for maintaining the comic energy for the duration of the play, particularly as the play developed into full-blown farce, although the cast did seem to be a bit more comfortable with the laugh-out-loud comedy of the first act.
The set design really made me feel like I was right there with the family in their living room. I particularly liked the fact that the room felt increasingly crowded as more people and props were introduced; after all, that's what real life is like! The only down side was that, for me, the rhythm of the play was slightly interrupted by the multiple scene changes and subsequent set-dressing, which could perhaps have benefited from some background music to keep the audience focused on the play. Finally, the creative team made bold choices to create a dramatic effect for the final scene.
The Players Theatre is a great space with a passion for theatre and this production is no exception. With witty dialogue and smooth performances, this is definitely an entertaining way to spend an evening. Grab yourself a winning ticket while you still can!
Lucky Numbers continues at the Players Theatre, Cheadle Hulme, until Saturday 6th October. Information and tickets for this and future productions can be found at: https://playersdramatic.co.uk/
Reviewer: Jo Tillotson
Reviewed: 30th September 2019
North West End UK Rating: ★★★★