It was a pleasure to be back reviewing the talented Pilkington's Musical Theatre Company tonight as they debuted their latest production '9 to 5'. This musical is based on the hit movie of the same name which was released in 1980 and famously starred Dolly Parton and her much loved music.
The storyline follows the journey of three strong women who work as office secretaries under the direction of their sexist, egotistical, lying, hypocritical boss Franklyn Hart Jnr (Simon Foster). Violet (Diane Glover) is exasperated as she continually loses her deserving promotions to less qualified men, while Judy (Katie Speakman) battles through heartbreak and entering the world of work for the first time. Meanwhile, Doralee (Sarah Johnston) is outraged after finding out that Hart has been spreading vicious rumours that they have been having an affair and the whole office believes it! These three cunning ladies have mutual ground in a hatred for the wicked Mr Hart and when opportunity arises, they have no trouble giving the boss a taste of his own medicine, which leads to lots of comical brilliance and over the top drama.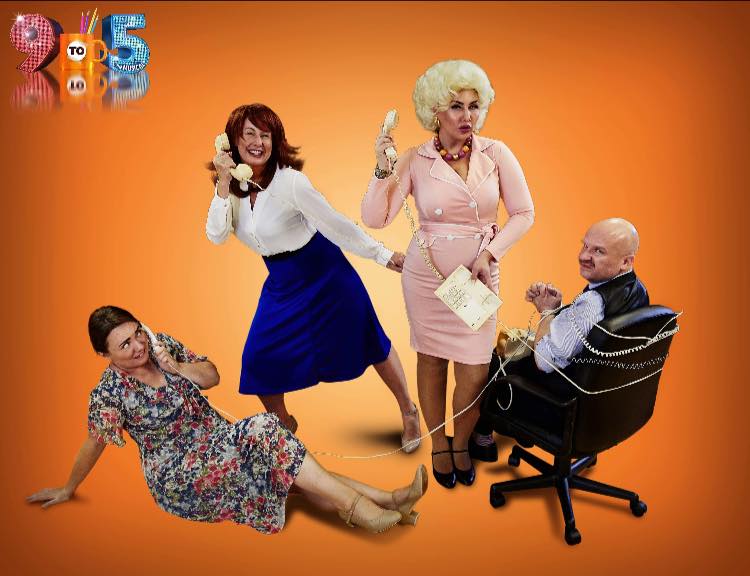 This production has been well cast with three leading ladies creating diverse and interesting characters that are instantly liked by the audience. Diane Glover took on her huge role with ease and was wonderfully animated and believable throughout. Similarly, Katie Speakman was endearing in her sweet, ditzy character with spectacular vocals shown during her solo "Get Out and Stay Out". Sarah Johnston showed real talent as she embraced the character effortlessly and managed to create the authentic country style of 'Dolly' that the audience know and love. These three ladies completely delivered and were so engaging, I often forgot they were accompanied by a large ensemble during the big numbers. Kieran Maleedy was also noteworthy in his part as 'Joe' with his stunning vocals making a very memorable rendition of "Let Love Grow".
Simon Foster was suitably repulsive in his role but luckily created something much more pleasant than 'Mr Hart' in the overall direction of this show. This production is filled with clever direction as Foster has managed to create some fantastic live entertainment that is funny, charming and exciting to watch.
I felt that some of the choreography needed more energy however this may be attributed to first night nerves and Choreographer Anna Whittle had a challenge on her hands with a large ensemble of varying ages and abilities. The space was utilised well and having small groups of dancers moving across the stage during the big numbers worked effectively to create the busy, fast moving pace that is needed for this musical.
The musicality in this show is superb through meticulous musical direction from Wayne Oakes. The eleven piece orchestra sounded fantastic as their punchy brass overture gave an exciting opening and the exit music left a lasting memory as the audience left the Theatre Royal tonight.
There were some teething issues such as a premature set change and microphones being left on so that off stage conversation could be heard during the first act. However the cast managed professionally throughout and I have no doubt that Pilkington Musical Theatre Company will pull out all the stops in their next three productions this week. The set was impressive and the costumes were authentic, both bringing us right back to the 70s in a fun and vibrant way (Ann Connolly, wardrobe mistress).
Overall this is a very talented company whose hard work and dedication is evident and has resulted in a fabulous, feel-good show which I would urge you to go see! This is a great showcase of the fantastic amateur talent that we have in this area and is well worth supporting. '9 to 5' continues at St Helens Theatre Royal until Saturday 13th of October, for ticket information please visit http://www.sthelenstheatreroyal.com/whats-on/
Reviewer: Bláthíne Maguire
Reviewed: 11th October 2018
North West End Rating: ★★★★