This was a World Premiere production of a new play by Terry Deary brought to you by Prime Theatre in association with The Bolton Octagon and from the same team that presents 'Horrible Histories' and advertises itself as 'a magical and mad-cap introduction to Shakespeare's Scottish Play. For ages 7+'.
It does seem that with this year marking four hundred years since the death of the bard - his 452nd birthday being on Saturday - that everybody and his wife is jumping in on the Shakespeare bandwagon. Everywhere you go, his works, either as written or in bastardised or adapted forms are being performed. But this one did seem to stand out a little for me, and so was really quite intrigued to find out what it was all about.
The Horrible Histories, a series of TV shows geared for the younger viewers, which very cleverly interweave our history with humour and make torrid and bloodthirsty periods in our history fun and accessible for children have attracted many celebrities to join the cast, and have gathered much media interest and praise. I can also tell you that these programmes are also used by both private language schools and English departments in state schools in many other countries too, because they find them a great way of engaging their students with both English and history.
It is armed with this prior knowledge that I found myself sitting in the studio theatre space at The Octagon Theatre in Bolton. A small and intimate space in thrust theatre format, with only three rows of seats around the three sides, and with the audience comprising mostly their target age range, I was really hoping for great things to happen.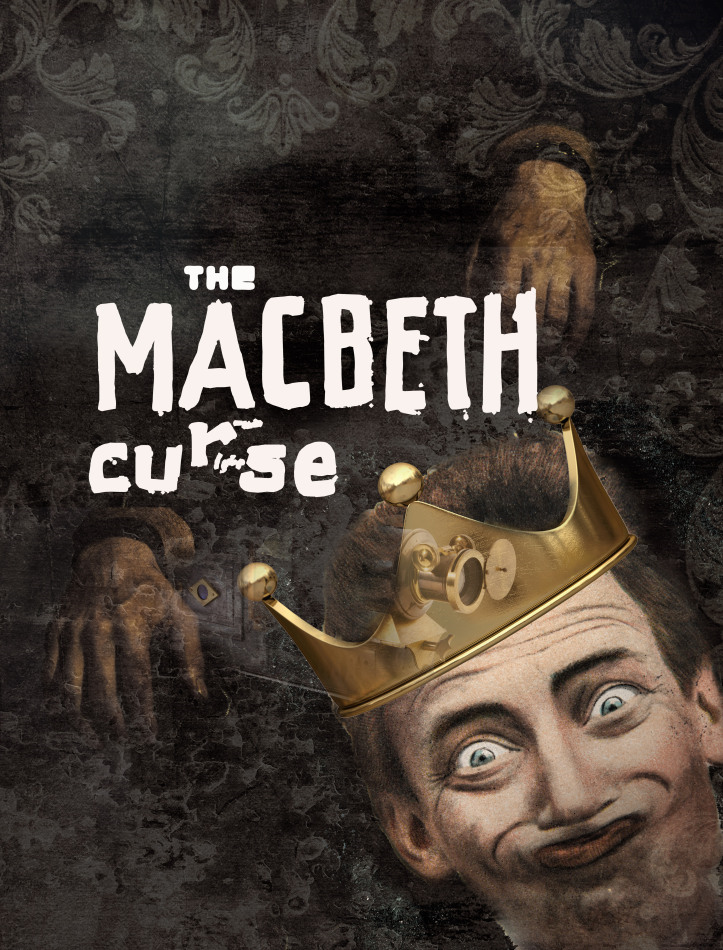 The set, and indeed the whole premise of the production, was sadly their let down. The problem being that they decided to take as their starting point to tell the story of MacBeth in the year 1902. They were are group of travelling performers under the control of an actor/manager, Sir Alphonse King, with a love of Musical Hall songs, and had a really beautiful and extremely realistic Victorian set, complete with footlights, trapdoors, and authentic looking mechanics. However the problem here is this is not suitable for the target audience.
In order to try and tell the story of something which is totally outside a person's knowledge and experience, they decided to tell this story in a setting and a style which is totally outside that person's knowledge and experience. Even the adults were not old enough to be able to relate to the period of history in which you set the production. I took particular interest in watching not so much the action on stage but the reaction from the young members of the audience, and they all laughed at the physical comedy; they all found the scary bits either scary (in a good way) or funny; they found the effects interesting; but, and this is a big but, I doubt very much if any of them went away understanding either a) the setting of your production or b) the story of MacBeth.
Adding further to this confusion is the fact that the actors also had to explain what the 'Curse' actually was, why this play is deemed to be cursed and why people refer to it as 'The Scottish Play'. In order to do this they had to clog the dialogue up even further with historical instances and references which went totally over the audience's heads.
There was a lot of humour packed into this show. Physical humour, situation humour, and spoken humour. The verbal humour was though, mostly, too clever and too advanced for the target audience. Again, I understood and laughed, but the youngsters didn't. Everybody loved the two glove puppets though. That was definitely a highlight; and the children also enjoyed it when the actors walked past them in their seats as the moving wood.
Please don't misunderstand me, I am not saying that the production was not child-friendly. It was. And everything was presented in a totally non-threatening, humorous, tongue-in-cheek manner, and I personally found the whole thing delightful. But I am an adult, I understood about actor / managers, I know about the curse, I know what Music Hall is, and I also know the play of MacBeth backwards. However, my companion yesterday afternoon was not forearmed with such knowledge, and she, a lady of considerable intellect who owns her own business in Bolton, came out of the show, still not understanding the story of MacBeth.
Why start a play about MacBeth with a suffragette getting the audience to sing and join the cause for Votes For Women?? This was, I know, setting the scene for the period of the play (1902), but this was simply far too confusing for a seven year old!! Why present part of the story as a film of the period with background music to mimed action, all in black and white with the storyboards giving the speech or thought? It was cleverly done, but again, didn't sustain the interest of the target audience.
If you want to engage the seven year old, engage them on their level, and find something which they can relate to. No-one living can relate to 1904 and the world of the touring theatre company. The best part of the whole hour was the last minute when they decided to rename their company to the 60 Second Shakespeare Company and they did indeed tell the story of MacBeth in 60 seconds. That was very clever and very funny and the audience did like and laugh at this.
It was a 60 minute non-stop romp and the four (and a half) actors who gave their all during this time were indeed quite excellent. All had to be able to not only act well, and act badly too (if you see what I mean); but also play instruments and sing, and be really rather physically agile in order to execute some of the effects they created. They were, Chris Talman, Robin Hemmings, Kirsty Cox, Kate Spencer and the acting Stage Manager, Calum Clark.
There were no programmes sadly, another error, so I had to ask the cast afterwards for their names - so I hope I have spelled them correctly. The show was directed by Prime Theatre's Artistic Director, Horwich-born Mark Powell.
I also managed to quickly ask a few of the young audience on their way out if they had both understood and enjoyed the presentation and I was given a mixed reaction from 'yeah' to 'it was OK' to 'not really'.
Reviewer: Mark Dee
Reviewed: 20th April 2016