Critically acclaimed Northern Broadsides is reputed for classic productions where actors perform in their natural voices. This production, The Merry Wives, in collaboration with The New Vic Theatre is no exception.
Adapted from William Shakespeare's comedy, The Merry Wives of Windsor, it is about Sir John Falstaff who pursues two women of considerable wealth, Mistresses Ford and Page. The pursuit leads to hilarious consequences which are unravelled throughout.
This production is no doubt entertaining albeit a slow start at the beginning until the mistresses decide to "entertain him with hope" and carries out the first trick on Falstaff.
The comedic nature of this play brings out to the maximum caricature, farce, irony, sarcasm and light-heartedness. The colourful language, the double meanings, sexual innuendoes and local references, such as the "fat woman from Ilkley" are relayed in a northern localised language which the audience is able to relate to.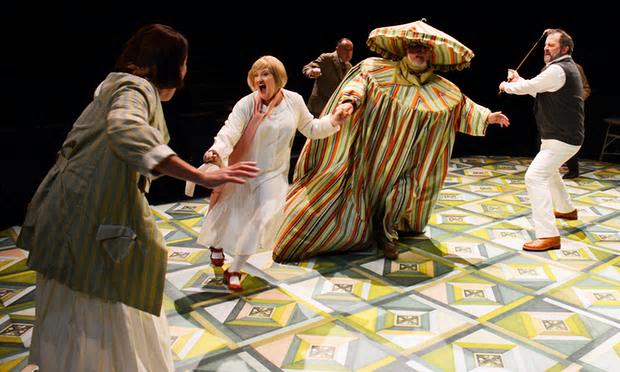 It is certainly not a traditional setting but set in the 1920s and the light colours compliments the staging. The wooden trees on the set look out of place and perhaps topiary looking trees could have been naturally and suitably better. Admirable use of the sports equipment such as the tennis rackets and lacrosse sticks for weaponry and "Herne the Hunter" costume Falstaff (Barrie Rutter) wears in the final scene. The costumes the characters wear reminds one of the times of The Great Gatsby era and more so with the music and dancing at the end of the final scene.
Rutter, the director, plays the leading role, Falstaff, and isn't at all intimidated by the tricks played on him and continues his determination to court both mistresses whose "attractions for my good attractions aside".
The acting overall by the cast is excellent especially Nicola Sanderson and Beck Hindley as the two mistresses who plot to bring Falstaff down a peg or two. Neither of them are deterred nor flattered from his descriptions of them being "the rule of her husband purse" and "East and West Indies...made to their gold".
The themes raised even if humorous are love and jealously. There are underlying themes of social class and financial status. This is particularly so when Page (played by Ray North) forbids his daughter, Anne Page (Played by Sarah Eve), to marry Master Fenton (played by Adam Barlow) who squandered his fortune. Not to mention the love chaos and suitors Anne is drawn to.
The Merry Wives, like Shakespeare's comedies, "ends all well" with a song and dance, excellently performed by the cast and some doubling up as musicians. A light-hearted comedy for an enjoyable evening with plenty of laughter!
Reviewed on: 6th March 2016
Reviewed by: Dawn Smallwood