I've seen Joseph a few times over the years, various different productions, and some of them have been very lame and half hearted, so part of me was expecting more of the same. I know that it began life as a fifteen minute mini musical in the late Sixties, and Andrew Lloyd Webber and Tim Rice have augmented it over the years… and seemingly continue to do so.
Joe McElderry stars as Joseph. (He was Jacob's favourite son. Apparently.) Joe is famous for powerful ballads and for winning the 2009 X Factor. Alongside him, as the Narrator, is Lucy Kay, a 26 year old soprano from Nottingham… which makes her sound less glamorous than she actually is. She appears on the stage constantly throughout and sings beautifully and effortlessly.
Everyone knows the story of Joseph. It's done in schools as a play. Everyone's done it at school. Except me. But basically, Jacob has twelve sons (and lots of wives). In a biblical example of bad parenting he singles Joseph out as his favourite and gives him a lovely coat, which is quite colourful. Instead of calling Social Services the other eleven brothers first decide to kill Joseph, but in the end just sell him as a slave. Joseph has a rags to riches story and all comes good in the end. With much anguish and many songs along the way.
Lloyd Webber employs a variety of musical styles throughout, from a Western theme (One More Angel in Heaven), a calypso (Benjamin Calypso) and a French Ballad (Those Canaan Days); they are musical pastiches, full of fun clichés. There is much humour throughout the show, some in the words and some in the props… inflatable sheep and singing camels.
There is colour all the way through, from effective lighting to the various costumes. Production values are through the roof. The Egyptian set in the second half is particularly lavish and stunning.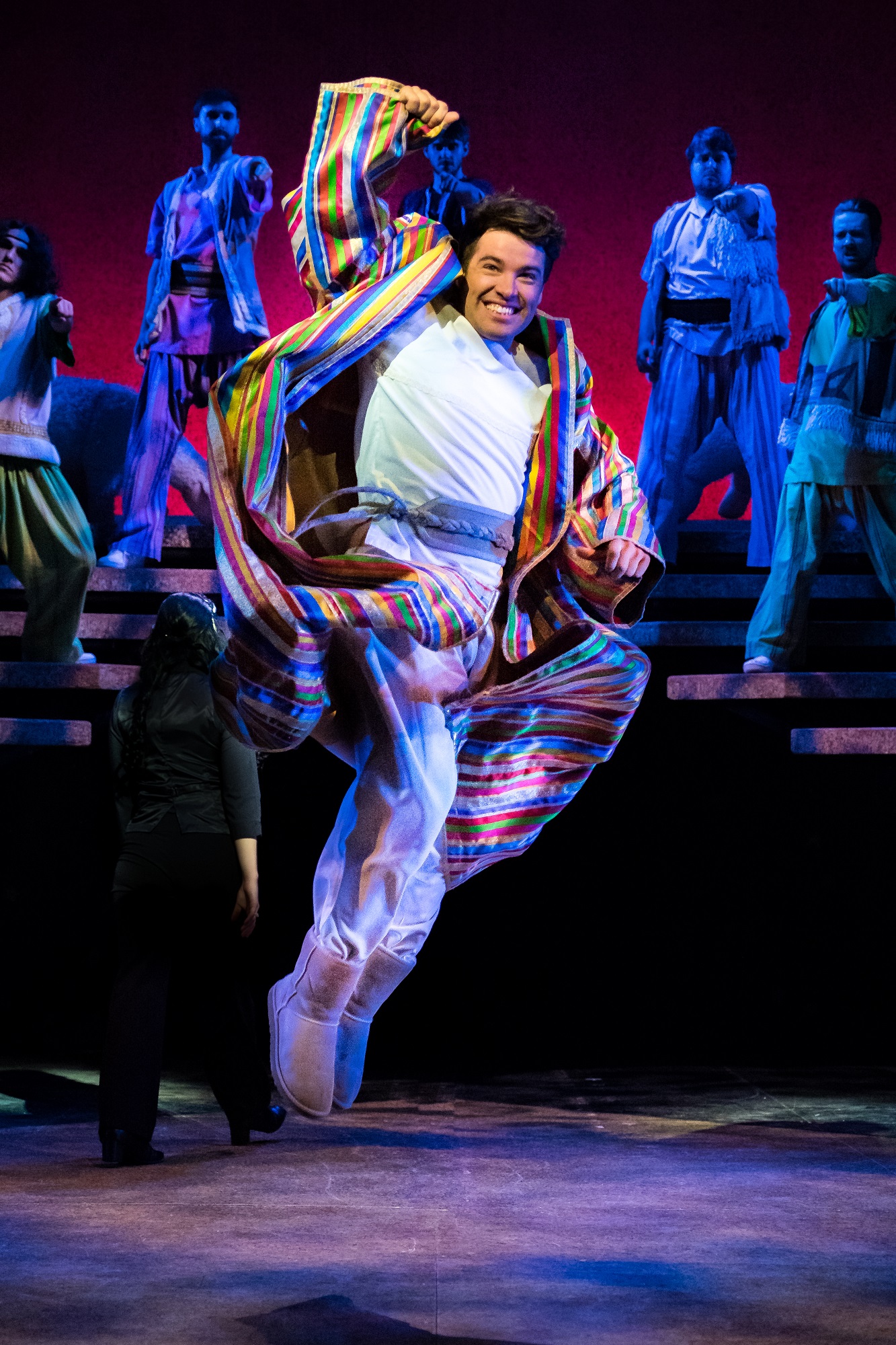 I have to mention Henry Metcalfe, who plays Jacob and Potiphar. Neither are large roles, but he strolls on like Richard Attenborough and brings plenty of character and I really enjoyed his facial expressions. He is also the choreographer. I have to say, the choreography is amazing and the timings of the cast are perfect. This is best displayed by the brothers, who bring the stage alive with their gusto.
Joe McElderry has been good from the moment the curtain rose; he has a good voice, obviously, and can really handle the comedy, but on Close Every Door he completely takes over, his voice filled with emotion and absolutely soaring; he has the audience breathless. This wasn't one of my favourite songs in the past, but he has made it his own and I can't imagine anyone performing it better. For his efforts he receives rapturous applause.
Go, Go, Go Joseph closes the first act, here given a gospel rendition. It's light, it's fun, it's frothy and leaves us wanting more. Go Joseph!
I need to mention the chorus of young people from the Stagecoach Theatre in Chester, who are on the stage the whole time and add their voices very harmoniously to many of the songs. These aren't precocious X Factor audition failure wannabees; they are a talented bunch of young performers. They have to sit still for long periods of time in full view; they are tuneful and very patient.
Meanwhile, we're in Egypt. The brothers now double as the Pharaoh's entourage, dressed as American footballers with Anubis (the jackal headed god) headpieces. The Pharaoh, King Rameses, is Elvis. The King is basically the King. Get it? Pharaoh is played by Emilianos Stamatakis, here making his UK debut. It's a great Elvis impersonation and a thoroughly great and crowd pleasing performance of Song of the King. The next song, King of My Heart, was added in 2007 and is Pharaoh's second song. While the lyrics contain many references to Elvis song titles, which is mildly amusing, I find it detracts somewhat from the first Elvis styled number and is overplaying the joke.
Those Canaan Days, I always find somewhat incongruous; a melancholy French styled number perfectly performed by the brothers. It has various humorous touches, including an Eiffel Tower in the background, onion sellers and an accordion, and a very well executed section of Argentine Tango thrown in for good measure. It is a narrative device to tell us that the brothers are starving and decide to head to Egypt to find food, but I find it over long and something of a distraction.
Once the brothers arrive in Egypt we're treated to a colourful calypso and a spectacular finale as Joseph rides on in his chariot of gold (a camp, gold, three wheeled motorcycle) and is reunited with his father. The whole cast perform the rather retro titled Joseph Megamix, which is basically the whole show retold at high speed in case you missed anything… Many encores follow and a standing ovation… The audience are ecstatic; the cast look euphoric. Everyone loves a happy ending.
So, to sum up… This is an epic show. Joe McElderry puts the Joe into Joseph. Lucy Kay puts diamonds in the sky. The ensemble are stunning, all hugely talented performers. Every one of them should get a pay rise… whatever they earn it isn't enough.
This is by far… seriously, BY FAR the best production of this show I have ever seen. Quite simply it's a Technicolor Dreamshow. If you don't like fun then avoid at all costs.
Reviewed on: 29th March 2016
Reviewed by: John Wood