A Beautiful Combination of Acting, Music and Singing
Tosca is an opera in three acts by Italian composer Puccini which premiered in Rome on 14th January 1900. It is set in Rome in June 1800 (before Italy as a country existed) when the Kingdom of Naples' control of the city is threatened by the advancing army of Napoleon Bonaparte. Musically, Tosca is structured as a through-composed work, with arias, recitative, choruses and other elements musically woven into a seamless whole.
Act One is set inside the church of Sant' Andrea Della Villa where Cesare Angelotti (Roman Balko), former Consul and now an escaped political prisoner, has taken refuge. He hides on the arrival of a Sacristan (Valeriu Cojocaru) before the painter Mario Cavaradossi (Vitalii Liskovetskyi) appears to continue work on his portrait of Mary Magdalene, based on a blonde-haired woman who is in fact Angelotti's sister, and he compares her to his dark-haired lover, the singer Floria Tosca (Alyona Kistenyova).
Angelotti reveals himself to Cavaradossi who promises to help him with his escape. He hides again when he hears Tosca arriving. A jealous Tosca demands Cavaradossi explain why the door was locked and who the picture is based upon but she is reassured by him and departs. As Angelotti and Cavaradossi plan his exit, a cannon shot from the Castle Sant' Angelo announces the discovery of his escape. The Sacristan re-enters followed, in this production, by nuns and choir boys, all excited by rumours of Bonaparte's defeat in battle. Baron Scarpia (Vladimir Dragos), the chief of police, arrives with his henchmen Spoletta (Ruslan Pacatovici) and Sciarrone (Iurie Gisca) in search of the escaped prisoner. Tosca returns, and Scarpia plays upon her jealousy over the picture in the hope of discovering Angelotti's whereabouts. When she leaves to seek her lover, Scarpia has her followed as he vows to win a double prize by bringing Cavaradossi to the gallows and Tosca into his arms.
Act Two opens in Scarpia's study in the Palazzo Farnese later on the same evening. Spoletta reports that he and his men followed Tosca to the villa and found no trace of Angelotti, but placed Cavaradossi under arrest and he is brought in and questioned. Scarpia has by now sent for Tosca, having made his intentions towards her quite clear: he is not interested in securing her love, only in taking her by force and then discarding her. As she enters Cavaradossi is taken away to be tortured. When she hears his cries, Tosca reveals Angelotti's hiding place. Cavaradossi is dragged back into the study but his initial anger at Tosca's betrayal turns to joy when Sciarrone appears to announce that Bonaparte has in fact won a victory and he is sent back to his cell to await execution in the morning. Tosca asks the price for Cavaradossi's freedom but Scarpia will only accept her submission.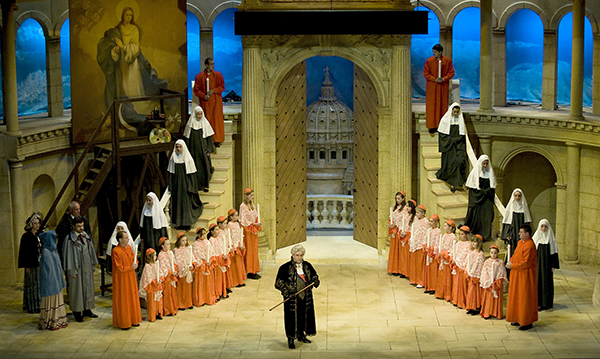 Tosca sobs to herself in a celebrated aria, performed so beautifully tonight that it led to a spontaneous round of applause at its conclusion. As she struggles to free herself from Scarpia's embrace, Spoletta enters with the news that Angelotti has killed himself rather than be arrested. Ashamed, Tosca now indicates that she will give in to Scarpia on condition that Cavaradossi be set free at once. Scarpia explains that he cannot grant a pardon, he can only release him by faking his death in a mock execution and instructs his henchman to do this in a manner they have done so before. Tosca demands that Scarpia provide a note of safe conduct for herself and Cavaradossi and while he is writing, she takes a letter knife from his table. Scarpia seals the note, and as he turns to take her, she plunges the knife deep into his heart, takes the pass and leaves the room, but not before placing candles and a crucifix by his body to remind us she is a good person despite her actions.
Act Three is set at dawn of the following day at the Castle Sant' Angelo and it begins with the appearance of a shepherd boy before progressing slowly, in contrast to the pace and momentum of the previous acts, as we lament Cavaradossi's fate while he reflects on his love for Tosca before passing a letter to the Jailor (Valeriu Cojocaru, in a dual role) to give to her. Tosca arrives with the note of safe conduct and the story of Scarpia's death and Cavaradossi praises her courage. Tosca tells him the plan of the feigned execution: after the gunshots he is to lie still until she gives him a signal. To some amusement she shows him how to carry out a dramatic fall. The soldier's fire and Cavaradossi does indeed fall to the ground. Tosca whispers to him to remain motionless until everyone has gone. When she tells him it is safe he does not respond and heartbroken she realizes Scarpia has betrayed her. Spoletta and Sciarrone, having found Scarpia murdered, arrive to arrest her but she runs to a parapet from which she hurls herself to her death.
This was an excellent production by the celebrated producer Ellen Kent who also directs and with Vasyl Vasylenko conducting, the music perfectly reflected and accompanied the action on stage. Performed in its original Italian, the action and singing performances combined with the music more than suffice to take one through the story though the addition of English surtitles ensure that everyone is able to follow the piece. Set construction was outstanding and easily adaptable to suit the three scenes with the addition of props reinforcing each location.
Kistenyova was superb as Tosca and her vocal was delightful throughout. Dragos was the perfect villain as Scarpia and encouraged, and enjoyed, the audience boos when he came on at the end with the other cast members in true pantomime-style; in contrast Liskovetskyi secured great audience support as the hero of the piece. Both Henchmen, Pacatovici and Gisca, had less singing but turned in strong performances with great animation. A special mention for Cojocaru who perfectly captured the piety and humour of the Sacristan in the opening act. Whilst pleasing to see local young talent being used for the chorus and shepherd boy, it would be great to see a home-grown talent performing one of the main roles.
Tosca is touring throughout the UK and Ireland with full details available at www.ellenkent.com
Liverpool Empire Theatre dates from 1925 and has the largest two-tier auditorium in Britain which can seat 2,350 people.
Reviewer: Mark Davoren
Reviewed: 22nd March 2016