Brendan Cole is one of the original Strictly Come Dancing professionals from when it began back in 2004 and he has the auspicious honour of being the first winner, with celebrity partner, Natasha Kaplinksy. Brendan had a reputation as the 'bad boy' of Strictly and was well known for his (entertaining but slightly scary) spats with the Judges, particularly Craig Revel Horwood. In recent years, he has become less volatile and is one of the most charming of the male professional dancers and I always look forward to his choreography as he favours traditional ballroom dancing but is able to bring something fresh and exciting to all of his routines.
The "Night to Remember" tour was in Manchester tonight for the second time in just over a year and it was the second time I had seen it so I was familiar with the format and most of the content. Brendan follows a tried and tested formula of warm and cheeky banter with the audience, energetic dance routines, great music (played by a fabulous ten piece band, led by Musical Director, Barry Robinson) and wonderful singing from Iain Mackenzie and Julie Maguire.
Tonight we were treated to a total of seventeen dances, comprising Paso Doble, Lindy Hop, Rumba, American Smooth, Samba, Cha Cha, Waltz, Quickstep, Charleston, Foxtrot and Jive. (Disappointingly there was no ballroom Tango). The show did feel a little "Latin heavy" and I would have liked to see more ballroom but I realise that Latin is slightly better suited to the limited dancefloor area available on the stage which also had to accommodate the singers and the band.
As soon as Brendan comes on stage, he is charming the audience without being smarmy. He appears to be very at ease and more importantly, he seems to be absolutely loving what he's doing. He has so much energy and he really goes all out to entertain.
The opening Paso Doble had absolutely breath-taking and vigorous cape work which the four male dancers (including Brendan) executed flawlessly. What a way to start!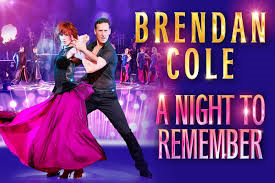 All the dancers know how to work the audience, particularly the other three male dancers (Patrick Helm, Kai Widdrington and Ryan McShane) and there were some shamelessly crowd-pleasing gestures such as the sultry sliding of their braces down their shoulders whilst blowing kisses to the (mainly female) audience. Their dancing is flawless – the timing is absolutely perfect and they dance in complete symmetry with each other, whilst making it look as if they're having the absolute best time of their lives.
I very much enjoyed the Rumba which Brendan danced with Giulia Dotta. The Rumba is the dance of love and this was certainly very intense and very convincing. Giulia has hip movement and arm styling that the rest of us mere mortals can only dream about and aspire to! However, she does have a rather distracting habit of continually pushing her hair out of her face and I found myself watching her and waiting to see when she was going to do it.
A little way into the first half, Iain and Julia sang Uptown Funk and this really got the party started. The four male dancers came into the audience and the flirt-o-meter went off the scale. (I have to admit to getting a bit of a thrill as Brendan went past the end of the row I was sitting on).
The waltz was danced by Brendan and Giulia – who was barefoot. A brave move as I'm sure any lady who dances will attest to! However, she is in very safe hands with Brendan I'm sure. Brendan informed us that he was proud of this choreography as it blended traditional Waltz with contemporary dance. I'm no fan of contemporary dance but I absolutely loved this Waltz and it certainly held the audience's attention. It had the intensity of a Rumba but the beautiful elegance expected from a Waltz.
My favourite dance, the Quickstep, was danced to "That Man" by Caro Emerald. Full of hops, skips and jumps that most people are now familiar with (thanks to Strictly), it left me wanting more.
The first half finished with a Charleston which was fun, cheeky and lively and a great way to finish the first half. There was some gratuitous bottom waggling from Brendan as he left the stage – he certainly knows how to play to an audience!
The second half began with an American Smooth Foxtrot (point of interest: although the American Smooth is danced in Strictly, it is not actually a stand-alone dance, you can dance an American Smooth Foxtrot, Waltz or (more unusually) Quickstep. It is a style of dance rather than a dance in its own right. There you go – some information to retain for your next pub quiz). Brendan and the other three male dancers were dressed in top hats and tails and were brandishing canes. Perfection for me! I could have watched them all night. Put this together with the wonderful "Mack the Knife" and you have a showstopper full of pazazz and Hollywood glamour. I love the accents to the music: a glance here, a wink and a nod there, all done precisely at the perfect time. Just the right amount of Big Band cool.
The ballroom dances were executed in a relatively confined area of dancefloor yet they did not suffer for this. The dancers made excellent use of the space available to them and it didn't feel at all constricted.
There was a question and answer session where it has to be said, we didn't learn a great deal about Brendan or Strictly but he and Barry are very good together and they make a good comedy duo.
Brendan's easy chat with the audience was full of humour and included some affectionate digs at Anton du Beke, one of the other original Strictly professionals. He did say later on that Anton is one of his best friends on Strictly. He also revealed that his favourite celebrity partner was Sophie Ellis Bextor and his worst was Lulu. He also revealed that he doesn't like Aliona (the recent series winner with celebrity partner, Jay McGuinness). A little bit of Strictly gossip which drew a few ooohs!
I have seen various Strictly dancers perform to a live audience and I have been disappointed with some who seem to use the forum as a vehicle for adulation and showing off. Brendan is not like this at all. He is extremely likeable and really makes you feel appreciated as an audience member. He engages well and has an easy rapport with the audience and maintains that audience connection at all times. He is full of show but no show-off.
Brendan is planning a new tour next year and I very much look forward to it. His show reaches dancers and non-dancers alike and there really is something for everyone.
Reviewed on: 6th March 2016
Reviewed by: Nicky Lambert