Miller's musical magic moves Merseyside in this classic retelling of the life and soul of wartime artiste, Glenn Miller!
The plot offers the audience an overview of the well-known musician's life in terms of his passion for orchestration, love and redefining the musical era in his own, distinct way. Miller was hugely influential to the music industry in the 1940's and his gift of uplifting tunes acted as many a feel-good anthem during the war. Fuelled by an incredible live soundtrack, this piece of theatre was timeless and left many audience members standing on their feet in appreciation.
Legendary performer, Tommy Steele embraced the eponymous role with grace and humour that kept a constant grin on my face. His vocal range impressed me and his instant stage presence captivated the audience from the moment he entered the space. With years of experience in entertaining the crowds, Steele was a strong fit for the role. Despite not having the youthful energy of other cast members, Steele brought his own flair and sparkle to the part that helped me connect with his story.
Whilst Steele undoubtedly stole the show for many, I feel that other members of the cast are not to be overlooked. The ensemble was incredibly talented, energised and unified in their movements. Choreography by Bill Deamer was wonderful to watch, embracing styles such as tap, jazz and Fosse which were impeccably executed by the performers. Amalgamated with extremely strong vocals, I found this ensemble to be the most appealing and mesmerizing part of the production. Nathan Elwick particularly stood out to me. This role was Elwick's professional debut along with Jordan Oliver, and both stood their ground amongst their fellow performers; making their mark in the industry, and I believe that all members of this ensemble will be ones to watch in the future.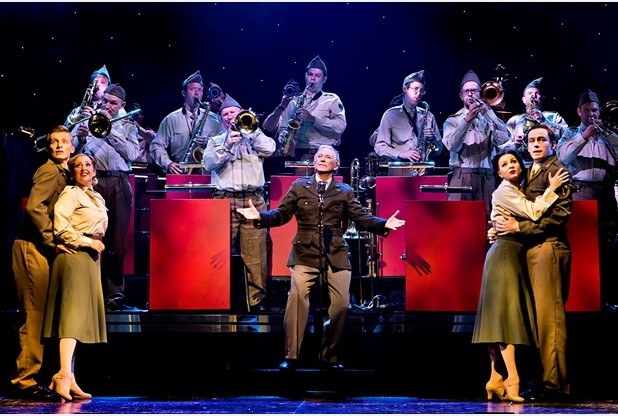 Direction from Bob Tomson was conventional and simplistic which worked well with the stylistic approaches applied in his piece. His use of space was successful in establishing the different scenes and I fully supported his visionary actions. However, I would have enjoyed greater and deeper directorial analysis of the characters in order for me to truly emphasise with their stories. In particular, the more intimate moments played by Sarah Soetreat (Miller's wife) could have potentially been explored further in order to really captivate and engage the audience more fully. This said, Soetreat's performance had moments of sheer beauty, in particular in her rendition of 'Moonlight Serenade' which was simply stunning.
The musical director deserves great recognition for their contribution to creating a wonderful story through these famous songs. Richard Morris and his talented team of musicians transported the audience of the Liverpool Empire back to an era of musical delight and had us all singing along to great tunes such as ' Don't Sit Under The Apple Tree' and 'Boogie Woogie Bugle Boy' in the feel-good finale. It was in these defining moments that I felt Tomson's intentions of bringing the audience together as Glenn Miller himself would have done in one of his performances.
Overall, I found this show an entertaining night of theatre. Perfected with wonderful costumes, seamless set changes and a fabulously inventive team of cast and creatives, I would recommend this show to anyone looking for a night of feel-good, timeless entertainment. Whilst the music may ignorantly seem only accessible to an older audience, as a student myself, I found my foot tapping and my heart warmed after a performance that can't help but leave you with a smile; no matter what your age.
Reviewed: 1st March 2016
Reviewer: Lauren Waine