Even in uncertain times such as these there is still art being created, whether its new writing or a replay of live shows on YouTube. Naughty Corner Productions went one better and done a live show completely live streamed on social media channels.
Madras with the Muckers was created by Callum Forbes and Adam Nicholls who acted both the parts in the show and was produced by naughty corner productions. The concept of the show was to encourage the audience to get their favourite takeaway and spend a night with two right winged fellas. This is a satire style piece, and it's also not the first time we have seen the muckers. Those in Liverpool may have seen them at various world-renowned festivals such as Edinburgh Festival in the summer as well as Manchester Fringe and Hope Street Theatre Festivals.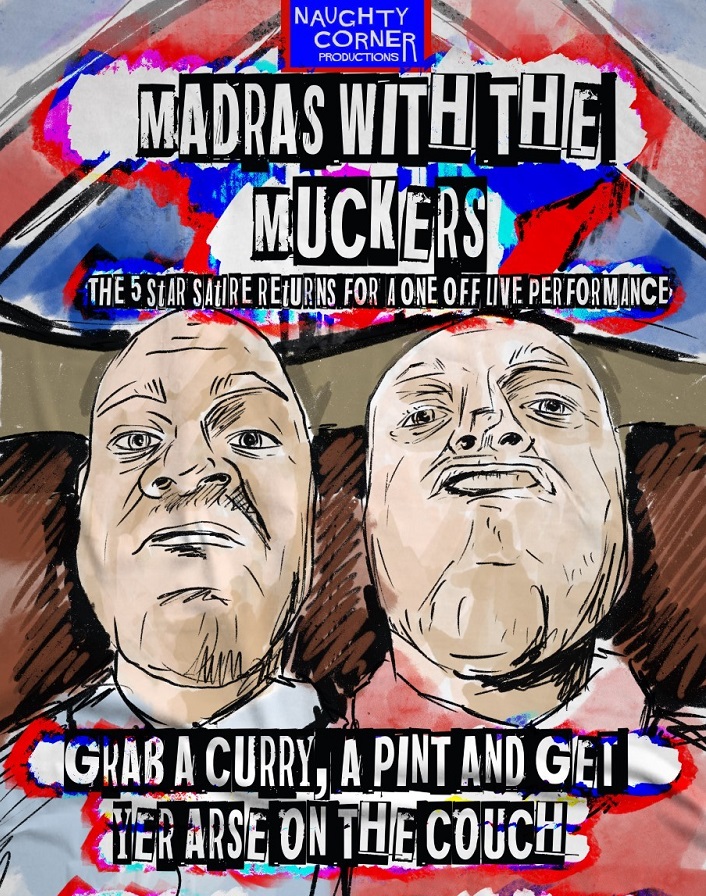 Now you may think that there's no way you can stream a play live and have a tech team during a lockdown I must admit I did to but Naughty Corner found a way from having a technician in London director in Ellesmere Port and the cast in 2 separate homes. Its mind blowing so kudos to the team for this.
So, the show… Set in Yorkshire Dave and Dave known as the muckers but are not politically correct suckers. They shoot down and politically correct theories. From the get-go this show is interactive you see them at the pub supping the magical elixir called fosters followed by a with a visual of Dave playing the deal or no deal on the fruit machine and spinning into a rant about Noel Edmunds. But after a few jars and a rant in the local it's time for the food on the way home. The wonderful curry that we long for. The muckers take us on a journey on to different curry's that may tickle those taste buds throughout this the comedy timing was on form and considering they were in separate houses over the UK you'd think the whole company was in the same house. I remember thinking while watching this was this would make a great tv show for adults. Like a cooking show but they tell us what they really think about the curry's and cuisines on the show. So, the curry is now ordered, and the muckers continue their journey and talk about how they met and their love interests amongst other things. With a few surprises in there to which I won't ruin for you
I felt while watching this that we really knew the muckers and we were facetiming an actual friend. Whilst there were moments where you couldn't hear them due to music being played or lines were missed. You can't knock the fact they done something brilliant in bringing a live show where most wouldn't attempt it. This is a simplistic setting and cleverly written piece of theatre. When they do come back to a theatre near you, I suggest you check them out you won't be disappointed. But for now, you can watch the muckers on Facebook via the Naughty Corner Productions page and donate to the NHS fund while you are watching to support those front liners, we owe more than our lives to. When this is over support new and local theatre because you could be seeing something of the future and your supporting new and immerging talent.
Stay safe and well.
Reviewer: Luke Stephenson
Reviewed: 10th May 2020
North West End UK Rating: ★★★★★