Every once in a while a show comes along that restores your faith in musical theatre and the ability of the British to produce the very best in the world. With jukebox musical after jukebox musical being rolled out and reboots of old classic shows it is refreshing to see a new kid on the block, and this kid is top of the class, maybe even Head Boy!
The story of the Calendar Girls is familiar to most. Following the diagnosis and subsequent death of John Baker (James Gaddas) from non-Hodgkin's lymphoma in 1998 his partner Annie (Joanna Riding) and the rest of the Rylstone & District Women's Institute came up with the idea of making a calendar to raise money to replace the tatty sofa in the visitors room at the hospital where John was treated during his illness.
What followed was something they couldn't have imagined in their wildest dreams. From a calendar launch that garnered interest from all the major news channels to a film being written about their story which subsequently was turned into a stage play that broke box office records wherever it played and finally this brand new musical, an idea that was expected to raise just a few quid has now raised over four million pounds for charity to date including an amazing total of £12,500 alone in bucket collections after each performance at the Lowry.
With Tim Firth at the helm who wrote both the film and play he enlisted the help of his old school friend, a certain Mr Gary Barlow to turn the story into a musical. And what an amazing job they have both done. The songs are all catchy and some a lyrical minefield for the cast to perform and are written by northerners who understand the north. For me this is the best new musical I have seen in 20 odd years. It takes you on a journey you are not expecting combining comedy and heartache in perfectly proportioned amounts.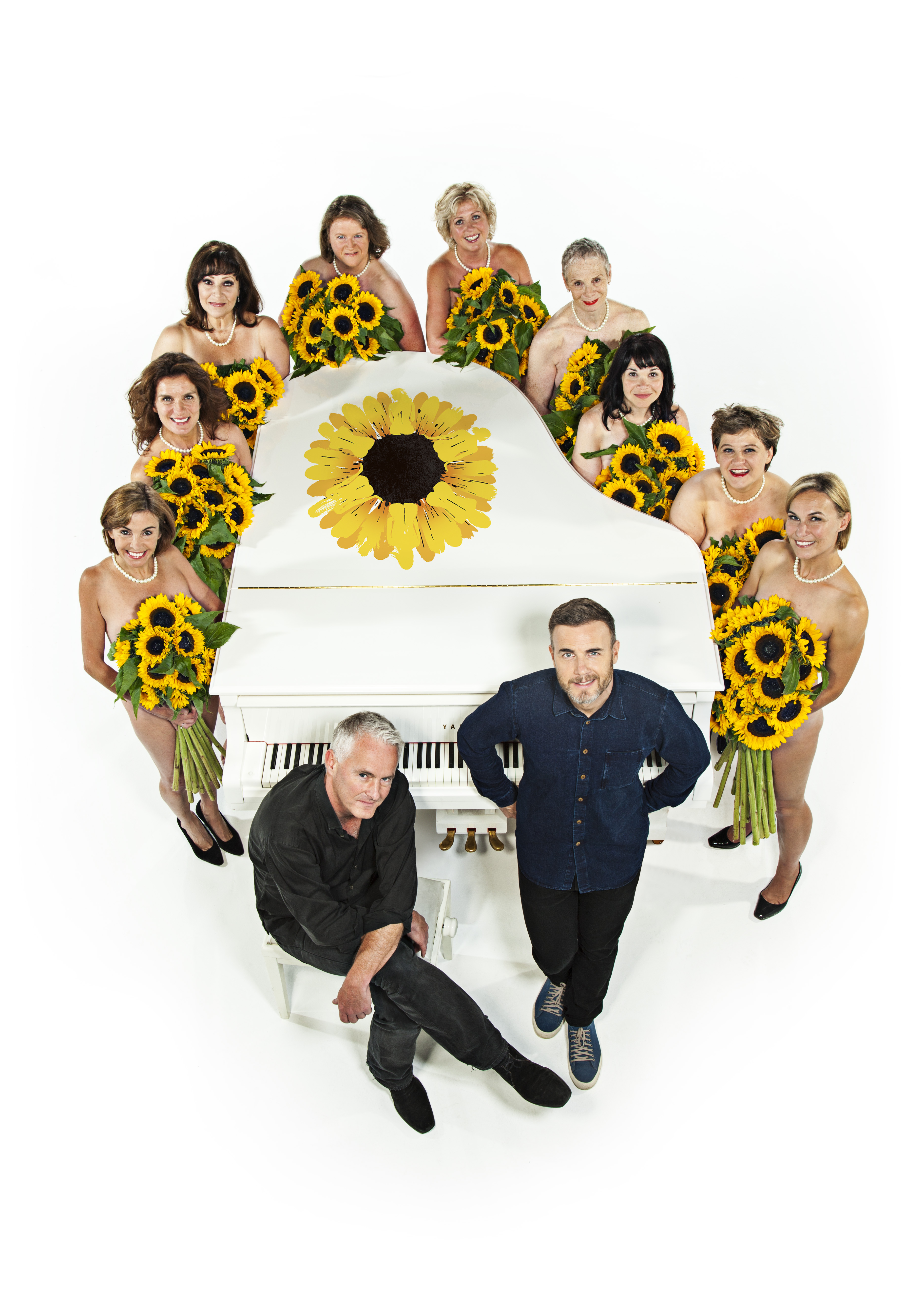 Someone who hardly gets mentioned in theatre reviews is the casting director, often a pivotal part of any production and on this occasion Sarah Bird has excelled bringing together an immensely strong cast who I honestly could not find fault with. Joanna Riding as Annie and Claire Moore as Chris have an amazing chemistry on stage as they forge ahead with their plight despite the objection of Harriet Thorpe as Marie, the leader and matriarch of the WI branch. The rest of the WI group Debbie Chazen (Ruth), Sara Kestelman (Jessie), Claire Machin (Cora) and Vivien Parry (Celia) shine equally with each getting their time in the spotlight with a solo number.
The final scene in which The Girls shoot the pictures for the calendar is absolute pure comedic genius as each girl disrobes in turn and poses for the camera with only everyday things protecting their modesty. Throughout we are reminded they are nude, not naked.
As well as the main story of The Girls we are allowed to see three of their children as they, at times struggle to come to terms with what is happening around them. Josh Benson as Tommo, Ben Hunter as Danny and Chloe May Jackson as Jenny all display stagecraft way beyond their teenage years. The blossoming love story between Danny and Jenny also makes for a welcome distraction to the more serious events taking place.
Robert Jones has created a set for this show which is both minimalistic yet exceedingly versatile. What first seems to be a mish mash of old wardrobes, drawers and cupboards morph into the various scenes throughout the show with seemingly not one space unused to store a piece of additional set, provide a doorway or stepping stones, doubles up as the green hills of Yorkshire. Simple yet effective gauzes manoeuvre into a number of different formations to form a canvass onto which images are projected. The back wall of the enormous Lowry stage also benefits from very subtle yet effective projections. Pin point accurate lighting design from Tim Lutkin accentuates this work of scenic art.
An eight piece band under the directorship of Richard Beadle plays the beautiful score from Gary Barlow to perfection, I just wish that the cast recording was available to buy in the foyer, something which I hope is to be corrected sooner rather than later. It would be a crime not to have an everlasting memory of this original cast to listen to at will.
The Girls will make you laugh, make you cry and make you value your loved ones just that little bit more after seeing the show.
The show runs at the Lowry until the 30th January and after that who knows where these Yorkshire lasses will end up next? If I was a betting man I'd say right slap bang in the middle of the West End! It is nothing more than this stunning production deserves.
In the meantime you can donate to the Bloodwise charity supported by the production and indeed the Calendar Girls at www.bloodwise.org.uk
Reviewer: Paul Downham
Reviewed: 19th January 2016
Photo: John Swannell