Christmas has arrived in Manchester with Miracle on 34th Street stopping off at the Opera House as part of its seasonal tour of the UK. But is this a happy beginning to Christmas? Sadly despite a stellar effort from a talented cast this show does not bring the festive cheer it promises.
Based on the classic movie released in 1947 and called "The Big Heart" during the early planning stages the 1994 remake starring Richard Attenborough is probably the best known version of this story.
For those who don't know the story, Kris Kringle who believes he is the real Santa Claus steps in to help out Macys department store after their original Santa turns up for work somewhat intoxicated. The validity of Kringle's claim that he is the real Santa Claus is brought into question and he is dragged through the courts to prove he is really who he says he is.
Danny Lane plays Kris Kringle and makes a fine job of it, with more than a passing resemblance to Richard Attenborough his voice is deep and he commands the stage throughout the show.
Doris Walker (Claire Hawkins), director of special events for Macys is an authoritative figure and the one who hires Kringle. She is also mother to Susan (Hannah Thompson). Thompson is at least a decade older than the role she is playing and although highly confident in her performance this fact slightly detracts from the magic of the piece.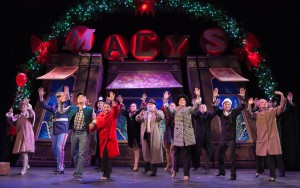 Carl Lindquist as Fred Gaily is a confident businessman who knows what he wants and befriends Susan in order to meet her mother with whom he begins a relationship with. Gaily is also responsible for defending Kringle in court when the questions over his true identity are raised.
Brendan Matthew brings some light relief to the proceedings as Marvin Shellhammer with his camp mannerisms, he is one of the very few who raises a laugh from the press night audience.
A talented supporting cast play various roles throughout the night as the battle to inject some energy into this tired looking show. Their dance routines choreographed by Philip Joel and Russell Smith are at times tight and impressive but on the whole lacklustre.
The entire show is played on just half of the Opera House stage which does not help convey the vastness of Macys department store and the black background does nothing to inject some Christmas cheer apart from a few fairy lights. Some would argue the set from David Shields is clever and inventive, but on the reduced size stage it looks somewhat crammed in.
Everything about this production appears like it has been designed to save money right down to the pre-recorded soundtrack. This really is inexcusable for a full scale musical. Sadly Christmas has not quite landed in Manchester yet, theatre wise anyway, and I hope in two weeks' time when the annual pantomime opens my faith in the festive season will be restored.
Reviewer: Paul Downham
Reviewed: 23rd November 2015