Ray Quinn swoops in to join the cast of Peter Pan for another hilarious Easter panto at St Helens' Theatre Royal!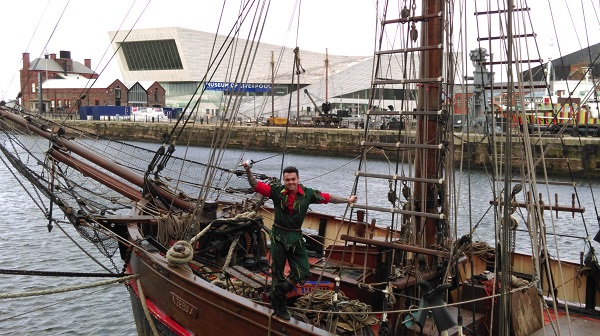 I joined the full cast of Peter Pan today at Liverpool's historic Albert Dock, where the Zebu tall ship was commandeered for a Pan-tastic photo shoot.
The Liverpool performer has saved the day for Regal Entertainment's production, as TOWIE star Lewis Bloor recently abandoned ship to film the TV series in Marbella instead. But, resourceful producer/director Chantelle Nolan, of West Derby, was able to make sure the spot was soon filled by the ever youthful Ray:
"We're very excited to have Ray as part of our cast; it's really brought a sense of true Liverpool heritage to the whole production," she explained this afternoon, "he's played Pan before, he's great with interactive audiences and he truly seems never to age!"
Ray joins a fabulous cast which includes pantomime veteran Radio City's Claire Simmo as a completely bedazzled Tinkerbell: "This is the fourth time I've played Tink, a character I absolutely love, not just because she farts glitter! I love her because she's so naughty; she very rarely behaves herself and it allows for some brilliant audience interaction!" Surprisingly, this is actually the first production at the Royal featuring a talking Tinkerbell: "It's been re-written and developed just for this!"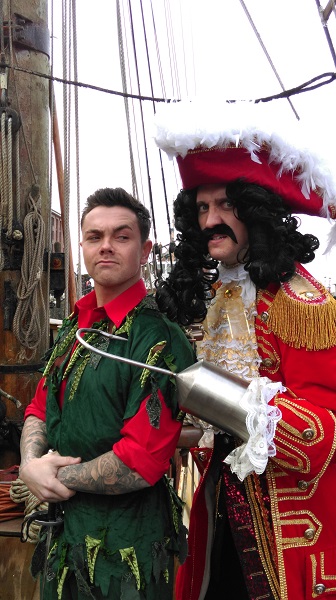 On the subject of new developments, it seems the panto culture has been growing in demand recently as many theatre goers have remarked on the rise of the 'Easter panto' in addition to the traditional Christmas events. Chantelle has pioneered the Easter shows in the North West over the last 15 years and it's now gaining much more notoriety: "The first one we ever did was Snow White, ages ago! A lot of our performers have found The Theatre Royal to be a spring board for bigger and better things, which is something we're really proud of."
Charlotte Gallagher, who has taken on the role of Tiger Lily, is one of those hoping to be someone the Theatre Royal springs into stardom: "My dream is to do a show in the London West End. I'm so glad to have the support of my Theatre Royal family as I pursue this, and it's great to work with Ray, who has performed in London and can offer me some insider's tips!" Charlotte has just been signed to sing with girl band 'Girl Talk,' adding to her extensive list of performance credits.
For Ray, who has travelled widely with his acting and music career, performances at the Royal feel like coming home: "It's been a long while since I've been back to this theatre, but I love it and it'll be good to work with these talented Liverpool actors."
Speaking of Liverpool talent, accomplished actor Philip S. McGuinness, of Kirkby, will be appearing as the legendary Captain Hook. Coming across as an incredibly genuine and kind gentleman, out of costume it's hard to imagine Phil as such a formidable character. But, this is just what he vows to be and even claims to enjoy playing the villain a whole lot more than the hero: "I'm hoping to scare a lot of kids; then I know I'm doing my job right! I love playing nasty characters because I can be so creative and really play on the audience." He certainly does look striking when all kitted out; standing tall at 6 foot 4, he towers over spritely Ray, and will surely use this to great effect on stage. Surprisingly, for someone who already seems so in character, up until very recently Phil had never seen one of the most famous Peter Pan movies: "I only just watched 'Hook' last night; a special effort as 'character research!' I think I'll definitely be channelling some Dustin Hoffman at the Royal!" Phil also stars as Rodney in the interactive 'Del Boy and Rodney' dinner show, which has received much critical acclaim.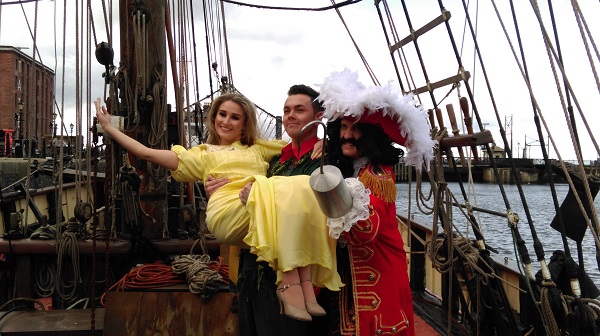 So, what makes pantomime so special? Ray tells us: "The greatest thing about panto is the audience interaction and the opportunities it allows for ad lib and improvisation. The more you do it, the more funny little elements you pick up on. It evolves very organically as the cast get more in tune with each other through rehearsals."
Phil agrees: "I really love interactive theatre, and it's something I've done a lot of. The audience makes the performance for me. Hecklers make my day!" So if you're thinking of going to see this show, you've been forewarned.
Laura Gregory, who will be playing Wendy, told me just how important it is to bring a sense of community to every performance: "Liverpool people are very much individual characters; we're very unique. Sometimes this comes across as being loud and outspoken but really we're just very proud. So, because pantomime involves the audience so much, we try to tailor our performances to the Liverpool humour and sense of identity. Our audiences really love to hear Liverpool in-jokes on stage, or even just a scouse accent. Because of this, it's probably a great omen that Ray has joined us!" Laura has performed at the Theatre Royal many times and has just started a course in TV acting, hoping to progress professionally.
It was certainly an experience talking with this lovely cast and driven director! Make sure you see the show!
LISTING DETAILS
Regal Entertainments Ltd Present: PETER PAN
Dates: Friday, 25th March – Sunday, 17th April
Times: 1pm and 5pm
Tinkerbell Standard Tickets: Adult £12.50, Concessions £12, Child £11.50, Family £46
Tinkerbell Golden Tickets: (Stalls, Rows A-E) Adult £15, Concessions £14.50, Child £14
Crocodile Golden Tickets on 7th and 8th April: (Stalls, Rows A-E) All seats £13
Crocodile Standard Tickets: All seats £11
Group rates available – tickets from £11
THEATRE ROYAL BOOKING DETAILS
Book in person at the Theatre Royal Box Office, Corporation Street, St. Helens, Merseyside WA10 1LQ (Mon – Sat 10am – 5pm). Alternatively, call 01744 756 000 or log on to: www.sthelenstheatreroyal.com
Preview and Photographs: Natalie Romero
Previewed: 1st March 2016