I first met up with the team behind Old Fruit Jar Productions last September to discuss this, their debut production, so it was an absolute delight to be invited to a preview performance on 2nd January at Folk, Liverpool in advance of their run proper at The Hope Street Theatre from 22nd January.
Woyzeck is based on an original but unfinished play from mid-1800's which was adapted in 2017 by Jack Thorne and reset in 1980's Berlin during the Cold War. It is much credit to this newly formed company and director Alex Carr that this is the first performance since its inaugural West End run.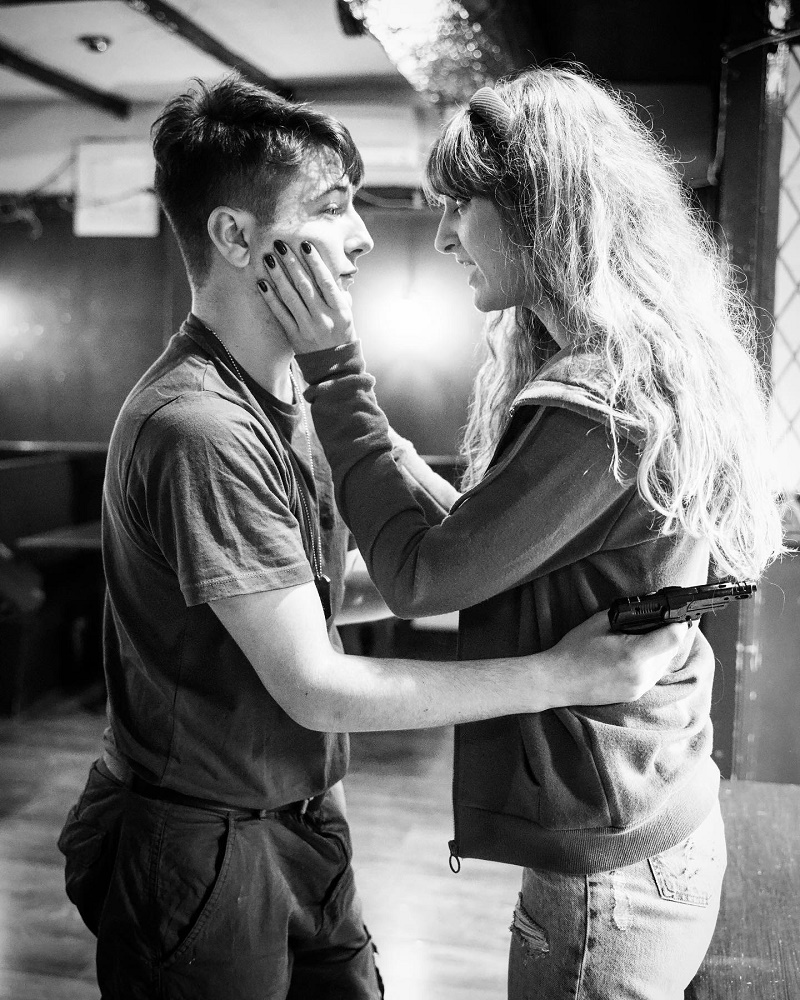 Franz Woyzeck (Jordan Barkley) is a lonely soldier living with Marie (Florence King), the mother of his child. Woyzeck earns extra money for his family by performing menial tasks for the Captain (Josh Ennis) and whose wife (Rachel McGrath) in turn patronises Marie. But when Woyzeck decides to supplement his income further by undertaking medical trials for a German doctor (Jamie Peacock) things begin to spiral out of control, fuelled further by the exploits of an over-amorous army colleague, Andrews (Anthony Roberts), and the ghost-like apparition of his long-dead mother (Christina Rose).
This is a play that takes you on a rollercoaster journey from black comedy comparable to the delights served up in Heller's Catch 22 to the very depths of Freudian despair as we explore the class divide, rich vs poor, exploitation, and mental health issues on the front line of a very divisive wall across Europe: there's so many bells ringing here with recent current affairs that it only goes to show that this has turned out to be a very inspired choice of play.
I was somewhat critical of theatre last year for not engaging properly, so I am over the moon to see one of my new year resolutions being met so quickly with this new young company grabbing the opportunity to do something different and tackle real issues in the forum of The Hope Street Theatre which was imagined with just this kind of group and production in mind; to have the opportunity to glimpse an early dress rehearsal with all the power that this talented company could unfold was well and truly the icing on the cake. I laughed out loud, sometimes so much it made me cry. Then the tears came for real as this hard-hitting play struck home as it all began to unravel. You feel great theatre. It moves you. This made me jump on more than one occasion as each and every one of the cast members nailed it under the capable direction of Carr. Although some of the technical aspects are a work in progress – which is to be expected at this early stage – the impact overall assured me that this is going to be a production not to be missed.
I commended another new theatre group last year for getting me to do the impossible and go to see their production twice. Old Fruit Jar Productions have just had the same effect: all of a sudden theatre in Liverpool is looking very exciting for 2020 – let's hope that everyone else can raise their game.
If you care to join me then get the following dates in your diary – you won't be disappointed:
22nd – 25th January 2020 at 7.30pm at The Hope Street Theatre, Liverpool
Tickets are priced at £13 (£10 concessions) with a pay what you decide on the opening night of 22nd.
Tickets are available via www.ticketquarter.co.uk/online/Woyzeck
Further details on the company, cast and crew can be found at https://www.facebook.com/OFJProductions/
Mark Davoren - January 2020