When Lawrence Batley Theatre decided to bring back professional pantomime after a long break they turned to self-confessed panto nerd Joyce Brangan to take charge of all the traditional craziness.
Oh, yes she is.
Now Joyce is back for a third year in Huddersfield this time at the helm of Aladdin, which opens on Friday 7th December, so why has she chosen this classic tale of star crossed lovers from very different sides of the tracks?
"In some ways there is quite a limited range of pantos that most people do as there is five or six you'll see round the country that are done over and over again," notes Joyce.
"I think Aladdin is one of the strongest stories, although there is the usual nonsense, music, dancing and the costumes, but for me the story is the most important thing. You've got this young lad trapped at home who wants to have adventures and there is the princess who feels the same although she is rich. They meet each other, but they can't be together because she is a princess.
"He meets the baddie, gets the lamp, has riches and the baddie takes it away from Aladdin. It has a magic carpet, travel and the baddie in Aladdin is Abanazar, which always gets confused with 'Aveabanana by the Dame in a running gag."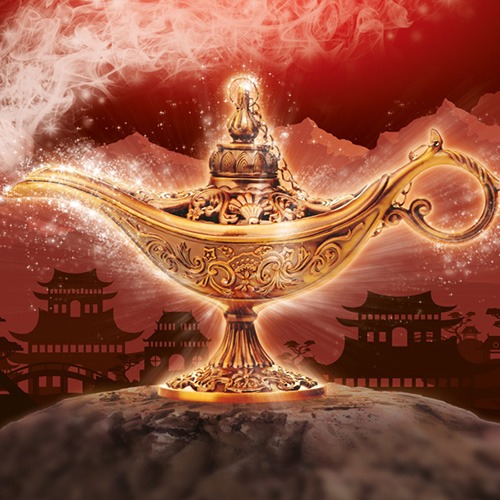 Anyone who is a panto regular knows they fall into two very distinct categories. The first are the ones who hire star names who are all too often of variable quality once the stage lights come on, and the others employ trained professionals who can deliver the goods night after night of a long run. Joyce has decided to go down the all professional route, including some performers who are coming back home to play their local theatre
"We have got people who are very, very good at what they do so we have really good comedy actors who can also sing, dance and do silly routines.
"Robin Simpson was our Dame last year, and he is coming back as he went down a storm. It was the only his second time ever being a Dame, and I had to slightly talk him into it. He is from just up for the road in Slaithwaite.
" We have another lad from last year called Tom Cotran who is our Aladdin, and what he is good at is he can do that effortless 'hello, I'm your mate thing', which is really difficult to get. Nic Ingram who was in M6's Tiger's Tale is our Genie of the Lamp which is slightly unusual to a have female play that role. She is from Barnsley, and is going to be quite a Barnsley genie."
Huddersfield has a thriving local amateur scene who put on pantos as part of their year round offer, and Joyce has hired Alyce Liburd who graduated from that world to the paid ranks playing Princess Jasmine. Local theatre lovers will have seen Alyce take a starring role in Airwaves, which was a major collaboration between Leeds Playhouse, BBC Radio Leeds and the Leeds College of Music.
"Alyce is a local Huddersfield lass who came to the audition and blew our socks off with her singing voice, and I said I feel like we've met before," recalls Joyce. "It turns out she'd done the amateur pantos with one of the local companies. I'd see her about three years ago and she has left, done some training and become professional."
Anyone who is a panto lover knows that one the secrets to its success is having jokes that appeal to the kids and slightly more risqué gags for the adults. Sometimes that can go right over the top, especially when the panto is Dick Whittington, so are Joyce and her team pushing it?
"I don't know if we go near the knuckle but there are jokes in there for the kid and jokes for the adults, but that comes from the writing. Our script is written by Andrew Pollard and he writes six pantos round the country because he is good.
"We are both real panto nerds so when people say does it matter and we say yes it does actually. It is getting the balance right where the kids won't get it, but still find it funny. I'm not a fan of jokes that are too blue because you get the kids turning around to the adults and going why is that funny?
"There are lots of bad pantos out there, it is done just to make money and it hasn't got any heart in it. They chuck a few famous people at it, write it in three seconds flat, they don't rehearse it and they don't sort of care. I've been to a couple of those, but most pantos are great, and it is about is this funnier if I do this or I do that?"
Panto is a very much a British tradition putting millions of bums on seats every year despite the attractions of the digital world, and for many kids it is their first exposure to the magic that is live theatre. For Joyce panto still works because it is a timeless and uplifting theatrical experience families can enjoy together.
"When you get it right you really got do all the generations enjoying something like Strictly does on the telly. When you go to a panto you are in that live environment and you are all having this bonkers experience.
"Part of it is looking at the rest of the audience and thinking we seem to be standing up doing 'heads, shoulders, knees and toes' even though I'm a grown up. Saying 'behind you' and all of that means you get caught up in it, and that is just very exciting, fun and silly .I think we don't have enough silliness going on as we get bogged down with bills, mortgages and Donald Trump."
Oh, no we won't!
Aladdin runs until Saturday 6th January with tickets now on sale priced from £18.50 - £12.50. A family saver of four tickets for £60 is also offered (conditions apply). To buy tickets contact the Lawrence Batley Theatre's Box Office on 01484 430528 or online at www.thelbt.org