Having had the privilege of a sneak preview of Diva Productions upcoming performance of the fantastic musical "Bat Boy" a fortnight ago, I was rather excited to be invited back to a full run through of this quirky and totally underrated masterpiece of a musical.
Having spoken to friends about my excitement for this upcoming production non-stop since my first visit to Oak Tree Studios, the current rehearsal location for Diva Theatre Company (part of Diva Productions), my second visit (on Sunday 26th June), could not have come quick enough!
The cast have not only been kept busy with full on rehearsals several times a week, but have also been promoting the show in Wakefield's City Centre on a couple of Saturday's - firstly within the Ridings Shopping Centre, followed by the relatively new Trinity Walk Shopping Complex. Despite all the hours of commitment thrown in, on top of full time studies or work commitments, the cast were still fresh faced and full of energy for a full three hour rehearsal, taking less than a fifteen minute break at the end of Act One to unwind and refresh.
With several costume and scenery changes, some of which were so quick I had to do a double take several times, the rehearsal ran smoothly without any major glitches and after spending the previous rehearsal taking non-stop notes, today I found myself too engrossed in the story, music and dancing to barely lift my pen!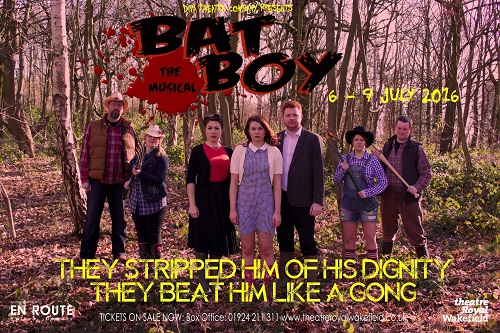 Once again, the vocals were hauntingly sensational, giving me goosebumps on more than one occasion. Aimee Good is flawless as Shelley Parker, the chemistry between her and fellow cast member Matthew Roddis (Bat Boy/Edgar) is believable and I found myself lost in the transition from Shelley's rejection and hatred towards "Bat Boy" to the pair growing closer moving to watch, and soon the wooden rehearsal room was no longer visible to me and I saw a grand production in full costume in front of me instead. Matthew's portrayal of this half boy/half creature is to be seen to be believed - his movements, motions and mannerisms in the first few scenes mimic that of a the said fictional creature and is transformation into well-mannered Edgar is fantastic.
The rest of the cast are equally an utter joy to watch, I could say so much about each one however I do not want to give too much away about this production before the grand opening night in just over a weeks' time (Wednesday 6th July 2016).
Choosing a musical that isn't a household name so to speak, is always going to be a brave choice, especially in such a small city as Wakefield, however, the cast of Diva have really taken this in their stride and put 100% into their performance. Each and every cast member has put so much time and energy into this production that even after just two rehearsals I have been blown away by the talent of each and every one performing.
The show may not have even opened yet, however I am already missing it and having withdrawal symptoms and eager for the next new production from this fantastic group of performers. However, as with most reputable amateur theatre companies, some of the younger performers are soon set to depart to head off to University which will be a huge loss for Diva but a huge gain for the said Universities. It would not surprise me if those leaving to pursue qualifications in musical theatre will soon be hitting the West End stages in a few years' time, and it will give me such great pride to say "I saw them here first".
If you haven't already booked your tickets there's still a few days left to do so via http://www.theatreroyalwakefield.co.uk. You can also see a preview of the show HERE!
Previewer: Lottie Davis-Browne
Previewed: 26th June 2016