It's a wet and miserable Sunday afternoon in Dewsbury town centre, West Yorkshire, but as I sauntered through the ghostly quiet town, a spectacular sound soon filled the air. I soon was able to follow this fabulous chorus of "Hold Me, Bat Boy" from the musical Bat Boy, to a rehearsal room currently occupied by Dewsbury based Diva Theatre Company.
Diva Theatre Company are much more than an amateur theatre company; formed in two parts - Diva Productions - bringing an exceptionally high standard of amateur theatre productions to the Wakefield area, and Diva Media - working with other local amateur theatre companies to bring productions to Yorkshire, including most recently working with Manor Operatic Society (Sheffield) on their production of Ghost: The Musical. Diva also has their own mobile photo studio, offering everything from professional head shots to family portraits - they bring their studio to you! Diva are also able to offer website set up for either individual performers to local theatre companies.
Diva has recently worked with local performer, and A level Dance and Drama student Aimee Good ( http://www.aimeegood.com ). Aimee has been performing since the age of eleven, and having had the pleasure of seeing her perform this afternoon, not only am are looking forward to seeing her on a large stage at Wakefield's Theatre Royal next month, I know Aimee will soon spread her wings to study in Musical Theatre at degree level and excel in doing so.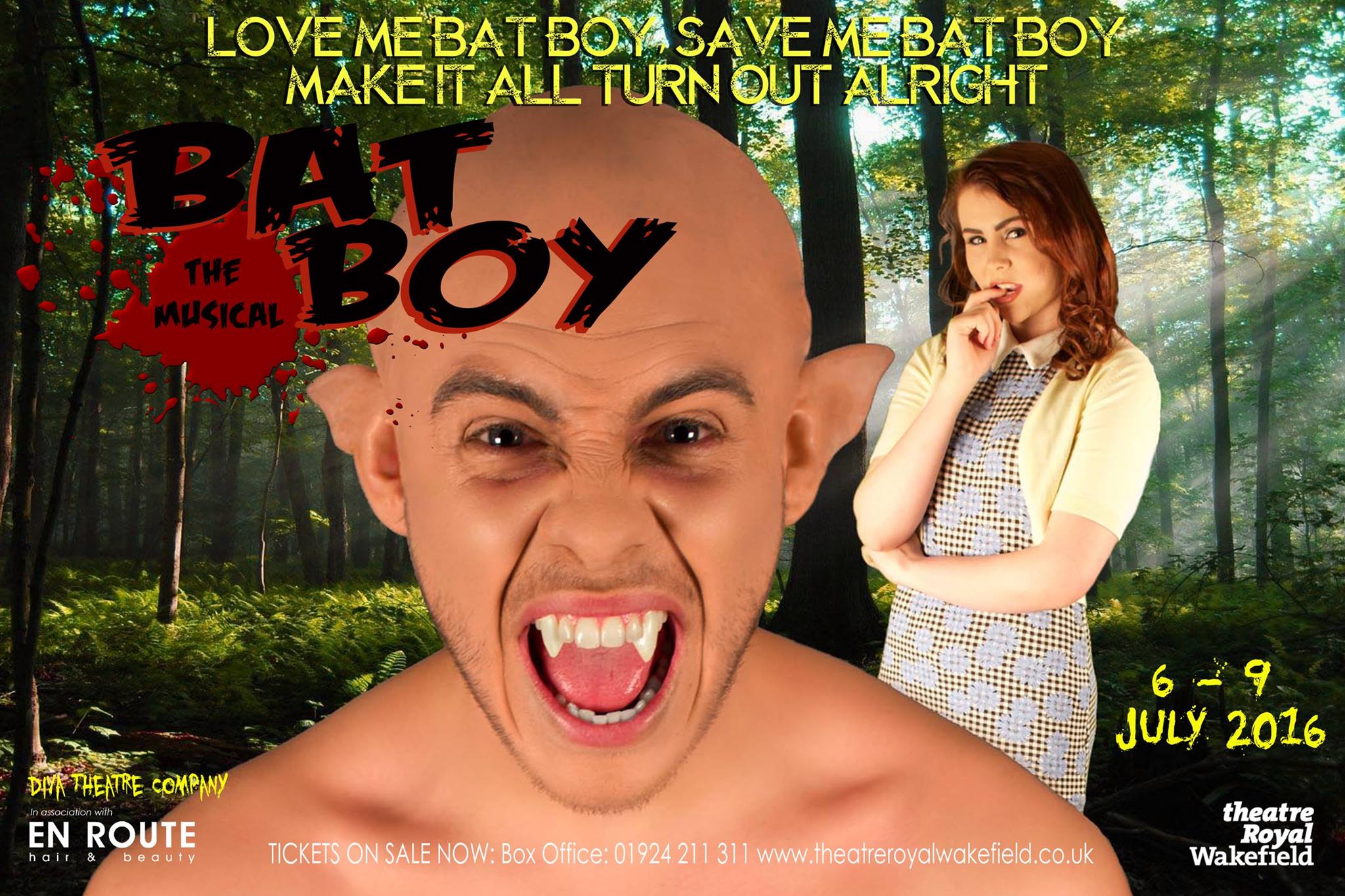 Diva Theatre Company are proud to be presenting a production of the critically acclaimed musical "Bat Boy: The Musical" at Wakefield's Theatre Royal from 6th-9th July. Based on a story in The Weekly World News, this is the off-Broadway smash musical comedy/horror show about a half boy/bat creature who is discovered in a cave near the fictional town Hope Falls, West Virginia. The pointy-eared feral child is adopted by a local family, but their attempts to raise into a model citizen are hampered by the fearful townspeople who remain unconvinced by his toothy charms. This is a wonderful, playful and gruesome satire full of its of weirdness and charm. Think Sweeney Todd meets Edward Scissorhands with a hint of the Twilight Saga and you've got Bat Boy!
The musical score is amazing, paired with amazingly talented singers and beautiful choreography, this is going to be a spectacular show not to be missed!
Having given up their Saturday to treat the shoppers in Wakefield's The Ridings Shopping Centre to a sneak preview, the cast were still fresh faced and full of energy for a full run through Act One and a couple of scenes from Act Two. Having seen the most recent London off-West End production in 2014 at the Southwark Playhouse, I was already familiar with the plot, characters and musical score, so found the rehearsal to be easy to follow and was even visualising the stage set and costumes from the London cast.
Having already fallen in love with this cast based on the vocals I had heard from outside the rehearsal room, I was soon drawn into the story once more and in awe of the talented cast in front of me. Matt Roddis as Bat Boy/Edgar, is perfectly cast in the role. His movements and mannerisms before he is given the identity and etiquette mannerisms of "Edgar" is on par with the London casting (Rob Compton) and I kept having to stop focusing on his performance as an individual as I was missing other equally talented cast members! I couldn't think why another cast member appeared familiar to me, only to get home and discover I had recently seen Dale Vaughan in a production of "Into The Woods" at Sheffield's Lyceum Theatre, playing the role of the Wolf. Dale's role of Dr. Parker, husband to Meredith Parker and father to Shelley Parker, is even more of a joy to watch than his performance as the Wolf. I could go on for hours about how wonderful this sneak preview was but I want to save some of it for later!
The cast return to Wakefield again this coming Saturday (18th June), this time in the relatively new shopping complex, Trinity Walk, promoting the show and once again giving Wakefield a treat with their stunning vocal and acting skills. I plan to jump through hoops to be there myself to witness this and give my support to Diva, and urge anybody within easy reach of Wakefield to drop everything and be in Wakefield from around 10am to show your support and witness the talent for themselves. I also plan to return to another rehearsal before opening night and do all I can to spread the word of this wonderful and exciting upcoming performance!
I really cannot wait for my next instalment! I feel honored to have been a part of yesterday's rehearsal and look forward to seeing the cast in full swing again this coming Saturday.
Tickets for Bat Boy can be booked via http://www.theatreroyalwakefield.co.uk
Further information about Diva Theatre Company can be found http://www.divaproductions.co.uk
Bat Boy The Musical - 6th-9th July at Theatre Royal Wakefield - tickets a steal at £17 or less! You would be a BLOODY idiot to miss it!!
Preview by: Lottie Davis-Browne
Previewed: 12th June 2016