Before Cabaret swept the Oscars it was a hit musical with its edgy themes and big numbers continuing to pack them in every time it goes out on tour.
The latest version directed by Rufus Norris is at Leeds Grand from Tuesday 3rd March. Kara Lily Hayworth plays the damaged chanteuse Sally Bowles plying her trade in Weimar Germany as the star of the debauched Kit Kat Club under the baleful eye of the malevolent Emcee.
"She's an absolute gem of a part to play as she's so complicated, says Kara Lily. "Sally's not just this typical girl as on the surface she seems this fun loving, carefree character, but she has so much more going on. She is basically a tortured soul who wants to be loved, but keeps pushing people away, and I find new things in the character every day. I'm always wanted to play Sally as it's been my dream role forever."
"The music by Kander and Ebb doesn't age, so I get to sing the title song, 'Maybe This Time', 'Mein Herr' and John Partridge, who is brilliant playing the Emcee, gets 'Money, Money' and 'Willkommen'.
Partridge is probably best known for playing for long running character Christian Clarke in Eastenders, and he brings a different sort of physicality to a character who seems to have few, if any, redeeming features.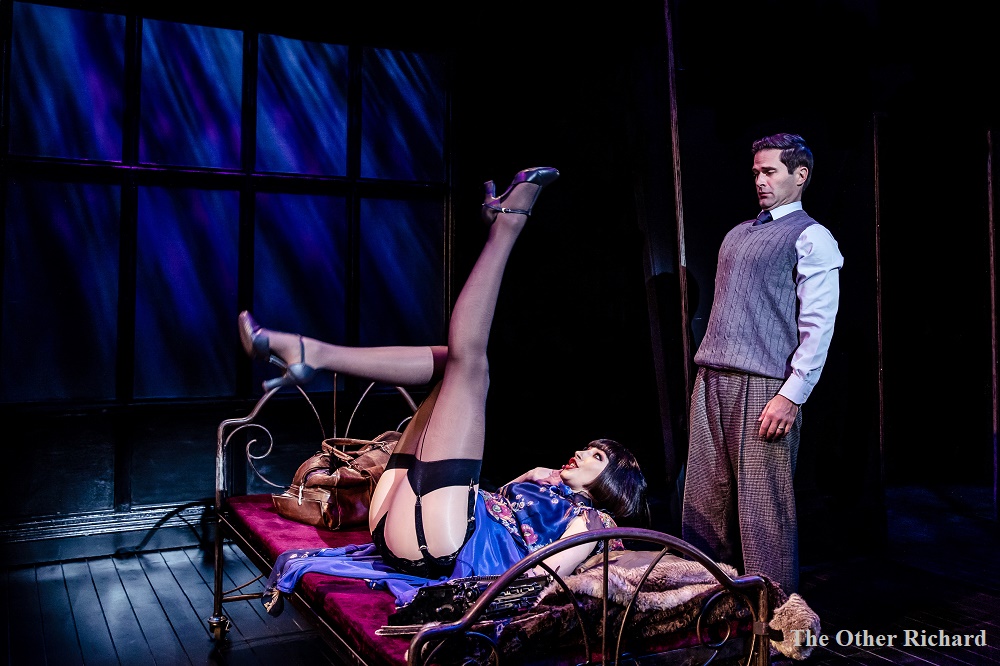 "He plays it differently to how I imagine other people have as he plays it quite dark and heavy. He still has that clown aspect, he's very funny, gets the audience on side right away and he has an incredible voice."
Perhaps the toughest ask for the stars of any musical version is to dispel in the audience's minds the astonishing cinematic performance of Liza Minelli as Sally and Joel Grey as the Emcee, which won them Oscars.
"The stage musical came before the film and Sally in the musical is quite different," retorts Hayworth "She's English in the musical where Lisa Minnelli was American, and Cliff was English, so it is the other way round in the original show. It's different, especially this version directed by Rufus Norris, it's quite dark so it's not just the big musical numbers as it's really about the storytelling.
"I love the film, and Liza Minnelli is just an absolute icon, but this is very different, so it is not too difficult to steer away from the movie."
The other unbilled star of the movie is director Bob Fosse's astonishing choreography, but this version's moves have been reimagined for a new audience.
"This production was done at Lyric Theatre in the West End a few years ago, and Javier De Frutos rechoreographed it, and it is so clever.
"During Mein Herr at the top of the show we have this big set of stairs that are spun round the stage as people are jumping off and running up and down them. It's constantly moving, so it was quite nerve racking to get to grips with that in rehearsals."
Hayworth's big break was playing Scouse songstress Cilla Black in a jukebox musical of her rags to riches life, so did she draw any inspiration from recreating the singer turned TV star on that hit tour.
"Cilla had this way of commanding the stage, and making people fall in love with her so easily, so there is definitely element of that in Sally," muses Hayworth. "She has this confidence and way of walking into a room and lighting it up. Cilla had the same thing so there is a bit of a comparison to be had there."
The national tour is underway, so the final arbitrator of whether Hayworth and Partridge have created their own unique version of this classic will be a really discerning West Yorkshire audience.
"I've had a lot of people saying I wasn't expecting it to be as dark as that. It's quite raunchy, there's a bit of nudity in it, so it doesn't shy away from any of the things that would have been happening at the time in Berlin as that's what life was like."
Cabaret is at Leeds Grand Theatre from Tuesday 3rd March to Saturday 7th March. To book 0844 8482700 or www.leedsgrandtheatre.com