When Chris O'Connor was working through a period of metal ill health it inspired him to write The Life and Soul focusing on one man's battle with his own issues that toured pubs and clubs around the North.
Now he's back with a two hander, The Parting Glass, that Red Ladder Theatre Company are taking out on tour thanks to funding from Leeds City Council through Leeds Community Foundation.
"It's about a guy called Jim who fancies himself as bit of a lad, and a girl called Sarah who is also a bit of a character," says Chris. "As it goes on, they seem like the perfect match, but the more and more we go through the play you realise there is a lingering darkness in Jim, which seems to thwart any potential happiness he might have."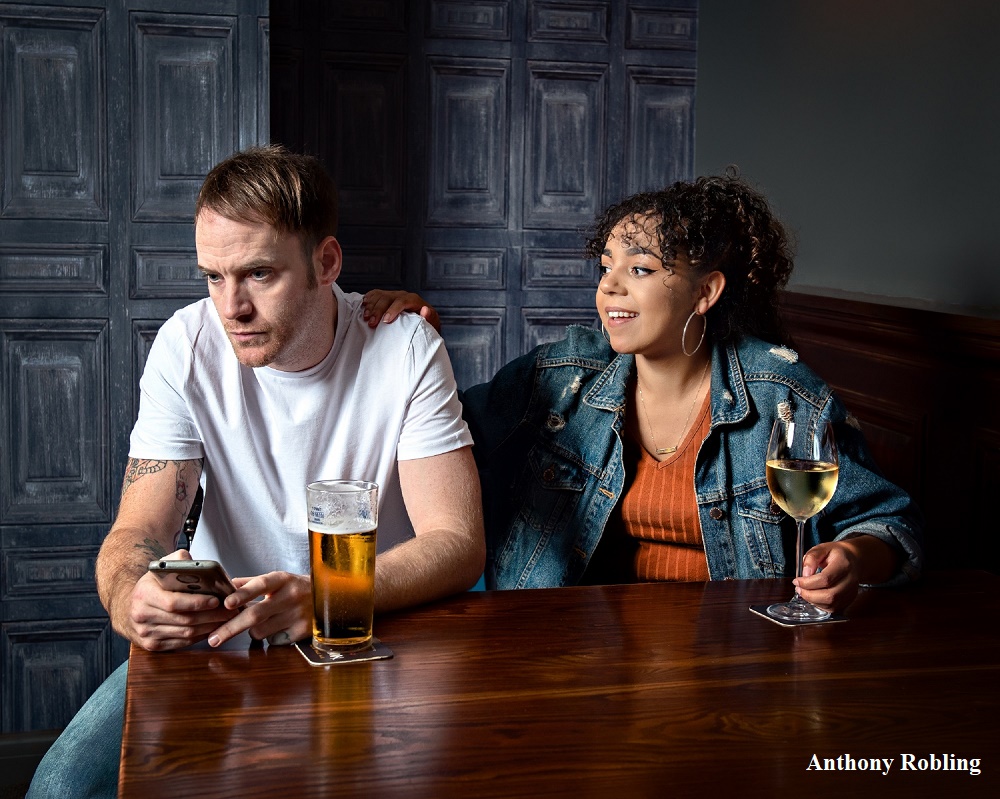 The Life and Soul started off as an entry for a BBC writers competition aimed at finding unheard voices looking at big issues like mental ill health in these very uncertain times in a new way.
"At time there wasn't much about around mental health and I'd had a tough time. I found a stat at that time that 78% of all suicides were men, so I wrote this 10-minute play. I showed the script to Red Ladder, who really liked it, and I developed it into a thirty-minute monologue for Jim that they toured round their small city circuit which was perfect.
"It was pretty moving to speak to people who've had people who are unfortunately no longer here and lost their battle with mental health. In the Q and As I did notice that people were interested in the other perspective of not just the sufferer, but the people connected to them."
On this tour there will also be after show Q and A's facilitated by a mental health specialist offering people a safe place to talk about any feelings The Parting Glass has brought up. But this time Chris has introduced a strong female character because he is well aware that mental ill health is not just an issue for men.
"I've got four half younger sisters seeing them grow up in the social media age, and the rise of certain anxiety disorders among young teenage girls, I wanted to put something along those lines in there," says Chris.
"I certainly wanted the female perspective in there as I was very keen to not just say look how bad it is for men. The latest stats we had showed the male suicide rate has declined slightly, but the rate for young men has actually increased, and also the suicide rate for females has stayed the same. So it's important to get both sides of the spectrum in there."
One of the issues around the current terrifying rates of mental ill health and suicide in our society is the fact that there is a massive stigma around admitting you might have a problem. Like many writers Chris has drawn on his own experiences for both works and has been prepared to be open about his own struggles.
"At the time I had just things end with a girl, I was at a particularly low point, and I saw the competition," recalls Chris. "My only way of dealing with it was to just go out, meet people and have fun. I remember I was on a train down to London, with a few cans of Stella, so I thought I'd write out this monologue.
"It was quite cathartic, there was a lot of me in the original draft, but it's changed quite a bit since. Writing can be a good coping mechanism, and luckily, I found routes like therapy and mediation. I did a lot of the right things rather than carrying on drinking."
Sometimes finding the title of a piece can be a bit tricky, but as Chris did his research it became obvious to him what the title for the original 10-minute monologue was going to be.
"When I looked at the stats the phrase' life and soul' kept coming up, which is I where got my first title from. It was friends, or family saying: 'so and so was the life and soul, we never saw it coming'. It made me think that it's a bit counter intuitive as it's not always the person who wants to retreat from the world, it can be the opposite.
"It's the guy who always wants to stay out for the extra round, but sometimes they might seem like a laugh, but when everyone goes away the laughing stops. They could be using things to run away from something."
Another problem men have in expressing their feelings is the endless tiresome 'bantz' that groups of lads indulge that discourages any emotional honesty, but Chris thinks there is reason for this.
"It's a defence mechanism in some ways constantly having this witty banter you never really get below the surface of who they really are. They didn't really want to go into it either, so they are continually being this larger than life joker of the pack type of character. Unfortunately, you can't run away from it all forever."
Despite the serious subject Chris is keen to emphasise that The Parting Glass is designed to entertain as well as inform especially as Red Ladder have cast two strong actors.
Leeds actor Tom Swift has already tackled The Life and Soul but will be making his professional debut in this longer piece directed by Red Ladder's Artistic Director Rod Dixon. He will be joined by rising star Alyce Liburd who worked with Chris on Airplays for BBC Radio Leeds and Leeds Playhouse.
"In the play there is a lot of fun and between him and Sarah there is some genuine love. It comes up from around the mid-point as the darkness starts to creep in, but first and foremost it is an entertaining play.
"People sometimes use an analogy of a Trojan Horse, so you get the themes hidden beneath the fun, entertaining surface. It's meant to be a good night out, but at the end I want people to pause and reflect on their own situation, or maybe think I've got a mate I'll check in with."
Tickets for The Parting Glass can be booked through Leeds Playhouse, Barnsley Civic, Wakefield Theatre Royal or directly through the venues. For more information and to book tickets please visit www.redladder.co.uk
Listings
Friday 20th September 7.30pm, £5
The Grove Hall, The Grove, Stockingate, Pontefract WF9 3QF
Friday 18th October 7.30pm, £5
Hunslet RLFC, South Leeds Stadium, Middleton Grove, Leeds, LS11 5DJ
Saturday 19th October 7.30pm, £6, £5 adv
Queens Mill Heritage Centre, Aire Street, Castleford WF10 1JL