It seems such a long time ago since I last had the pleasure of witnessing the many talents that form Pick Me Up Productions, when it actually was not that long ago! I always look forward to venturing to York's hidden gem of a theatre, The Joseph Rowntree Theatre, to see the latest masterpiece from this simply magnificent group, who are, in my opinion, the best Amateur Dramatics group in the North. Previous productions include She Stoops To Conquer, Les Miserables and the porker of a comedy musical Betty Blue Eyes. Each production has always been of the highest quality and an absolute delight to watch.
I was fairly nervous about their latest production, One Man 2 Guvnors, purely due to the fact that I tend to shy away from plays choosing musicals or ballet instead. However through lots of persuasion by friends and fellow theatre lovers I have recently started to branch out more and seen many fabulous plays including slap-stick comedy The Play That Goes Wrong, and the gory Let The Right One In, based on the horror movie of the same name. I purposely did not read any reviews on One Man prior to this evening, as I wanted to go with an open mind. Within the first fifteen minutes I was loving every second and loved the relaxed yet intimate atmosphere the cast had created with the audience. The production kicked off with a skiffle band warming up the atmosphere in the audience before the performance started at 7:30pm. These then became a vital part of the production and aided the relaxed atmosphere.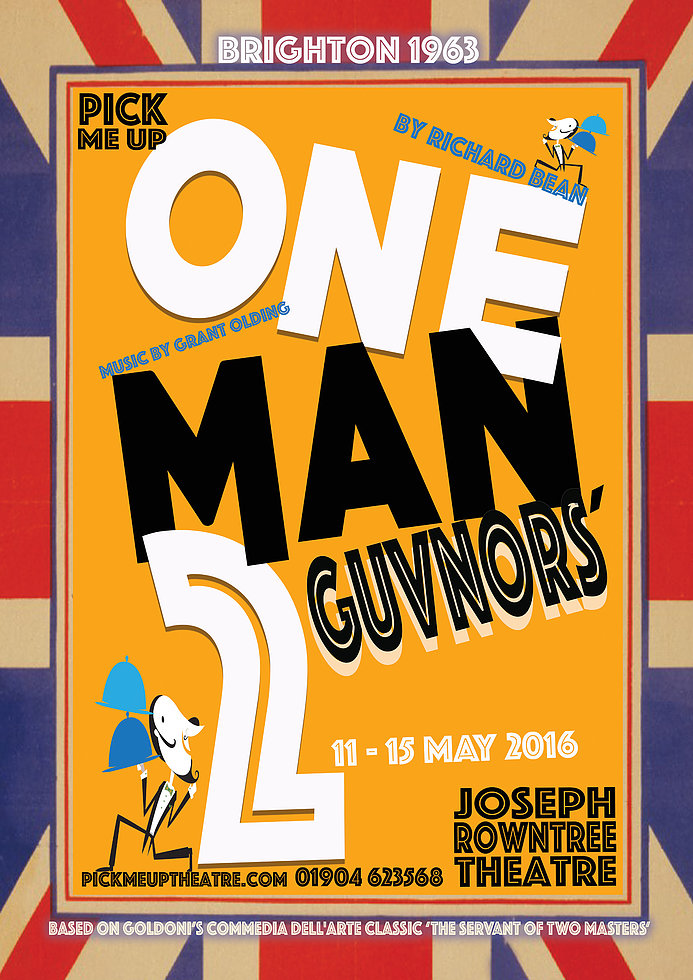 The play is an adaptation of The Servant of Two Masters by Carlo Goldini. Richard Bean has altered the names of the characters, relocated the geographical setting and changed various plotting points, but the play is still recognisably based upon Goldoni's original.
The story takes place in 1960s Brighton, where we meet socially naïve Francis Henshall (played by Phil Grainger), who accidentally becomes separately employed by two men – Roscoe Crabb, a local gangster, and Stanley Stubbers, an upper class criminal. Francis tries to keep the two men from meeting in order to avoid them learning that he (Francis) is working for someone else.
The performance is filled with gags and slapstick comedy along with some audience participation. As always, every single cast member gave an absolute stellar of a performance but it was Phil as Francis Henshall whom had the hardest role of all, keeping in character and embracing the audience in participation but also keeping a straight face through the many laugh out loud moments. Sam Baxter gave a spot on performance as Alan Dangle, an over-the-top wannabe actor. Mick Liversedge was a hoot as loveable elderly waiter Alfie, whilst once again both Holly Surtees-Smith (as Pauline Clench) and Maya Tether (who was most recently Elle Woods in York Stage Musicals production of Legally Blonde) prove that they are destined to be leading ladies and their outstanding talent amazes me with each performance.
I admit I really had to bite my lip on leaving the show when I heard a lady comment that the show was "very amateur" – I am not sure just how many shows this particular lady has seen in her life, or what her own background is in theatre, but for someone who saw on average three shows a week in the West End for the past decade and has been involved backstage in several stage schools productions and still regularly commute into London for the sole purpose of seeing or reviewing shows, I can honestly say that Pick Me Up Productions are by far the best "amateur" company I have ever had the pleasure of seeing what have been truly top class productions. At the end of the day a majority of the cast are still in full time education, some maybe going on to study musical theatre, others may not, however each cast member gives 110% to their performance making each performance a delight to watch. The costumes, stage sets etc are all of a high standard and to me there is very little "amateur" feel to each production.
This performance has to be the funniest thing I have seen in ages and I cannot urge you enough to go and see it for yourself.
The production runs until Sunday 15th May, with tickets being a bargain at only £15. Tickets for this production and all upcoming productions can be purchased via their website https://thelittleboxoffice.com/pickmeuptheatre/
Once again an absolute delight of a performance! And now I start the withdrawal process and what always seems like such a long wait until Pick Me Up's next production, Stephen Sondheims' Assassins in July. The countdown begins!
Reviewer: Lottie Davis-Browne
Reviewed: 11th May 2016