I am often pleased when a theatre company perform a traditional and classic musical, so I was very pleased to review Wakefield West Riding Theatre Company's performance of My Fair Lady at the Theatre Royal in Wakefield this evening. We forget how many popular musical numbers originate from My Fair Lady, and the cast of this well-established amateur company performed these numbers superbly with clear enjoyment.
The performance began with an announcement informing us that the principle role of Colonel Pickering would be played by Steve Mather, with only 24 hours' notice to prepare due to the regular actor suffering from a sudden illness, and I can only commend Mather on the professional and fluid performance he displayed tonight! The show must go on after all!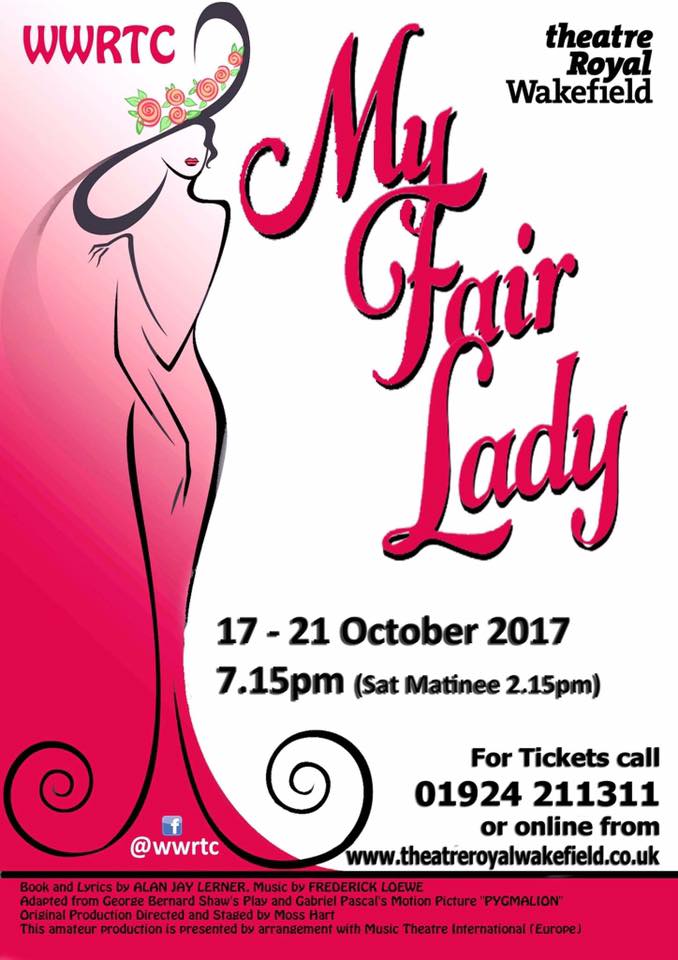 My Fair Lady began its theatrical journey with a pre-Broadway try out in 1956 and transferred to the bright lights of Broadway the very same year. The show also opened in London in 1958 and this is when the British public fell in love with this alternative love story between Eliza Doolittle, a cockney, ill-mannered flower girl and her pompous, phonetic professor Henry Higgins. Before tonight I hadn't appreciated the complex and incredibly moving musical score to this musical, but tonight James Greatorex showed outstanding enthusiasm and control within his role of Musical Director, guiding his orchestra through the complex melodies with precise timing.
The show revolves around some bold and interesting characters, of which the cast members showed great joy portraying on stage. Ian Fryer was almost born to play the controlling yet charming role of Professor Henry Higgings. Fryer was capable of communicating the degrading treatment of Eliza Doolitte (played by Jane Hubert) with the subtle flirtation and affection required for the complex role. Fryer also displayed a flawless vocal interpretation of role, perfecting the standard of speech and language the narrative is built around, an excellent performance of which to be proud of. Michael Tattershall also showcased his refined singing voice during his rendition of the well-known number "On the street where you live" as the love struck, hopeless role of Freddy. The second act of the musical did suffer from a much slower pace than the first, with what felt like unnecessary set changes and prolonged pauses between scenes, but the energy certainly returned in the up-beat performance of "Get me to the church on time" by the hilarious David Hookman in his role of Alfred.P Doolittle. Hookman's cheeky demeanour and animation really brought the role to life, and he was fully supported by the high-spirited ensemble in this fantastic and intricate musical number. The ensemble was a true credit to the Director and Choreographer Dee Bennie-Marshall and I am sure she is pleased with tonight's performance.
For me an amateur performance is an instant success when you can take a still moment in the performance and appreciate the aesthetic of the production to a professional standard. In tonight's performance of My Fair Lady Kath Ward had a mammoth job as Head of Wardrobe to transform the ensemble of cockney street sellers and drunks into civilised royalty with excellent attention to detail, and the results were very impressive. Overall, the performance this evening was a credit to this well-loved musical, and seemed to be a true team effort which is what amateur theatre is all about. I truly wish the company the best of luck in their performances this week, tonight was a brilliant display of local theatre and talent.
Reviewer: Christine-Jane Parkes
Reviewed: 17th October 2017