Let's face it – Les Misérables probably isn't everyone's cup of tea. It's not exactly a barrel of laughs (although it does have the occasional lighter moment) and the title says it all really. This is what I thought...before I saw it performed by Manchester Musical Youth (MMY) tonight.
I'm not even going to build up slowly to my overall opinion: This production is heart-breaking, compelling and extraordinarily brilliant. If you don't get to see it, you will have missed something absolutely astonishing.
(Before I go any further, I must congratulate the cast for performing on one of the hottest nights of the year without looking as if they were breaking a sweat. True professionals from start to finish).
This is a heavyweight, emotionally draining show and the fact that the performers are aged between 10 and 19 is quite astounding. The performance given by every single member of the cast is exceptional.
Les Misérables is set in Paris and spans the years between 1815 and 1832. It is a time of civil unrest and rebellion. We follow the story of Jean Valjean who has spent nineteen years on the chain gang for stealing a loaf of bread. Through the kindness of others who forgive him other crimes, he vows to change his life and rises in status and wealth and becomes a factory owner. He vows to one of his employees, Fantine, as she is dying, that he will seek out her adopted daughter and take care of her. This he does and the daughter, Cosette, grows up and falls in love with a politically minded student, Marius, who she eventually marries. This is amidst a backdrop of revolution and fighting.
At the beginning of the show when the ensemble sang "At The End of the Day" - I was completely mesmerised. The vocal sound is magnificent and stirring, to say the least. You just do not feel that you are seeing and hearing a youth production, they have a maturity and assurance way beyond their years that some seasoned actors would aspire to. Each member of the ensemble acts constantly, I made a point of watching every single one of them at various points. They each have their own story to tell and they don't stop telling it.
Jean Valjean is played by Joshua Kime. He gives a completely spellbinding performance and words cannot do him justice. He completely captures all the nuances of the character: bitterness, regret, desperation and torment and all these combine to produce a performance much bigger than the sum of its parts. His voice is remarkable and when he sang "Bring Him Home", the whole audience was completely transfixed...and rightly so. He has the gravitas which this role demands and this was acting of an award winning standard.
Inspector Javert, (who pursues Valjean over the years as he broke parole) is played by Cameron Hall, who gives an extremely commanding performance at all times. His tenacity in pursuing Valjean at all costs is utterly compelling.
Rachel Kevern as Fantine is deeply moving and the way she sings "I Dreamed a Dream" is breath-taking. She had us hanging on every single word, not to mention feeling every emotion that she was so skilfully portraying. To be able to sing like this when you are completely alone on stage and very exposed takes real talent. Her voice is beautiful. Her character's transformation from hard working, quiet girl to brash prostitute who has lost absolutely everything is done magnificently.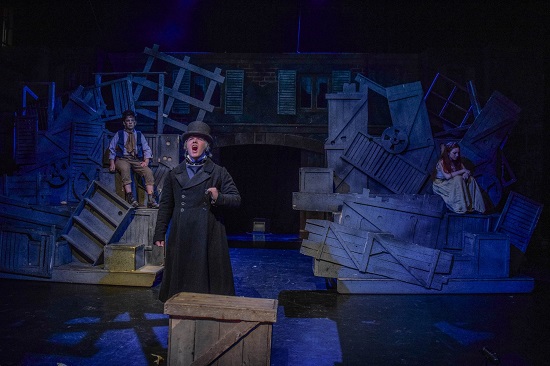 A special mention has to go to Monsieur and Madame Thénardier - played by David Beeby and Nelly Tomlinson. They are the despicable couple you love to hate – but they make it a lot of fun and provide a little much needed light relief. I can't imagine them being better cast and they created quite a double act. David Beeby plays the part with his trademark aplomb and confidence and you always feel you're getting a little bit extra from him with his superb facial expressions and seemingly unstoppable talent. Nelly Tomlinson played the overbearing and nasty Madame T with complete assurance and a full-bodied performance. One of the (many) highlights of the show for me was "Master of the House". They were a joy to watch – particularly later on at the wedding when they really are grotesque!
Eponine was played by Eve Rowan and she was mesmerising in her portrayal of the unrequited lover of Marius. Her rendition of "On My Own" was another stand out, spine-tingling, solo performance.
Other cast members who are to be congratulated (and I'm sorry I can't name you all) are Jack Gibson who played Enjolras and Riccardo Atherton who played Gavroche. Utterly spellbinding performances from both of them. The finale was rousing, emotional and perfectly staged. An amazing ending to a long and emotionally draining show. I cannot praise this production and all those involved highly enough.
Every single cast member completely embraced their role and understood perfectly what was required. They don't just act it, they ARE it. Credit for this surely lies with the creative team who have excelled themselves with this production. Congratulations to Dave Holden (Producer), Kimberly Holden (Musical Director), Dan Jarvis (Director), Ellie Whitfield (Co-Director) and Emily Clarke (Choreographer). Time and again they succeed in creating something absolutely perfect. This is a very special company and a fantastic asset to the Manchester theatre scene.
The set is excellent. The barricade itself is extremely impressive and imaginatively done. The costumes are amazingly authentic.
There was an excited buzz in the audience before curtain up and a loud "oooh" once the lights went down. This is because MMY has a well deserved reputation of excellence. I have seen two previous productions of theirs and have been totally stunned by each of them. Apparently there is a waiting list for ticket returns for Les Misérables...so I feel privileged to have been there on opening night and witnessed something wonderful. I had tears in my eyes by the finale and it was wonderful to be part of the standing ovation which just went on and on.
I have seen the future of the West End and it is currently on stage at Z-Arts in Manchester.
Reviewed: 20th July 2016
Reviewer: Nicky Lambert
North West End Rating: ★★★★★
Photos: Mark Russell