Tonight I made my way up to Lowton and the Rose Centre to meet The Addams Family. The Addam's are a group of fictional characters created by cartoonist Charles Addams. They are an eccentric wealthy clan who delight in the macabre and are unaware that other people find them weird or frightening. What better premise for a musical I hear you cry! With a book by Marshall Brickman and Rick Elice and music/lyrics from Andrew Lippa, The Addams Family is a joy from start to finish with razor sharp comedy and some superb songs.
Lowton Operatic & Dramatic Society have taken this musical yet to have a professional version play in the UK, although it has had a successful run on Broadway, and produced a great evening of entertainment.
The story, It's a dismal day at the Addams family's manse, with the ever-approaching storm clouds reflecting the gloomy atmosphere that has beset the household. Daughter Wednesday (Louise McCarthy), now eighteen years old, has found herself experiencing a surprising new sensation, one that frightens both her and her family: she has fallen in love. Lucas Beineke (Dom Peters), the object of her affections, comes from a seemingly normal family, and he and his parents Mal (Phil Dickinson) and Alice (Bethan Littlewood) are on their way to the Addams' estate to become better acquainted with the family over dinner. Brother Pugsley (Luke Ellam), who has been largely ignored since Wednesday's involvement with Lucas, begins to miss the attention his sister previously paid to him and pleads with her to torture him once more. Meanwhile, mother Morticia (Cathie Henry) finds herself conflicted over her ever-maturing daughter's newfound feelings, while oblivious father Gomez (Chris MacDonald) simply wishes things would remain the way they were. As they learn to relate to the Beinekes and cope with Wednesday's romance, one thing is certain: the Addams family will never be the same.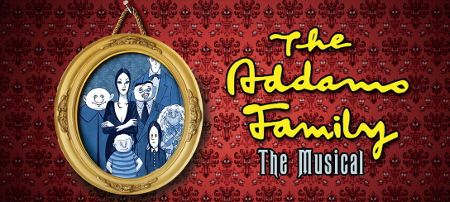 The first surprise for me was the staging of this show. The Rose Centre is an unassuming building, much like any community centre you find all over the country with a stage in a large hall. What both myself and my guest for the evening were not expecting was that they had the ability to fly things in and out which made for smoother transitions. Add to this a depth to the stage which wasn't apparent from the outside and this show took on a grand feel. The sets were simple yet striking and the use of curtains to mask half of the stage at times reminds one of the original Broadway version. I must at this point congratulate the wardrobe department on what were superb costumes. Sue Halton, Helen Gregson and Sue McCarthy take a bow, glorious.
The entire cast gave everything tonight. MacDonald and Henry as the heads of the family are a great pairing bouncing off each other throughout, although you are never in any doubt who is in charge. Dickinson and Littlewood as the parents of Lucas are again paired well and it is a joy to watch their journey rekindling their feelings for one another. Peters as Lucas is confident on stage and his relationship with Wednesday is played thoughtfully as he gradually submits to McCarthy's charms. Ellam as Pugsley is a typical scheming teenager and his actions at dinner change the lives of two characters forever.
There are fantastic supporting roles from Steve Jackson as Uncle Fester and Eleanor Ferguson as 102 year old Grandma. There is also a number of brief appearances from Sue McCarthy as Cousin IT. But for me the star of the show was Chris Holding as Lurch. Without uttering a word until the very end of the show he holds your attention whenever he is on stage gliding backwards and forwards showing no emotion whatsoever. It was a pure masterclass in mime and glorious comedic acting.
The principal cast were accompanied by 12 ensemble who danced and sang well with the highlight for me coming at the very beginning of the show as all performed the opening number "When You're An Addams".
The only criticism I have of this production is the use of pre-recorded music. Nothing can beat a live band no matter how big or small their number and adds an even greater scale to any production.
Director Carolyne Smith, who confessed to me before the show this was her musical theatre directorial debut has produced an extremely good show that cannot fail to bring a smile to your face. Packed full of jokes, some of which were topical without trying to be and some evidently intentional, and a catchy score I thoroughly enjoyed my night with The Addams Family. Maybe next time I can play "Full Disclosure" as well?
The Addams Family continues at the Rose Centre in Lowton until Saturday 16th July and full details can be found at www.lowtonoads.co.uk
Reviewer: Paul Downham
Reviewed: 13th July 2016