On a rather freezing visit to Wakefield's Theatre Royal in the Winter months of 2015, I spotted a poster for an upcoming production of the 1997 musical 'Bat Boy' by a local theatre company – Diva Theatre Company, and was instantly filled with excitement, having seen the musical a few years ago elsewhere. I cannot put it into words what makes 'Bat Boy' such a unique, quirky and original musical with a marmite edge to it – in the sense that you will think it's the best thing to happen in musical theatre in years or come out wondering what on earth you just witnessed! I hope it is not the latter, as everybody that I know that has seen any production of it has done nothing but rave about it for months afterwards.
After what seemed like an eternity of endless waiting, the months soon flew by and after having had the honour of a couple of sneak previews, the excitement was worse than a small child during the build up to Christmas. Unfortunately due to an error on my part I was unable to be there on open evening on Tuesday 6th July, however I had friends (or spies as I like to call them!) in the audience who came back saying how fantastic it was and that it received a full standing ovation.
'Bat Boy' is an American musical with a book by Keythe Farley and Brian Flemming, with music and lyrics by Laurence O'Keefe, and is based on a June 23rd 1992 'Weekly World News' story about a half-boy, half-bat dubbed 'Bat Boy' who grew up living in a cave. Set in the fictional town of Hope Falls, West Virginia, three teenage cavers, Rick, Ron and Ruthie Taylor, discover the Bat Boy, a deformed humanoid creature. Bat Boy attacks Ruthie and is taken captive and soon placed in the care of Sherrif Reynolds who then takes him to the home of local Vet Dr. Parker, and his wife, Meredith agrees to care for him, much to the disgust of their teenage daughter Shelley. After Meredith devotes her time into raising Bat Boy, who she renames Edgar, much to the despair of her deprived husband, Edgar is keen to show all of Hope Falls that he is no different to them. However, the locals have their own opinions of Edgar.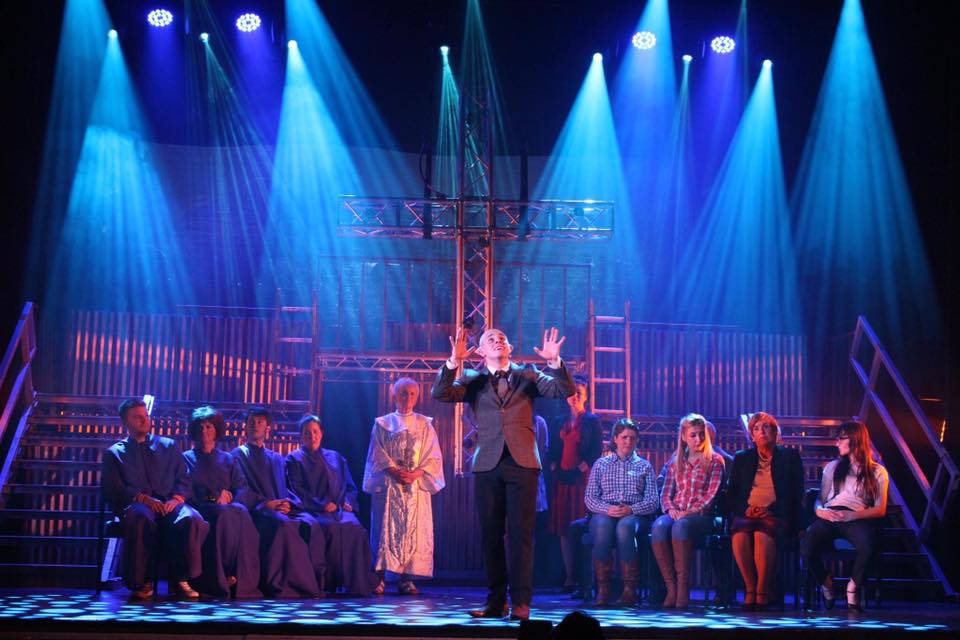 The staging comprises mainly of two sets of metal stairs with a bridge/platform in the middle, with various props being used throughout, along with the use of digital media, including a fantastic video used on a large screen it Act Two. This video alone spectacular was spectacular as it was filmed across various locations and was both hilarious yet gory to watch! Both the sounds and lighting add to a dramatic feel, which has you on the edge of your seat one minute but hiding behind your programme/partner/theatre buddy the next minute.
The cast sounded outstanding in rehearsals however on such a large stage in such a grand theatre, I was totally blown away! There is not one weak singer amongst the cast, the leads, Matt Roddis (Edgar/Bat Boy) and Aimee Good (Shelley Parker) had exceeded my expectations in rehearsal however, on stage with a live orchestra the pair not only sounded amazing but had fantastic chemistry, whilst seeing them in full costume really brought their characters to life. Matt in particular gave an outstanding performance in what is a rather difficult character to portray, but it was his transition from 'Bat Boy' to Edgar that I particularly loved, his mannerisms and over-the-top etiquette ('from those BBC language tapes") soon changed the audiences' perception of this half boy, half bat creature and it was hard not to fall for Edgar's charm.
Dale Vaughan as Dr. Parker was deliciously eerie and sinister showing off the darker side of the role, and I particularly loved his performance of 'Dance With Me, Darling' alongside stage wife Meredith (Charlotte Spowage). Vocally it was Charlotte Spowage that gave the most outstanding performance of the evening, although Aimee Good was equally as good, Charlotte's voice was vocally more mature, and I adored her rendition of 'Show You a Thing or Two'. The choreography (Joanne Moore) was utter perfection, with a wonderful sequin filled performance during 'Show You a Thing or Two', which really gave you the urge to want to join in!
I honestly cannot fault anything with this production other than the fact that a four-day run (6th-9th July with only evening performances) is not long enough for me as it gives me less chance to return for another dose! Tonight's show has definitely left me with a thirst for more, and I will jump through hoops to be there for the final performance on Saturday night.
It's bloody…it's brilliant…it's Bat Boy. The best bloody musical performed by an amateur theatre company in a long time! You really would be a fool to miss this one! Not surprisingly, the audience was wowed once more and a standing ovation followed suit for the second night in a row.
Diva Theatre Company may only have been on the scene for a little over two years, however with the amount of talented members Diva can only get bigger and better. I love discovering hidden gems of theatre companies such as Diva. Once an amateur theatre company has blown me away once, I feel compelled to support them in all future productions so now I wait in excitement to see what the next fantastic production Diva are going to bring to Wakefield.
I feel it is only fair to mention the two musical geniuses that took on the brave decision to bring this risky musical to Wakefield – Andrew Ashley (Director/Producer) and Andy Fretwell (Producer). To take a musical that so many people have little knowledge of, or even know that such musical exists, and bring it to such a grand theatre, was a risky choice but their hard work by far outweighed these risks resulting in an exceptionally high standard of a performance. Bravo!
There is still time to grab a ticket before Bat Boy flies out of Wakefield!!
Reviewer: Lottie Davis-Browne
Reviewed: 7th July 2016