Banging techno music is not usually a musical palate chosen by directors but then Bradford based Common Wealth have never taken the easy route.
Their commitment to site specific, deeply political work has drawn an audience to take part in a fictional arms fair in a dark sport hall attached to a Bradford youth centre. There is something slightly surreal listening to the actors offering US the chance to buy brutal new weapons that seem a bit science fiction now, but in this technological age might actually happen.
We are part of the British delegation to this arms jamboree, which directors Evie Manning and Rhiannon White use as a stepping off point to consider our nation's contribution to global conflict, and those who have direct experience of it.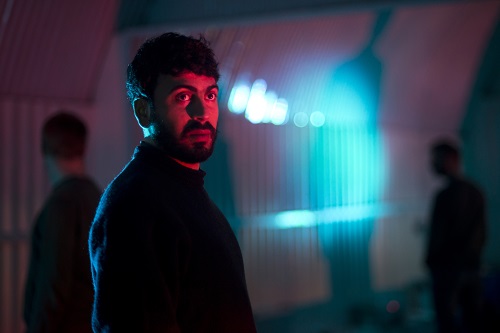 What gives this piece its power is that all three of the cast have in different ways been part of a real conflict, and are battling Post Traumatic Stress Disorder. In fact, Yemeni artist Shatha Altowai makes her contribution via a video screen because she can't leave her nation being destroyed in a bloody proxy war between two regional superpowers that is killing thousands often using British sourced weaponry.
Former squaddie Alexander Ley served two tours in Afghanistan and is making his professional acting debut. He grows in confidence as he recalls the horrors he has witnessed, and watching this highly trained soldier recreating battle scenes he was actually involved with has a raw authenticity that other actors could only dream about
Palestinian actor Mo'min Swaitat came of age during the second Intifada as his people fought a vicious war with the Israeli Defence Force. One of the devices used is the cast telling their stories in the darkness by the light of a match which works beautifully as the engaging Swaitat recounts a near fatal encounter at a checkpoint.
When Swaitat cheerily gives the audience advice on how to stay alive passing through an armed checkpoint, or Altowai matter of factly in her video evidence recalls how British made missiles kill civilians, they are a timely reminder of just how removed this mainly middle class, liberal audience is from weapons sold on our behalf.
Whilst there is something moving about the cast telling more of their stories whilst offering people one of the 72 electronic metronomes representing the number of Eurofighters we sold to Saudi Arabia this year, writer Hassan Mahamdallie could have done more to link UK arms sales to human carnage across the globe. As with many devised pieces a little bit more self-editing is required at times.
Techno music is not to everyone's taste but it's what links Ley and Swaitat who have both found peace and release through pounding beats and, although Andy Purves' light show was impressive, the desert rave felt a bit flat until they laid on the floor talking about what those sounds mean to men have experienced things we can only imagine.
One of the main criticisms I have of British theatre is that it has been slow to respond to the huge political and geopolitical nightmares swirling around us, but this timely and challenging piece helps address that. If anything there is almost too much going on, which is no bad thing, but listening to these three eloquent survivors does poses the obvious question – what are we actually going to do with this new found knowledge?
I Have Met The Enemy (and the enemy is us) is at TFD Youth Centre, Bradford until transferring to Byker Community Centre, Newcastle | 16th – 26th October.
Reviewer: Paul Clarke
Reviewed: 30th September 2019
North West End UK Rating: ★★★★