What better way to spend a murky, rainy night in Hull, than to be enveloped in the gloriously colourful, madcap, fantastical spectacular that is the Rocky Horror Show.
On Monday night a packed Hull New Theatre gave it a stupendous welcome with many – make that most - of the audience dressing up as some of their favourite characters from the show.
We had sexy maids of all shapes and sizes and men (many tattooed) dressed in slutty bustiers and suspenders. White doctor's coats were much in evidence and I lost count of red feather boas and gold, sparkly top hats.
Being a Rocky Horror Show virgin, these outfits meant nothing to me, but, boy, did I enjoy watching everyone sashay, unabashedly, by – preening, pulling up bra straps (the men), straightening suspenders (the men again) – you get the picture.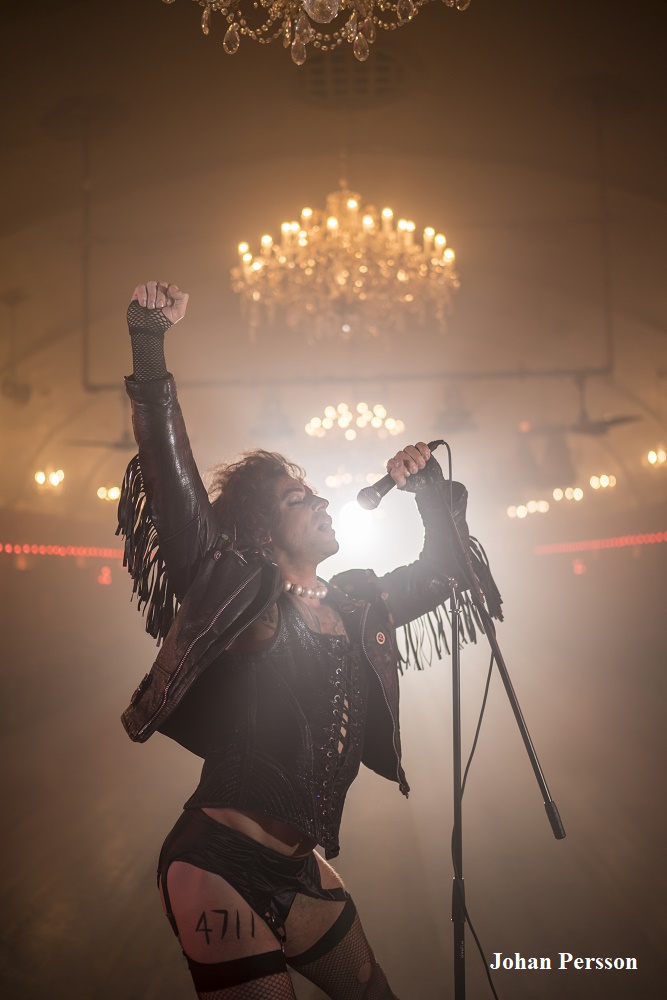 Narrator Philip Franks, was absolute hilarious, having a saucy riposte for the many interruptions from a lively audience. He was star quality and looked good in suspenders, too (oops, spoiler alert).
The tale tells of squeaky clean college sweethearts, Brad (James Darch) and Janet (Joanne Clifton), driving to meet Brad's former professor, Dr Scott (Ross Chisari).
A flat tyre leads them to seek use of a telephone in a nearby dingy castle – and that's where the fun starts.
Surrounded by the weirdest characters – creepy butler Riff Raff (Kristian Lavercombe), his maid sister Magenta (Laura Harrison), rock guitarist Eddie (a dual role for Ross Chisari), phantoms galore, and, of course, the master of the castle, and the star of the show, Frank N Furter (Duncan James) – the two innocents are soon stripped down to their underwear.
When the all-powerful Frank N Furter unveils his new creation – the man of his dreams, modelled on muscle man Charles Atlas, whom he calls Rocky (Callum Evans) – we're not surprised to see, just before the interval, Frank and Rocky in a huge upright bed on stage.
Tantalising, this is where the curtain goes down. Drat!
After the interval is where I really embarrassed myself. On curtain up, who should be in the giant bed, but butter-wouldn't-melt-in-her-mouth Janet!!! I kid you not, I actually put both hands up to my mouth and shouted "Janet!". I don't think anyone noticed, but it kept my theatre-buddy sister, Christine, giggling for a while.
After that the shocks came thick and fast - every one absolutely hilarious.
Brad in bed with Frank, Janet in bed with Rocky – it was vulgar stuff but you just couldn't be offended. In fact, I refuse to call it vulgar, it was FUN!
Of course, nothing was a surprise to the Rocky Horror regulars in the audience, who were a very welcome and integral part of proceedings.
Flashing lights, a wonderful stage set, live music and songs such as Sweet Transvestite, Double Feature, Dammit Janet and the most recognisable one of all, The Time-Warp, were all beautifully and tunefully sung, loud and clear.
Of course, after only a couple of bars of The Time-Warp the audience rose as one – they knew all the moves.
Everyone on stage played their part in bringing us a rollicking couple of hours. Duncan James was amazing as Frank N Furter – I laughed at every word he uttered, every exaggerated move he made and every look on his gorgeously made up face.
But, to a man, woman and anything in between, all this superb cast deserve plaudits.
If there are any RHS virgins out there, like myself, I don't want to spoil the ending for you, but I have to warn you it doesn't bode well for Frank. There are two nasties in his camp who show their true colours (silver) towards the end.
I'm not even going to reveal if Brad and Janet reconcile after their eye-opening sex sessions. You're just going to have to see it for yourself – I heartily recommend you go.
Writing this after the show, I'm still not certain if we were witnessing a movie. A 50-style cinema usherette (Laura Harrison) introduced proceedings and a roll of film remained spread across the top of the stage, so …
But I'm happy to remain not knowing.
And as a very happy audience headed out into the rain, after giving this superb cast a prolonged standing ovation, it didn't matter a jot that fancy dress costumes were getting soaked, wigs and feather boas bedraggled. Nothing could have dampened our spirits.
Running until Saturday, October 5th, 2019, 7.30pm nightly except on Friday, October 4th and Saturday, October 5th, when the show will run at 5.30pm and 8.30pm. Tickets cost from £15. Call (01482) 300306 or visit www.hulltheatres.co.uk *Not recommended for under-14s
Reviewer: Jackie Foottit
Reviewed: 30th September 2019
North West End UK Rating: ★★★★★
*Since its recent refurbishment, the Hull New Theatre has put on such amazing productions, that I'm finding it hard to fault any of them. The Rocky Horror Show is no different.