The summer has begun and that has brought the world premiere of Lolita Chakrabarti's stage adaptation of Yann Martel's Life of Pi. Life of Pi was originally a novel and it has enjoyed a film adaptation as well. I went in having neither read nor watched it so I had no idea what to expect. It tells the story of teenaged boy Pi and his survival from a sinking ship. The show asks thought provoking and interesting questions but first and foremost it is a spectacular show.
Max Webster directs this production and his vision for this show is so clever! He brought together all departments wonderfully to create a phenomenal piece of theatre. Tim Hatley's design is incredible! The way the boat appears and disappears is amazing and the costumes are stunning. Finn Caldwell and Nick Barnes' puppetry design is spectacular.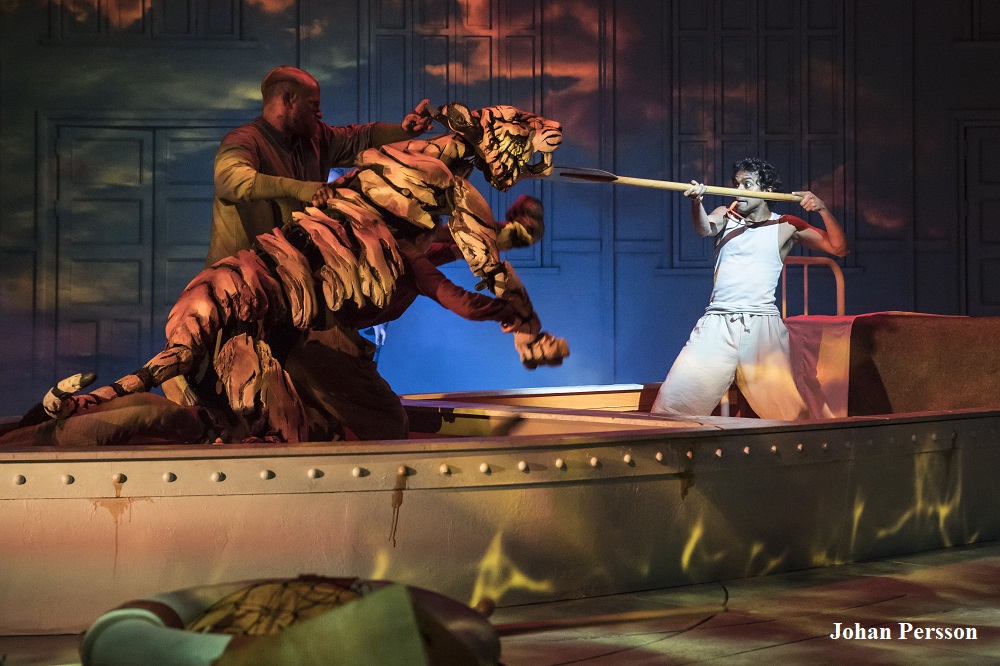 The attention to detail is incredible and I have never seen anything like it. The way the cast bring these animals to life is incredible to watch too. Tim Lutkin's lighting design is stunning alongside Andrzej Goulding's projection design. The way they create the illusion of being on the sea is outstanding.
The cast is led by Hiran Abeysekera as Pi. He has fantastic comic timing yet he delivers the more emotional scenes with such intensity. He makes for a very believable young boy – he completely becomes his character on stage. Tara Divina is a joy to watch as Pi's sister Rani. She has a great rapport with Abeysekera and they portray the sibling relationship perfectly. Mina Anwar is just amazing as Ma, particularly in the intense scenes towards the end of the play. Kammy Darweish has a phenomenal intensity as Pi's Father in the opening scenes of the play and you really do fear him.
Habib Nasib Nader is hilarious as the Voice of Richard Parker whilst being terrifying and having an incredible intensity as the Cook. David K. S. Tse gives a great performance as Mr Okamoto, bringing things back to reality yet being unlikeable because of that. Gabby Wong's performance as Lulu Chen is very enjoyable to watch. She has a very believable on stage relationship with Abeysekera and she has great comic timing.
Life of Pi is truly outstanding! It is the best piece of theatre I have seen in a very long time, if not ever. It may even be the best thing currently on stage in the UK. I urge everyone to get a ticket to this production but I would be very surprised if a London transfer isn't on the horizon for this theatrical delight. https://www.sheffieldtheatres.co.uk/events/life-of-pi
Reviewer: Jacob Bush
Reviewed: 3rd July 2019
North West End Rating: ★★★★★