A few weeks ago, I found myself thinking the whole Brexit situation could make a very entertaining show only to find that the team at Blowfish Theatre thought the same thing. Boris the Musical 2: Brexit Harder is the second instalment in the series focusing on Boris Johnson's role in Brexit.
Don't be put off the fact that the show is sold as a sequel. I hadn't seen any of Blowfish Theatre's previous work and it was a still a hilarious and thoroughly entertaining night out.
Laurence Peacock writes the show and credit must go to him for being able to take the mick out of these influential political figures whilst remaining objective and not letting his own political views influence the show. Dominic Lo writes the music and it is enjoyable in the moment and sounds familiar although much of it is quite forgettable.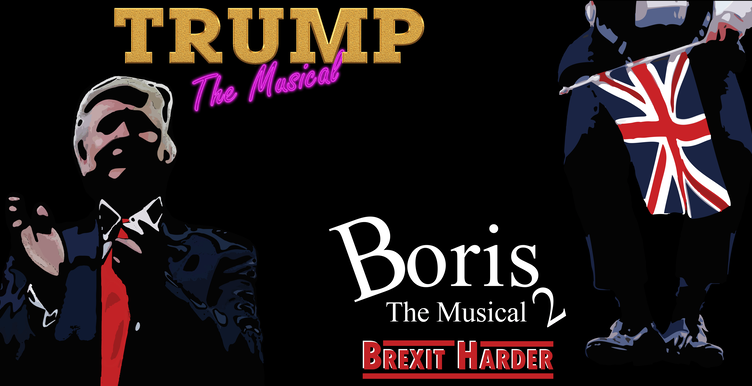 James Ringer-Beck leads the cast as Boris Johnson. His performance is outstanding. He has a terrific rapport with the audience and his portrayal of the former Mayor of London is spot on.
Laurence Peacock makes a wonderful egotistical Jeremy Corbyn. He's funny, raps brilliantly and has a great stage presence. His characterisation is slightly less accurate, but it works in the context of the show and is still entertaining. Kyle Williams is hilarious as Theresa May. His characterisation of the current Prime Minister is fantastic and laugh out loud funny. A real lesson in using posture when acting!
Natasha Lanceley is fantastic in the show as David Cameron and Jacob Rees-Mogg. She is a brilliant character actor and demonstrates some great vocals too. Polly Bycroft-Brown plays Michael Gove wonderfully. Her characterisation is very entertaining, and her vocals are a joy to listen to.
The production is simple with a fairly non-existent set which the show uses for even more hilarity at points. Credit must go to all involved for creating such a hilarious musical whilst not making any of it feel corny or clichéd.
Blowfish Theatre are currently touring the UK with this show as well as Trump the Musical, with The True Historie of Mr William Shakespeare in the works. If they are performing near you, check them out.
Reviewer: Jacob Bush
Reviewed: 12th April 2019
North West End Rating: ★★★★