Can you imagine a world without dancing? What a dull world that would be! Wakefield West Riding Theatre Company definitely wanted to prove that point with their performance of Footloose The Musical at Theatre Royal Wakefield this evening. The large dance numbers and enthusiastic cast gave every ounce of their energy in tonight's performance, much to the enjoyment of the audience here in Wakefield.
Footloose The Musical made its theatrical debut in 1998 based on the 1984 film (that we all know and love) of the same name. Footloose is one of those classic 80s films of teenage rebellion, young love, and bad hair! The musical follows the life of Ren (Sam Hague) when he is forced to move to a small town away from his hectic lifestyle and beloved nightclubs. Life is certainly different in this town as Ren soon learns, especially when the Reverend condemns his two favourite customs: dancing and music! The production follows how the young people of this town follow Ren in his quest for freedom and expression. Dee Bennie-Marshall has clearly directed this production with a professional standard aspiration, and her cast certainly reached for the same aspiration during their performance this evening.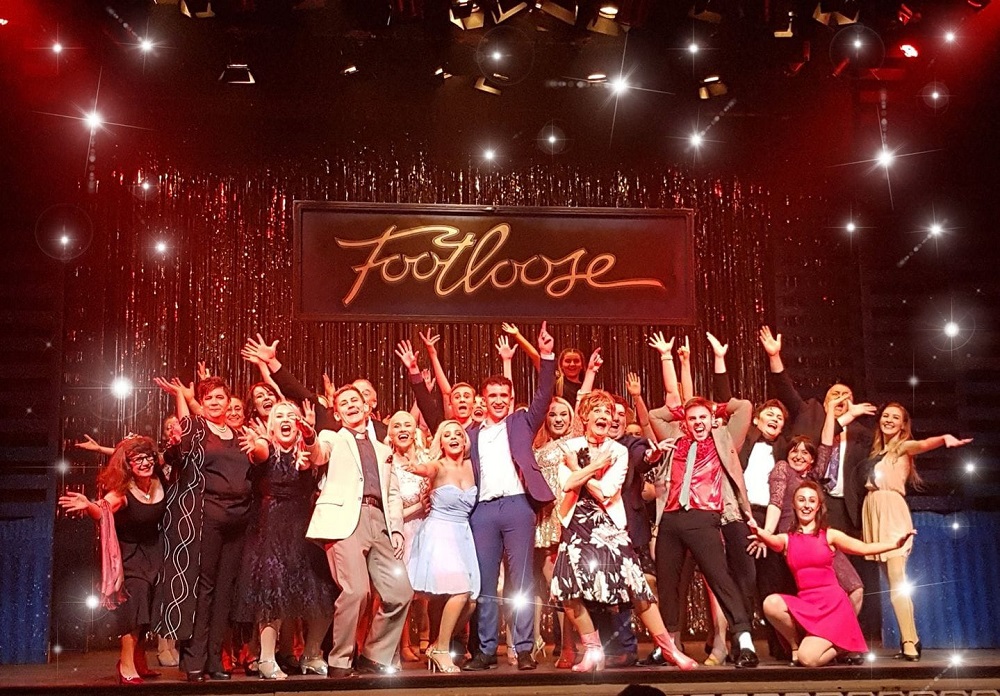 Hague certainly captured the attitude of Ren from his first moments on the stage. He made the audience sympathise with his lack of control during this big life change forced upon him by his mother (Christine Shoesmith). As we were flawlessly transported from the bustling streets of Chicago, to a humble church in the town of Beaumont we were introduced to even more talented cast members. Ian Fryer perfectly portrayed the troubled role of Reverend Shaw Moore, a character that we are supposed to distance ourselves from due to his restrictions and rules, however, Fryer's performance was firm yet soft and we witnessed the internal struggle this character is going through.
With such a talented cast, it is incredibly difficult to discuss particular performers. Instead I shall focus my favourite moments from tonight's performance. Vi Moore, Christine Shoesmith and Chloe Jackson silenced the entire theatre with their beautiful harmonies during their heartfelt performance of 'Learning to be Silent'. In a perfect contrast to this it was Tracey Clifford's hilarious role of Betty Blast that drew one of the more memorable laughs from the audience - and the cast members! No-one could keep a straight face as she attempted to balance on the dreaded Roller Skates, whilst still maintaining her character and her dignity, just about.
I would like to praise one particular performer this evening, and state that in the years I have been working for North West End in both my professional and amateur reviews, I have never witnessed such a natural born performer as I did tonight. Matthew Roddis was simply outstanding in his comedic role of Willard Hewitt. There was not one single moment in which Roddis was not fully immersed in his role, and hilarious he was in that. The natural energy he brought to the role was infectious and he had every single audience member hanging on his every move - a truly exceptional talent.
There were certainly moments during tonight's performance that I forgot I was watching a local amateur dramatic group, and I commend the entire company for this. I am confident each audience member that attends a performance of Footloose The Musical this week will leave the theatre as impressed and full of respect as I was this evening.
Reviewer: Christine-Jane Parkes
Reviewed: 16th October 2018
North West End Rating: ★★★★★