Suicide is the biggest killer of men age under 45 in this country so When We Were Brothers pertinently explores what is that drives thousands of young males to take their own lives.
Tommo and Danny meet as seven year olds after a street fight and become lifelong best buddies. The tough Tommo living with his single parent mum Julie takes the intelligent, but less streetwise, Danny under his protective wing, despite hiding some pretty big demons, and their lives take very different routes leaving one them staring into the abyss.
As this is a Freedom Studios production we are not in a conventional theatre but perched on uncomfortable chairs in a musty central Bradford cellar bar in. One of the punters nips to the loo midway through proceedings and the resulting flush rings out across the bar area the actors are working in.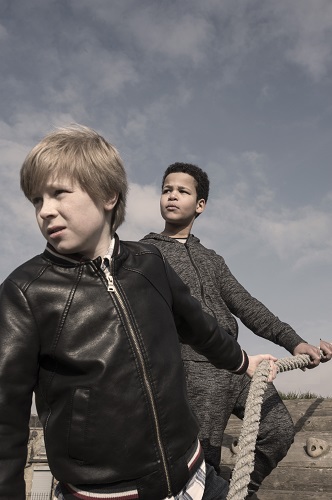 The spectre of suicide hangs over Ben Tagoe's believable dialogue bit he accurately explores what is that prevents men from really saying what they are feeling to each other instead retreating into a world of tiresome 'bantz'. Even when the boys are on their first ecstasy trip Tommo still can't say he loves his bestie.
Tagoe makes a welcome return to drama from his TV work delivering a punchy piece based in part on his own experiences of this issue full of vivid characters, but no strong male role models for Tommo. The only missteps are the event that sends Tommo spiralling downwards might work dramatically, but doesn't truly reflect real life, and the flimsy end coda is totally unnecessary.
His words are safe in the hands of two very good young actors directed by Freedom's joint artistic director Aisha Khan. Coronation Street's Levi Payne is mesmerising as the sensitive Danny who is smart enough to know something is off with his mate, but is constrained by the unspoken rules of male friendships in working class communities.
Philip D McQullian is just as good as the local hardman who is dying inside, but just can't say so as he struggles to maintain his hard won image as cock of the walk. There is a genuine chemistry between the two leads who convince both as kids playing in the streets and their more troubled adult selves.
Special mention to Vanessa Pound who is not only taking on her first big role, but doing it is an unusual space, and she works well as a woman doing the best she can for her boy, but knowing he is out of reach.
Tagoe doesn't offer any trite answers to a complex problem as men struggle to find their place in a gender fluid world but subtly makes the point unless males drop their masks then the death toll will only continue to rise.
Bradford Dates:
Until 5th May (no performances 25th – 27th April) at The Underground, 9 Duke Street, Bradford BD1 3QR (2 min walk Forster Square Station, 5 mins from Broadway. Tickets: Pay What You Feel at £4, £6, £12 – free house drink included in £12 ticket. To book: go to www.freedomstudios.co.uk or call 01274 730077.
Bolton Dates:
Wednesday 25th April 7.30pm and Thursday 26th April (post show talk) at Reveal Festival, Bolton Octagon -The Venue Bar, 14 Churchgate, Bolton, BL1 1HL. Tickets £8 and to book www.octagonbolton.co.uk or call Box Office on 01204 520661.
Reviewer: Paul Clarke
Reviewed: 23rd April 2018
North West End Rating: ★★★★