When 492 Jamaicans set off for England on the SS Empire Windrush to start a new life they could scarcely have dreamed that 70 years on a dance company created by their descendants would create a powerful piece celebrating their rich legacy.
For Phoenix Dance Theatre's artistic director Sharon Watson this is a labour of love as her parents came to this country as part of a wave of migrants, who were known as the 'Windrush generation, becoming the pioneers of today's multi -cultural Britain. It's her first narrative piece, but every step of this ambitious piece is clearly influenced by the stories she heard from her parents.
It is to Watson's great credit that she has resisted any hint of sentimentality in her muscular and lithe choreography instead telling this story honestly, and pulling no punches as this is not a fairy tale, but a real life journey that cost those who took it a huge amount.
The first act recreates the time when the Jamaicans see newspapers ads asking them to bring their skills to the 'motherland' and the men gambol round the stage giddy with the prospects of a new life. In stark contrast two lovers mournfully dancing a poignant farewell is a reminder that families were separated - often for decades - by this migration.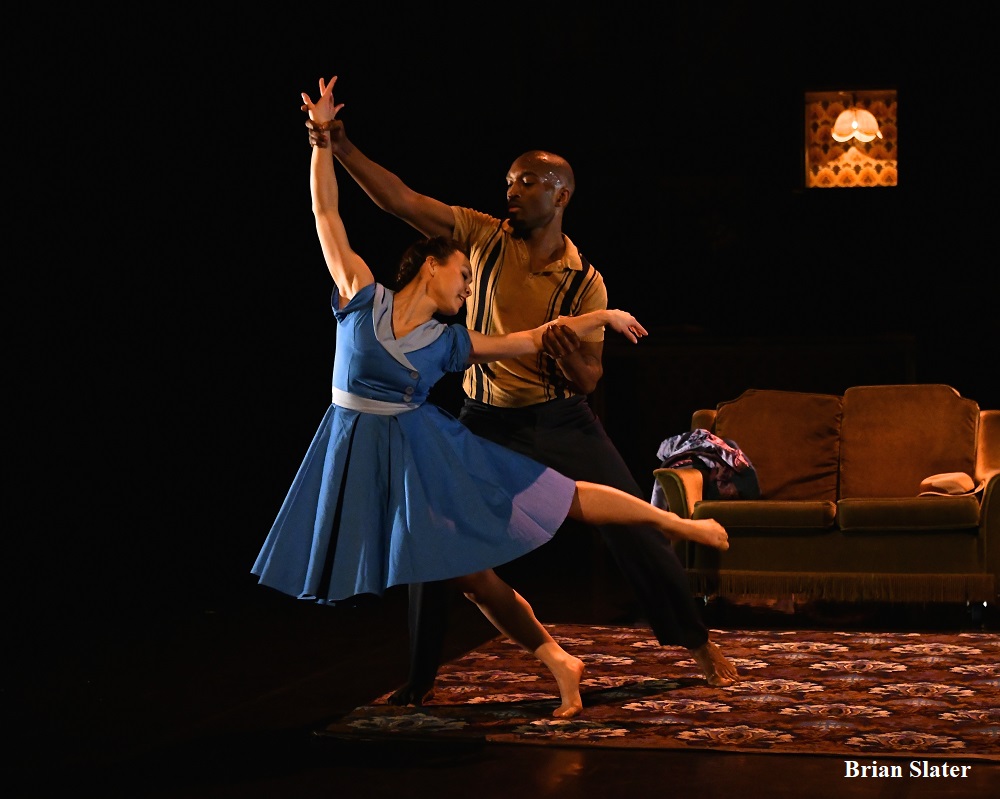 Eleanor Bull's set smartly recreates Tilbury docks as the show's backdrop dwarfing the bewildered West Indians as they stand on the wet, cold quayside in their new home. Watson's downbeat choreography matches the monotonous voice intoning 'You called, We came' recalling that these migrants were invited to help build a new Jerusalem in post war Britain.
The third movement is the bleakest as a gang of masked little Englanders sting up washing lines to recreate the infamous 'No Irish, No Blacks, No Dogs' sign that the migrants faced as they tried to get into a pub. Watson brilliantly has these pathetic creatures scurrying around like rats as the male dancers keep their dignity in face of unbearable provocation. Ironically, one of the bigots removes her mask as she ends up in steamy clinch with one of the migrants, but Watson is right to make sure we see that 1950s Britain wasn't a place for fainthearted newcomers.
Sometimes a group of talented dancers are clearly bought into a project so every step, leap and move is not only precise, but done with love and respect for those who have gone before. Prentice Whitlow and Vanessa Vince–Ping's duet as the two lovers reuniting to the strains Seal's version of A Change Is Gonna Come play is delicately played by the show's strongest dancers.
They are given plenty to work with by Christella Litras' soaring score that mixes jazz touches, ska, reggae, gospel and more contemporary references, as well as original tunes like Jocelyn Brown's old school stomper Somebody Else's Guy.
The final act is a masterstroke as the second generation start breaking free of the shackles of their parents as they always do swapping Jim Reeves for reggae and soul. This clash of the generations, including a nod to the crowded house parties that sprang up in black communities, is exuberantly carried off as the dancers create their own party dragging up audience members onstage to join in.
Litras has channelled the spirit of legendary calypsonian Lord Kitchener who was one of the men who stepped off the Windrush creating a music lineage that led to grime and Stromzy dropping in on The Specials along the way.
At no point does Watson drop into polemic, but you are not paying attention if you don't see that the Windrush generation bringing their skills and culture to these shores only made us stronger. In the same way a desperate family paddling across the Mediterranean might do given the chance.
It is entirely right that a company set up in this city to give young black dancers a much needed platform have created a piece that is intensely human, but warns that we ignore our history at our peril. Watson has also paid her debt to her parents and the others who answered our call for help despite the cost.
Windrush: Movement of the People tours dates:
Theatre By The Lake, Keswick - Tuesday 20th February 2018 at 7.30pm. Box Office: www.theatrebythelake.com / 017687 74411
The Everyman Theatre, Cheltenham. Tuesday 27th February 2018 at 7.30pm. Box Office: www.everymantheatre.org.uk / 01242 572573
Cast Doncaster. Wednesday 7th March 2018 at 7.30pm. Box Office: www.castindoncaster.com / 01302 303 959
Curve Leicester. Friday 9th and Saturday 10th March 2018. Box Office: www.curveonline.co.uk / 0116 242 3595
Schrittmacher, Aachen, Germany. www.schrittmacherfestival.de
The Peacock Theatre, Sadler's Wells London. Thursday 26th – Saturday 28th April 2018. Box Office www.sadlerswells.com / 020 7863 8000
Birmingham Arts Centre. Friday 4th and Saturday 5th May 2018 at 7:30pm. Box office: www.macbirmingham.co.uk / 0121 446 3232
Northern Stage, Newcastle. Wednesday 9th and Tuesday 10th May 2018 at 7.30pm. Box Office: www.northernstage.co.uk / 0191 230 5151
Reviewer: Paul Clarke
Reviewed: 8th February 2018
North West End Rating: ★★★★★