Cocooned in a warm festive glow, I dashed out of the East Riding Theatre on Wednesday, and straight to a supermarket to buy a DVD of It's A Wonderful Life.
I will watch it over Christmas, but will it be better than what I've just witnessed at this atmospheric little theatre in Beverley? I very much doubt it.
This former Baptist Chapel had been so cleverly transformed into 1940s America – the signage, the stage props, the lighting, music, costumes and the American accents – shucks, I was well and truly sucked in.
The classic, heart-warming story of a small-town clerk on the brink of financial ruin, was brought to life by a small, but extremely talented cast, whose stateside accents and boundless energy never wavered throughout the two-hour performance.
The clerk in question, George Bailey (Andrew Joshi), saw his life's dreams evaporate time after time, through no fault of his own.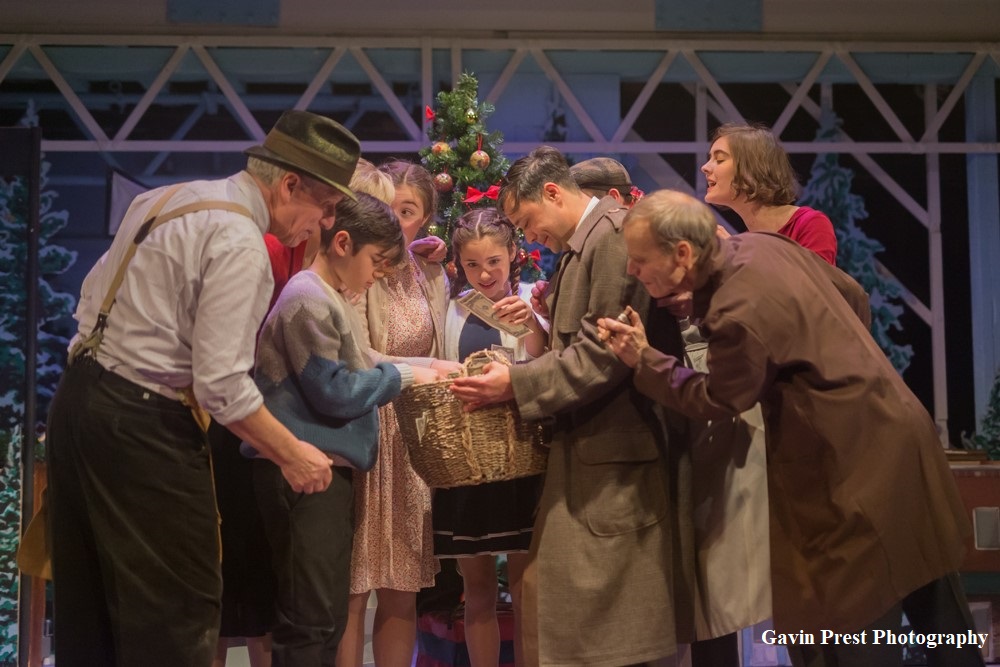 Instead of travelling the world, he found himself running the family's Building & Loans business in Bedford Falls, alongside his Uncle Billy (Richard Avery), helping cash-poor townsfolk get on to the property ladder - keeping them out of the financial clutches of greedy local businessman, Mr Potter (Clive Kneller).
Meanwhile, George's brother Harry (Rob Hamilton) is living a more carefree existence, never quite getting around to fulfilling his unspoken promise of helping George in the family business.
George plods on, marries local girl, Mary (Eliza Hewitt-Jones), with whom he has children, and lives a seemingly perfect life.
He manages to keep the business afloat, despite many setbacks, including battling the evil intentions of the hateful Mr Potter.
But when one disaster too many strikes (I won't give the game away for those not in the know), and prison could be on the cards, George finds there is only one way out – he intends to kill himself, on Christmas Eve.
As luck would have it, an apprentice angel is desperate to earn her wings and her mission is to save George from himself.
The guardian angel (Harriet Benson) has a tough job convincing a seriously depressed George that his life does matter: to do that she has to grant his wish – that he'd never been born.
What George witnesses in a world without his existence, shocks him to the core. The angel's divine intervention does the trick and George, back in his real life, realises the main thing in life is family, friends and community – not money, or the lack of it.
The spirit of Christmas abounds as all the townsfolk George has helped, rally round to save his (financial) bacon.
It was a happy ending all round, especially for us in the packed audience who had been royally entertained by 12 multi-talented actors. Aided by Ed Ullyart's atmospheric stage design, their sheer talent, to a man, woman and child, was a joy to behold.
But the Foottit Oscar goes to Andrew Joshi, who brings the much-loved American to life so realistically, he's surely from the States himself, thought I. However, a quick Google tells me he's from Leicester – or hot diggity, Lie-cester as George would say.
Reviewer: Jackie Foottit
Reviewed: 20th December 2017
North West End Rating: ★★★★★
Venue: East Riding Theatre, 10 Lord Roberts Road, Beverley, East Yorkshire.
Dates: Running until Saturday, January 6, 2018. Tickets £11.50-18.50 (restricted view, side of the stage £10). Call (01482) 874050 or visit www.eastridingtheatre.co.uk
Adapted by Mary Elliott Nelson, from Frank Capra's classic 1946 film It's a Wonderful Life.
Director: Jake Smith
Producer: Ellie Claughton
Music composed by: David Barton