Kneehigh's latest powerhouse of a production is based on Gunter Grass's debut Novel "Die Blechtrommel" or The Tin Drum. Part parable, part fantasy, and part metaphor this unique performance features a versatile ensemble cast, captivating songs, enchanting puppetry and vivid staging; this is a production that has a dark sophistication and wit; it looks great and sounds incredible.
Ten performers and three musicians bring to life the fascinating story of a boy, Oskar Matzerath, who is destined to change the world. Narrating his life from conception, through birth and beyond, this is a boy who claims to have seen the horrors of the adult world coming when he was born and therefore deliberately stops growing at the age of three to stop becoming a part of it. Voiced by Dom Coyote and Bettrys Jones, Oskar is presented as a puppet, brought to life through Sarah Wright, a master in her craft of puppeteering.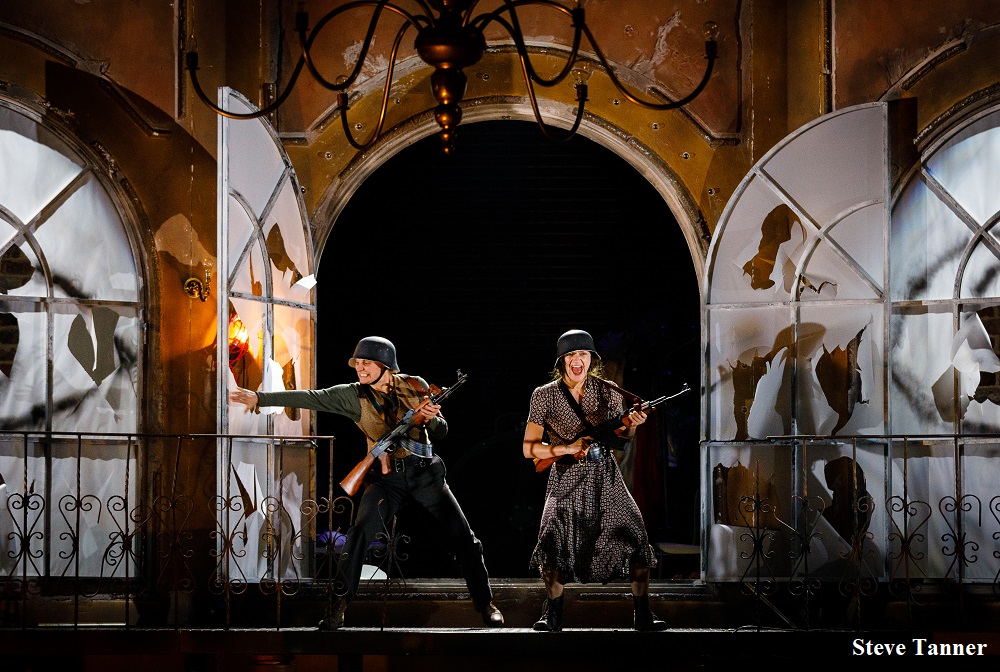 This 'boy', his story and the characters that surround his surreal world instantly have you hooked and engaged in incredible storytelling techniques, that barely allow you opportunity to catch your breath; poetic narration, diverse melodies and thought-provoking lyrics soar throughout the performance and there are plenty of powerful, emotive, beautiful moments juxtaposed with the hilarious and sublime.
This is a performance that is the true epitome of ensemble so it is near impossible to draw from this talented company any singular performance this evening which stands above another. Each of them brings uniqueness to their role and the actors have incredible range in their voices, bringing Charles Hazlewood's music to life through delicate unamplified solos or screaming, raging vocals. (My only criticism of this production is that perhaps the diction could have been tighter at times, certainly early on). The music lies at the heart of this piece and it is the soundtrack that drives the narrative forward, seemingly inspired from everything from folk, electric, rock or pop, echoing the likes of Bjork, Bowie and Gaga. Not only this but the staging of this piece is symbolic, fluid and meticulous with clever use of levels and simple devises or props, not least the puppets, which capture our imagination. This is combined with the superb lighting design which casts shadow and focus where necessary, developing a backdrop for the extreme and delicate poignancy when needed throughout. Above all, this is a production which is both performed and designed expertly.
I can imagine to many this production could seem contrived and ridiculous – is it a mere story of the dangers of war and how society must look to a generation to stop evil? The signs point to how the media and MTV generation could be at fault – symbolism of a swastika replaced with Big Brother's all seeing eye and Hitler transposed to a Lady Gaga-esque "black witch" who rises to power– transporting us from original novel's World War II setting to a position of reflection on the troubles of today. It could appear altogether absurd with false noses, magic skirts, talking devils, geese and general tomfoolery, but it really isn't hard to see what prevails is a strong sentimental core that reflects on our resilience as a race and holds up a mirror of what is both twisted and beautiful on our wonderful earth.
The Tin Drums continues at The West Yorkshire Playhouse until 28th October 2017.
Reviewer: Andrew Ashley
Reviewed: 18th October 2017
North West End Rating: ★★★★★