Jules Verne's classic "Around The World in 80 Days" ("Le tour du monde en quatre-vingts jours"), published in 1873, has spawned a variety of adaptations, from spin off books, multiple theatre adaptations - including musical adaptations, a three man production and even a musical version with songs written by The Kinks front man Ray Davies entitled "80 Days", as well as well as television and radio adaptations, "Around The World in 80 Days" still continues to be a firm favourite classic.
Laura Eason's adaptation is currently doing a six-month tour around the UK, and this production is definitely worth travelling to see!
I'll hold my hand up and say that I've not only never read the original book but not seen any of the many film adaptations so went along to Sheffield's Lyceum not having much knowledge on the story.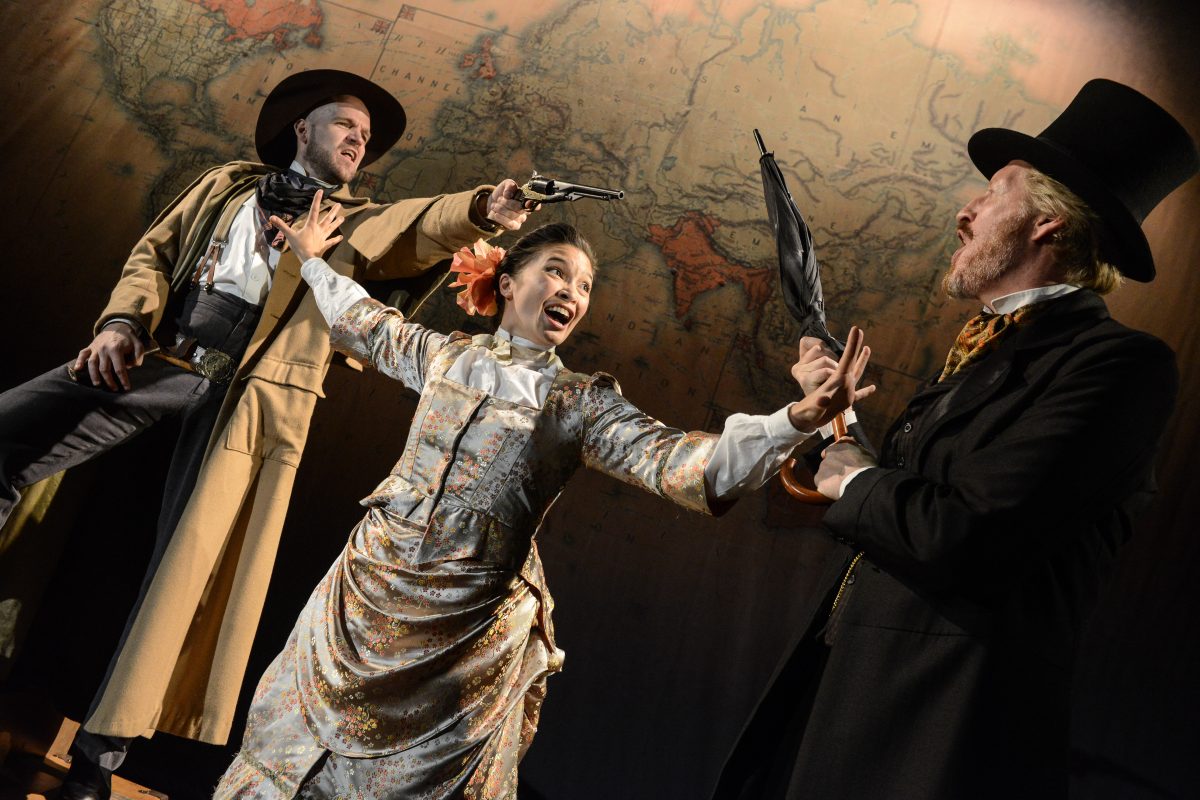 From the beginning of the performance the cast were interacting with the audience, and despite the set being minimal - a permanent staircase comprising of vintage suitcases and an umbrella bannister, with clever and often humorous use of props, it's hard not to fall under the spell of this gem of a production which is so cleverly done that the journey around the world seems believable. From elephants to buffalos, boats to trains, and the arrival of a miniature hot air balloon, which prompts Phileas Fogg (Andrew Pollard) to holt, pull out a book and state that a hot air balloon did not feature in the original book and demand the balloon vacates the stage.
It was the continuous pantomime type comedy throughout that really makes this production an utter delight from start to finish. The continuing use of audience participation and interaction really made the audience gel with this epic cast within the first few minutes of starting. Michael Hugo as Foggs' valet Passepartout provided the most laughs, with a Morcombe and Wise style character and it was clear the audience loved him as much as I did. I do not wish to spoil the moments which caused the best audience reaction I've witnessed in a theatre for a long time, I'd rather insist you go see for yourself; this production is the funniest thing I've seen since The Book of Mormon and I could watch the rest of the tour without tiring of it.
The four main leads - Andrew Pollard (Phileas Fogg), Michael Hugo (Passerpartout), Dennis Herdman (Inspector Fix) and Kirsten Foster (Mrs Auoda), along with a fantastic ensemble, bring the magic of Verne's classic to life, transporting the audience across the globe, from Moscow to Beijing to Liverpool.
Playing the Lyceum theatre until 30th September, grab your tickets now (and your passport!), select your favourite mode of transport (hot air balloons optional) and prepare for the journey of your life. http://bit.ly/2k0Zs0e
Reviewer: Charlotte Browne
Reviewed: 26th September 2017
North West End Rating: ★★★★