It was inevitable that feminist theatre makers RashDash would turn their attentions to patriarchy which they give a good battering with their trademark mix of devised words, raucous songs and lots of wild dancing.
Typically for a company who specialise in unsettling audiences this show is partly about two men, but both are played by RashDash founders Abbi Greenland and Helen Goalen, and the beauty of their work is while it has a keen intelligence the duo are always utterly unpredictable.
Very few companies would kick off with a bunch of what might be space travellers talking in little girl voices tracing the history of how patriarchy come about as society became more hierarchical. This is no dull history lesson as they launch into a raucous tune about the nature of female subjugation.
Regular collaborator Becky Wilkie joins them onstage contributing some splendidly discordant guitar and keyboards that perfectly supplements the anarchy whirling around her.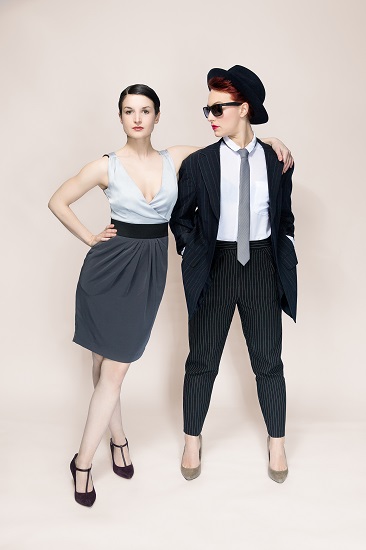 The duo are using everymen brothers John and Dan as their way in to how men interact - or not - as they wrestle with the emotions unearthed by the impending death of their tyrannical old school dad. Greenland brilliantly mimicd the mannerisms and voice of John who appears far more confident of his masculinity than his troubled brother.
Occasionally they drop into cliché, but the often stilled word pose questions about the inability of even blood related men to really communicate their feelings, and how that can be expressed in casual misogyny. The real strength of their thinking is they never lapse into the tired old 'all men are bastards/useless' tropes. Instead it becomes a wild ride through what it means to be a male in a semi-metrosexual world and what that might mean for women.
Despite the subject matter there is a real sense of fun and energy especially during Goalen and Greenland's physical and utterly intuitive dance duets around the sparse set - although the one where the brothers are fighting lacked the mindless aggression of a real male dust up,
All three performers literally bare all at different points, which seems fitting for such an elemental piece. When Greenland shapes a naked Goalen into various poses from a female version of The Thinker to how the representation of women in our culture has become increasingly sexualised it is a reminder that great theatre can confront the world around it.
Language is a key element as both performers explore how to express themselves with a vocabulary that have been created by men, and as Goalen points out why is mankind used to describe all of us as a race?
There is a huge amount of playing with theatre conventions in RashDash's work, and the point when Greenland refuses to come out of character is really tense as she kicks into an epic rant where she is either trying to exorcise the male part of herself or embrace it. Goalen's thoughtful response about being what a woman means to her is a powerful moment, but in a very different way.
Not everything RashDash do comes off, but who cares when their daring and intellectual curiosity always adds up for a challenging ride that makes you think long after the lights have come up.
Reviewer: Paul Clarke
Reviewed: 22nd September 2017
North West End Rating: ★★★★★