Rara skirts….Jacko's pathetic one glove…..dayglo jackets…shoulder pads….Flock of Seagulls.
The eighties is the decade that fashion forgot, and the very antithesis of cool, but judging by a big house for The Wedding Singer there is a real nostalgia for that more innocent time.
It's 1985 and thwarted rock star Robbie Hart is the undisputed king of New Jersey's wedding singers, but still lives in his grandmother's basement, and then he is cruelly dumped at the altar by his rock chick girlfriend. Enter sweet wedding waitress Julia who is engaged to slimy junk bond salesman Glen Gulia, and we are off into classic musical theatre 'will they or won't they' territory.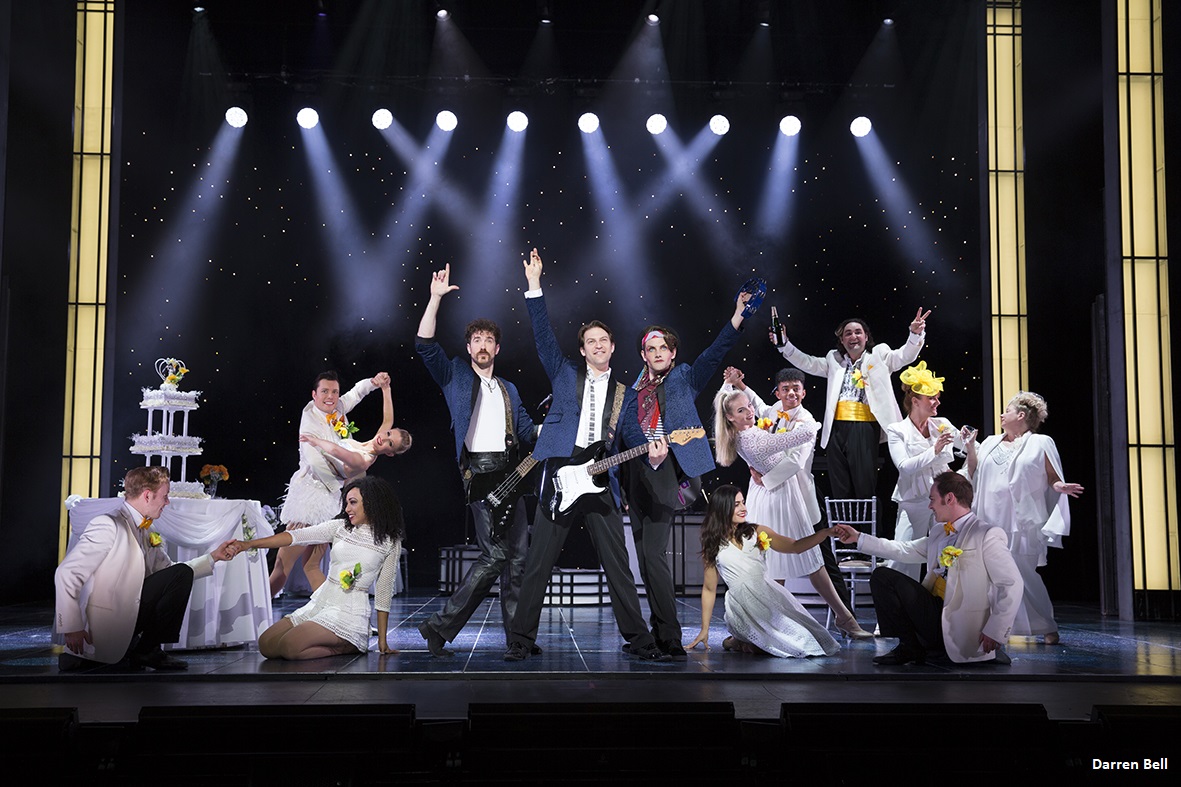 This musical is based on Adam Sandler's smash hit that grossed over $100 million, and people pay their money to see a live version of that show which they get apart from the fact that the eighties pop hits have been replaced by Matthew Sklar and Chad Beguelin's original tunes. Frankly, this show does lacks the really memorable big numbers that mark out the truly great shows although It's Your Wedding Day is a great opener.
John Robyns is a charming leading man, making a welcome return to Leeds after his turn as Caractacus Potts in Chitty Chitty Bang Bang at the nearby Playhouse, and is equally at home belting out Robbie's big numbers as he is with the dark bits in amongst all the laughs. The scene where in the pit of his own despair he ruins a wedding is heavy stuff, and given the rising divorce rate makes a good point about who is really happy ever after.
He has real chemistry with Cassie Compton's Julie and her powerful voice dispels all thoughts that was booked because she was a X factor finalist deftly revealing a decent woman caught between two loves.
The same applies to X Factor runner Ray Quinn who clearly relishes playing against his boy next door image as the loathsome Glen who is just a poor man's Gordon Gekko (that's one for the hardcore eighties fans.) Quinn was an actor well before he was one of Simon Cowell's wannabes which shows and he is very light on his feet during the energetic All About The Green.
Ruth Madoc made her name in eighties mega hit Hi-de-Hi, but this much loved veteran has lost none of her energy and charm as Grandma Rosie. She even nailed a rap which was something this BAFTA winner probably never thought she'd be doing when she was mooning after Jeffrey in Maplins holiday camp.
If you love the eighties then the running gags about mobile phones, CD players and Sinclair C5s (look it up) makes this perfect show for you, and with a strong cast that coped with some technical problems really well there is no denying The Wedding Singer does capture the relentless positivism of that strange decade.
The Wedding Singer is at Leeds Grand Theatre until Saturday 26th August. To book www.leedsgrandtheatre.com or 0844 8482700.
Reviewer: Paul Clarke
Reviewed: 22nd August 2017
North West End Rating: ★★★