Given comic turned writer David Walliams is now Britain's best-selling children's author it was only a matter of time before his books were adapted for the stage.
Walliams' breezy prose, childish humour and simple story structures are perfect fodder for parents looking to introduce their children to the magic of live theatre, but with a dollop of darkness thrown in.
This tale of a lonely granny reconnecting with her socially awkward 11 year old grandson through a plot to pull off a big heist is not full of the dark themes authors like Philip Pullman ask their young readers to confront, but is more a saccharine Roald Dahl.
The plot is simple as Ben is forced to spend each Friday night with his granny as his silly parents go out ballroom dancing. He hates it thinking his cabbage obsessed granny is boring, but she is also hiding a secret life that reignites their relationship.
Director Neal Foster is the mastermind behind the Horrible Histories series of plays, and his smart adaptation delivers plenty of silliness and sight gags, but makes room for the central theme children often don't always see their grandparents as a source of fun.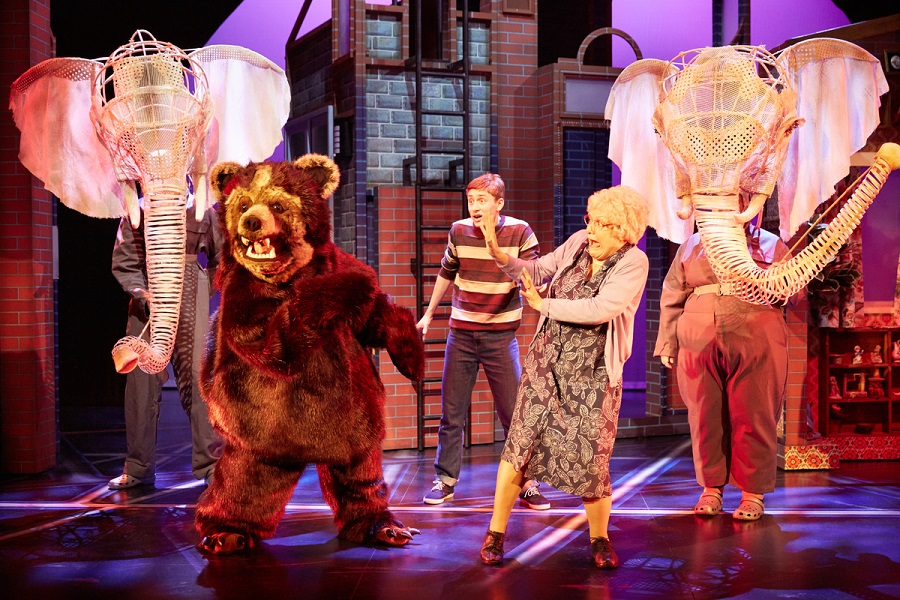 The experienced Gilly Tompkins turns in a barnstorming performance as a flatulent Granny who will go to any lengths to find common ground with Ben, including a daring raid on the Tower of London. It's a tricky role lurching from comedy to pathos, but Tomkins scoots around the stage on her scooter as Granny recaptures her zest for life merrily farting away thanks to the cabbages.
In fairness Ashley Cousins' Ben looks more like a teenager, but he makes up for with his skilful portrayal of a neglected pre-teen who needs a shock to realise that old people aren't boring….quite the opposite.
Horrible Histories veteran Benedict Martin and Rachel Stanley - in a range of increasingly lurid costumes - work hard as Ben's self-obsessed parents, and both have a real gift for physical comedy as Walliams parodies our obsession with Strictly Come Dancing, and the need to be famous despite having no talent.
The stealth star of the show is Jacqueline Trousdale's seemingly simple set that manages to turn into granny's house, Ben's house and even the Tower of London. Supporting turns Devesh Kishore, Loz Garland, Richard James, Sophie Gibbs and Matt Barkley take on a variety of roles as well as tirelessly moving the set around.
This show is headed off to the West End and there are enough daft laughs plus some moments of genuine emotion suitable for tonight's mainly pre-teen audience to make sure Gangsta Granny steal hearts and minds in that crowded market. After all, what child doesn't love a farting granny including some amusing flatulence from our monarch?
Gangsta Granny is at Leeds Grand Theatre until Sunday 7 May. To book 0844 8482700 or www.leedsgrandtheatre.com
Reviewer: Paul Clarke
Reviewed: 3rd May 2017
North West End Rating: ★★★★