Northern Broadsides continues its string of slick, humorous and vibrant productions with a new adaptation of Edmond Rostand's romantic comedy, 'Cyrano de Bergerac'. Written sensitively by Deborah McAndrew, this production charts the life of the soldier Cyrano de Bergerac and his love for the beautiful and clever Roxane. Cyrano is a brave, witty and likeable man who should easily be able to win the heart of his cousin Roxane. Unfortunately, there is one thing that stands in his way, his unusually large nose.
Using live music, songs, poetry, fight sequences and more this complex man is explored, and what you assume to be a frothy comedy develops into something much more interesting and heartfelt.
Christian Edwards led the ensemble cast brilliantly, as the charismatic and brave Cyrano. You should dislike this man, his self-absorption and belief that no one could love him because he is ugly distances him from everyone, but you can't. The audience willed him to overcome his prejudices and appreciated all his good qualities despite his self-destructive tendencies. As the story progresses, Edwards' tender and sensitive portrayal of this man captured everyone's hearts, and brought some audience members to tears by the end of the story.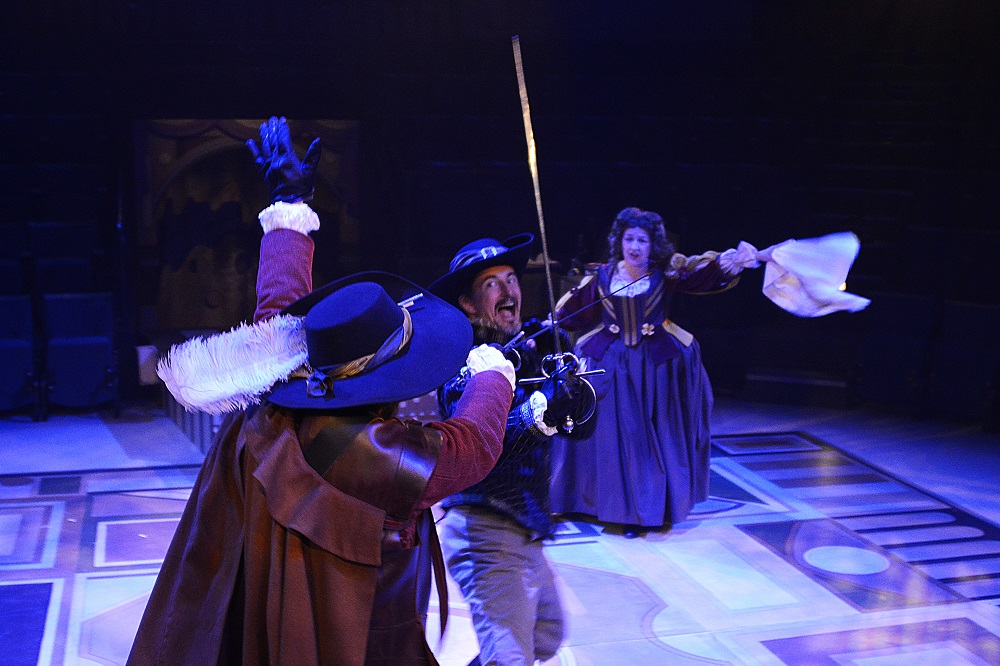 The ensemble feel of the piece worked particularly well and really showed off the versatility of the cast; they all worked well to create detailed and entertaining crowd scenes and a range of characters that were developed and endearing. The poets in Ragueneau's (Paul Barnhill) baker shop provided a particularly funny moment and the fight scenes throughout were a thrilling mixture of tension and humour. Occasionally the pace dropped slightly during the wordier scenes, but overall this is a well-paced and engaging performance. The music was performed by members of the ensemble and this really added a feel of spontaneity and reality to the piece. Special mention must go to Michael Hugo as loveable drunk Ligniere, whose singing and guitar playing constantly entertained the audience and provided a focal point in many of the chorus songs.
The most effective scene for me was between Cyrano, Christian (an endearingly naive performance by Adam Barlow) and Roxane (performed confidently by Sharon Singh). Roxane on the balcony and the two men below, one with a beautiful face and the other with beautiful words, provided a very funny, yet ultimately bittersweet, scene that pulled at the audience's heartstrings.
The set was simple but effective, the flats were beautifully painted with Nostradamus style images of the sun and the moon and this complimented Cyrano's outlook on the world. The scene changes were all carried out by the ensemble and the catchy music and singing made the whole piece flow seamlessly.
Overall this production was an engaging, funny and sophisticated play that effortlessly conjured up the atmosphere of 17th Century France. The story is deceptively complex and unpredictable and this a detailed character study of a brave and clever but ultimately flawed young man.
The production in one word: heartfelt
Reviewer: Elizabeth Vile
Reviewed: 11th April 2017
North West End Rating: ★★★★