Based on E.M. Forster's short story of the same name, 'The Machine Stops', is a post-apocalyptic piece that tells the story of Vashti who, like the rest of humanity, lives alone in a small hexagonal cell with her needs serviced by the titular Machine. Vashti is caught up in her son Kuno's desperate attempts to escape his underground home, and live once again on the surface of the Earth. This one act play fuses physical theatre, sound, lighting and intriguing characters together to create an absorbing and thought-provoking evening.
Vashti, confidently performed by Ricky Butt, is torn between her love for her eldest son and her fear of the unknown. She takes the audience on a journey from ignorance and an all-consuming dependency on The Machine to a desire for change and hope for a new life. Rohan Nedd (Kuno) is an engaging performer who brings out the naivety of youth, and his enthusiasm for change is a stark contrast to his mother's mostly stoic acceptance of the status quo. His talent to engage an audience was clearly demonstrated during his main monologue where he described his journey to the surface. His story telling skills were admirable and the physicality of his performance was awe inspiring.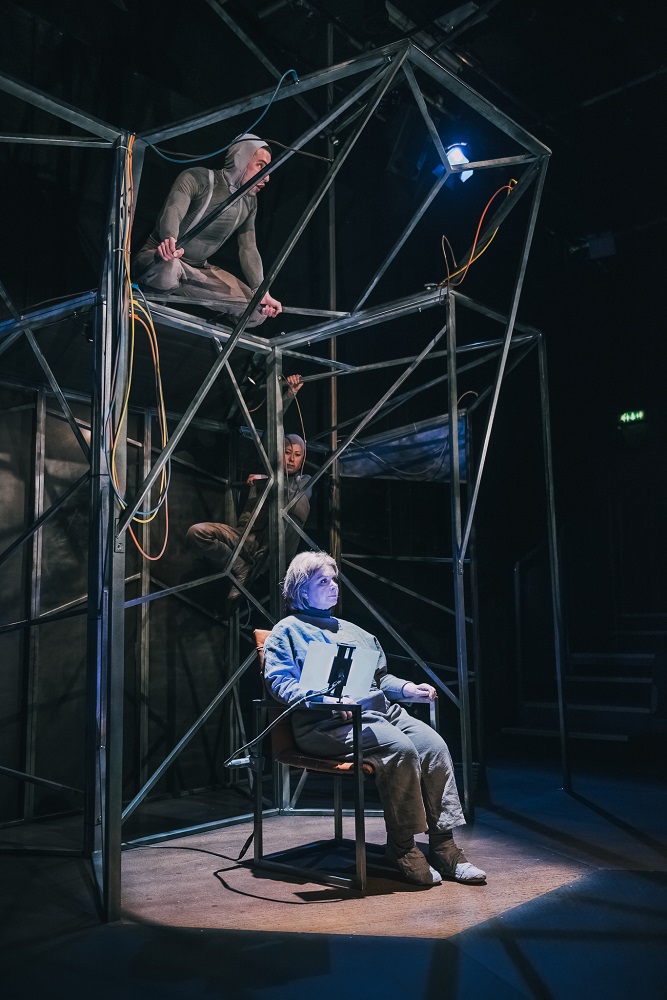 The most intriguing character in the piece was The Machine, energetically performed by Maria Gray (Machine 1) and Adam Slynn (Machine 2). Their agile and strong performances made the audience believe that The Machine was evolving and manipulating its human owners to do their bidding, and their subtle signs that the machine was breaking were particularly effective. Their use of the set was creative and really added to the claustrophobic feel of the staging.
The set had an industrial feel, comprising a web of metal bars that cocooned Vashti's hexagonal room, with coloured wires that represented the workings of The Machine. The hexagon motif was prevalent in all structures, aptly likened in the play to cells in a bee hive, as each housed an industrious worker who was subservient of their Queen, The Machine. The music, composed by John Foxx and Benge was atmospheric and gave a real sense of tension and rising panic to the piece.
Overall this production was highly inventive with its use of set and creation of characters. The cast worked well together to create a slick and tension filled piece that explored the themes of technology, religion and love in a contemporary way. This was a prophetic tale that would be well worth heeding as we all become more dependent on technology in our everyday lives.
The production in one word: mesmerising
Reviewer: Elizabeth Vile
Reviewed: 10th February 2017
North West End Rating: ★★★★★
Photo: Ben Bentley