Once upon a time the class divisions in our country were pretty damn clear so when George Bernard Shaw penned Pygmalion over a century ago his targets were obvious, but in today's multi- cultural, technology obsessed Britain how we identify ourselves or each other is far less clear.
So, Headlong Theatre's modern interpretation of Pygmalion is timely as they cunningly meld the original text with a sometimes overwhelming array of technology and sounds. So. it's out with phonogram, and in with digital recording devices, video projections and soundbooths scattered round the sparse set.
Pygmalion is famously a play about class, but it is as much a meditation on the power of the sounds human make, and how even today the way we speak shapes our identity and social standing, so it was a smart move to hire the award winning Ringham brothers as sound designers. They really throw the kitchen sink at it sonically, including an impromptu rap that clearly spooked an audience full of older theatre goers.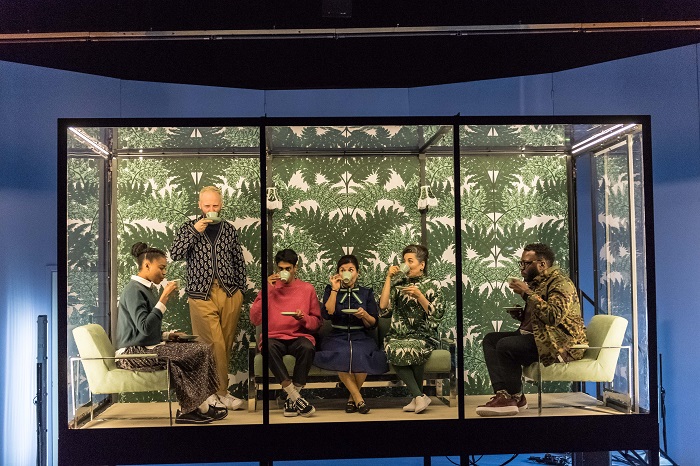 Their inventiveness worked brilliantly in the opening scene where the cast lip synced the text using over 20 voices the Ringhams had collected from across the country, and painstakingly pieced together in rehearsals. That clever little touch sets the tone for Eliza's elevation from common flower girl to passing herself off as a fake duchess thanks to the tuition of flawed phonics expert Professor Henry Higgins and his sidekick the avuncular Colonel Pickering.
It's easy to forget that Higgins is a terrible creature bullying Eliza to banish her dropped h's and coarse accent so she can climb out of poverty and better herself. RADA trained Alex Bennett is not afraid to play Higgins as a child like obsessive monster who despite himself is changed by his own creation.
Bradford born Natalie Gavin is believable as Eliza moves from the gutter and shell suits to an elegant woman who can pass muster amongst the posh folk at a Buckingham Place garden party. The moment she corrects Higgins' cack handed pronunciation of Keighley in a broad Yorkshire accent is comedy gold as is the bleeping of the soft expletive 'bloody' which caused such scandal in Bernard Shaw's day.
The hulking Raphael Sowole is charm personified as the thoroughly decent Pickering and Liza Sadovy turns in a subtly subversive turn as the Professor's long suffering posh mother ironically trying to persuade him to behave like a gentleman.
In the midst all the noise and tech Sam Pritchard's direction shrewdly plays around with Bernard Shaw's damning indictment of straight-laced Edwardian Britain on the cusp of radical change.
There is a lovely nod to My Fair Lady - inspired by Pygmalion - that does raise a rueful smile.
Bernard Shaw was to his very core a radical, who doubted that anyone could ever stage Pygmalion, so he would no doubt have applauded Pritchard's ambition and willingness to experiment that on the whole does work.
The irony is that while Pygmalion is about the benefits and dangers of social mobility you are sat watching it in a theatre full of the middle classes. I'd be willing to bet my house that there wasn't one person in the audience from the nearby Burmantofts estate just a mile or so away from this theatre's door.
The fact that theatre remains so middle class makes this production even more important as this government smashes the levers of social mobility that would enable a modern day Eliza to feel comfortable taking her seat next to theatre's usual suspects.
Pygmalion runs at Work Yorkshire Playhouse until Saturday 25th February. To book go to www.wyp.org.uk or 0113 213 7700.
Reviewer: Paul Clarke
Reviewed: 9th February 2016
North West End Rating: ★★★★
Photo: Manuel Harlan