Following incredible success on Broadway and the West End, not to mention a Vegas season and even a movie, Rock of Ages has certainly been a phenomenal hit.
Set in 1987ish' the show is based around The Sunset Strip in Los Angeles during a time when Rock and Heavy Metal had finally 'arrived' and set up their stall on the strip. It's essentially a love story about an up and coming rocker 'Drew' (Luke Walsh), and a reserved 'out of town' girl 'Sherrie' (Jodie Steele), who left her home town in search of her quest to be an actress. With many previous accolades to both of their names they complemented each other perfectly with phenomenal singing and dancing on both parts.
The character of 'Lonny' (Lucas Rush) was undoubtedly the central focus of all that was hilarious in the show. Doubling his character up with the role of narration, he was outstanding in a 'laugh out loud' kind of way. Camp, quirky, gregarious and demonstrating a hilarious relationship with Dennis (Kevin Kennedy) he stated to the audience how amusing he thought it was to realise that the role 'Curly Watts' was performing today was once played by the one and only Alec Baldwin.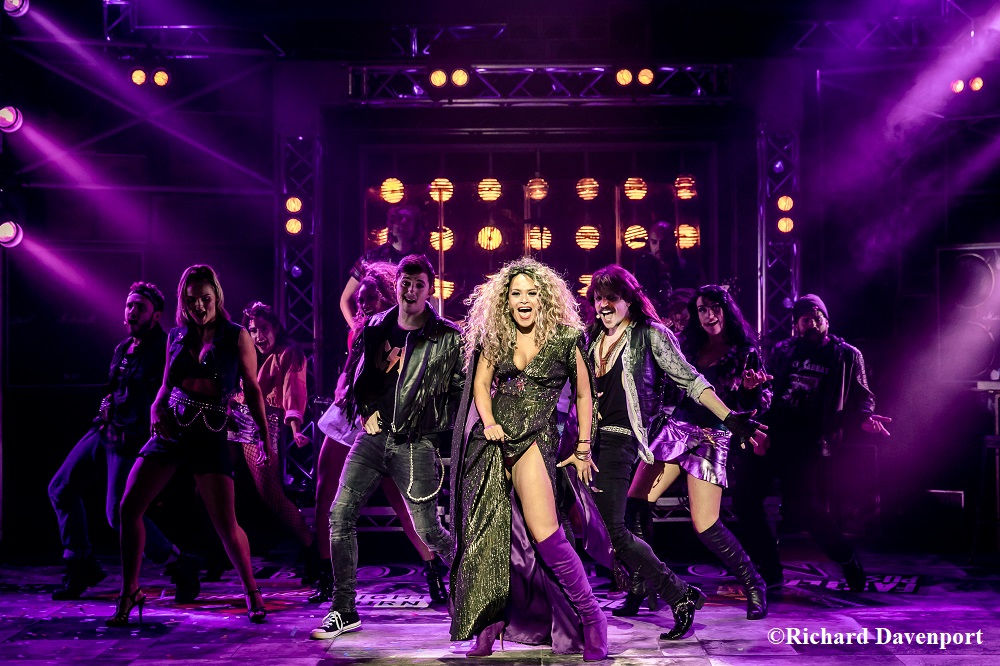 Kevin Clifton aka 'Kevin off Strictly' played the part of 'Stacee Jaxx' and seemed to love it too. We know this man can dance that's for sure but with singing, acting, pumping and grinding he was loving the role as were the delighted audience. This man certainly raised the bar playing the 'bad guy'.
Everyone who appeared on stage gave it their all, but a special mention must go to the stand out performance by Vas Constani who played the part of 'Hertz'. With an intentionally questionable German accent, hilarious dance moves and pure comedic timing this man knew exactly how to get the laughs from the audience. Also, Zoe Birkett deserves a mention playing 'Justice' as she lit the stage with her velvety vocals.
The music performed by a live band and directed by Barney Ashworth need to be applauded as they certainly were the unsung stars in many ways. Songs such as 'We Built This City', 'Every Rose has its Thorn' and of course the infamous 'Don't Stop Believin' which was sung at the end by the entire cast, along with a standing, singing, clapping audience provided a fitting finale to the show.
Initially I wondered if this show was really just for a captive, leather and denim clad audience of rock lovers. It certainly wasn't - it was for anyone with a love of rock music who could also laugh at this particular era as much as appreciate it for what it was.
Rock of Ages is so much fun. It's extremely high energy and very amusing. It's risqué throughout in that there were often scantily clad women and often the miming of sexual interactions, but all this was utterly hilarious to watch. Every scene had so much content- there was always somewhere to focus on that you wondered if anyone else saw.
I'm not sure what I had anticipated prior to going to Rock of Ages but I know that the show far surpassed any expectation I had. Feeling as though I'd been invited to an exclusive party- this was one hell of a show.
Reviewer: Angela Kelly
Reviewed: 12th February 2019
North West End Rating: ★★★★★