It may be 2018 in Stoke-on-Trent but we are transported to New York in 1922 as Thoroughly Modern Millie comes to the Regent Theatre stage. The whole setting feels very much at home in our cities beautiful theatre.
The show which is based on the film of the same name, which features the icon that is Julie Andrews, has won a Tony for best new musical when it opened in New York.
The show opens with Millie Dillmount (played by Hayley Tamaddon) leaving her very country Kansas life for the big city. Tamaddon was very present from the get-go, she was very physical throughout the entire show and in some points too much so, it seemed to step into the threshold of over-acting. I did wonder if it was because of how tiny she is as a person, that being said she had a voice big enough to fill the whole theatre and held her own in the dances.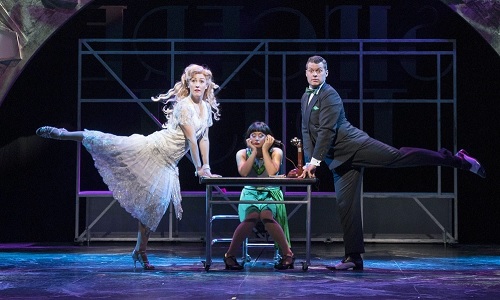 Lucas Rush, who played Mrs Meers, gave a very impressive performance. His characterisation throughout was spectacular. However, this part of a modern audience could be seen as highly risqué, at points I even found myself wincing with how risqué it was. He was greeted by boos as he took his final bow which made the whole thing feel very pantomime.
My favourite character in the show was easily Jimmy Smith, played by Michael Colbourne. Michael gave a completely simplistic but stunning performance. He was instantly likeable and charming. He and Tamaddon had a lovely chemistry together, especially during the scene on the window ledge. That scene was creatively stunning. Every piece of choreography in this routine was perfect.
Richard Meek, is an excellent comic as played a drunk well in the second half. He definitely gave the comedy highlights of the show.
The set and costume worked well thought out. I loved the use of the gates at the back to create different scenes this worked especially well as the lift. The costume was era-appropriate, the only piece I had a gripe with is the end of act one, Millie wore stunning mint green dress accompanied with a very glare inducing headband which ruined the scene: as it couldn't be seen due to the bright light beaming into the audience.
Overall the show was enjoyable, was it my favourite? No. But it's an enjoyable and fun night at the theatre.
Reviewer: Leanne Ashworth
Reviewed: 22nd May 2018
North West End Rating: ★★★