Unless you've been living under a rock, you must know the music of the iconic band that is Frankie Valli and the Four Seasons. The Jukebox musical based on the story of the four men who started it all is currently on stage, at the Regent Theatre Stoke-on-Trent. The show is running its second UK tour after recently closing in London.
The Regent Theatre auditorium was packed full to the brim with people young and old waiting to see this quite frankly remarkable show brought to a Stoke-on-Trent stage. On walking into the theatre you're greeted by the set which is simplistic but works for the show, the use of technology really helps set the scene during the show.
This is my third time seeing the show, why do I keep going back? Because it is one of the best nights at the theatre you'll ever experience. Period.
It is impossible not to love this show; it's an absolute lesson in what musical theatre should be. It has impeccable highs, where you can't stop smiling and heart-breaking lows so low you can feel the tears rolling down your face.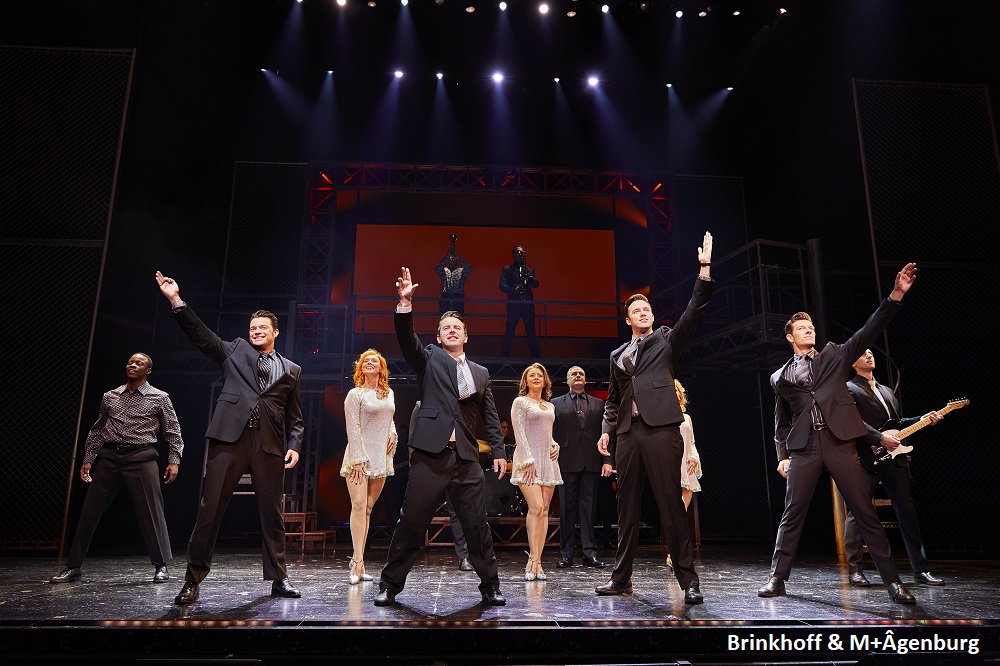 These can and do come straight after each other in this whirlwind show and the impact this has on the audience is spine-chilling. No matter how many times I've seen the show it still moves me to tears. In all my years as a theatregoer, I've never heard an end applause like the one the show received tonight. The sound was almost deafening as people 'whooped' and 'cheered' the final song. Every last person in the theatre was on their feet and it was extremely well deserved. The amount of hard work being done on that stage is a credit to all involved.
The reason this show is so remarkable is the cast, who are true showmen. You will be hard-pushed to find a stronger cast than this.
Michael Watson as Frankie is an exceptional frontman. This is one of the hardest male singing roles currently in musical theatre. He didn't falter in his vocal performance and acting was just superb. If you want to see a true passion for the theatre, this is one to watch.
Simon Bailey as Tommy De Vito was every inch the swarve, sophisticated and scummy character he should be. There were points in the show you loved to hate him; then other moments you couldn't help but love him. He was an incredible storyteller.
James Winter as Bob Gaudio was innocence personified, this was a very humble and sincere performance. His voice was crisp and clear and the audience hung on his every word. His storytelling was second to none. I couldn't quite believe he was an understudy because this was a first class performance.
Karl James Wilson gave a superb performance as the baritone, Nick Massi. He brought the comedy at the exact moments he needed. He was clearly loving every second on that stage.
These four together sounded phenomenal.
The rest of the cast was equally as strong and piece by piece brought this incredible show to life. Joel Elferink gave a stand out performance for me as Bob Crewe.
Overall the show is a complete triumph! If you go and see one show this year make it this one, because 'Oh What a Night' you'll have.
Reviewer: Leanne Ashworth
Reviewed: 7th February 2018
North West End Rating: ★★★★★
*Image shows Lewis Griffiths (R) as Nick Massi