Unless you've been living under a rock since the early 90's you will of heard of the phenomenon that is Take That, The Boyband that has been breaking hearts ever since. As a Stokie girl born and bred it's almost in my blood to love Take That, due to Mr Robbie Williams coming from Stoke.
My mum has brought me up on their music, I was born in 1994 so mid phenomenon. I've been to several of their concerts so obviously I couldn't wait to see 'The Band' come to the Regent Theatre stage. The auditorium was buzzing with people of all ages, as you entered the theatre there was a projection of different teletext slides which put you straight into the 90s.
The show itself was creative, witty and heart-warming. It follows the story of Rachel and her best friends over the period of 25 years. The show has a very Shirley Valentine feel to it, as Rachel played by Rachel Lumberg narrates her life story often underscored by the song 'This is the Life' which worked perfectly. The set design was impeccable using levels, layers and projections to piece everything together beautifully. I particularly loved the statue which was made up of actual members of the band Five to Five.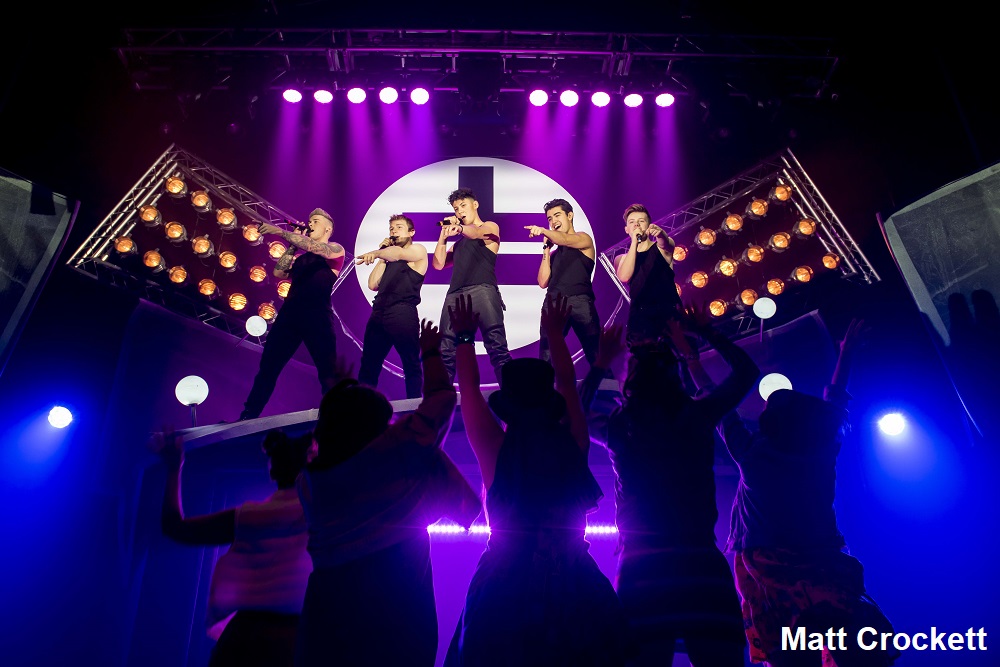 This jukebox musical incorporates the music of Take That seamlessly, everything just flows, it just works and it works perfectly. The script by Tim Firth is a perfect poignant portrayal of growing up, heart aches, losing and regaining friendships.
Five to Five were exceptional in a word, having seen Take That several times they were almost a carbon copy of the boys. The owned the stage whenever they were on. The vocals they provided were stunning and the choreography by Kim Gavin was spectacular. This choreography particularly shone in 'The Flood' when they recreated the iconic stance used on the 'Progress' album cover.
Rachel Lumberg and Faye Christall played Rachel young and old, both had stunning comedy timing. They managed to mirror each other's body language to an absolute tee. These were both stunning performances, they both held the audience in the palm of their hands. This was an absolute lesson on stage craft from both.
Alison Fitzjohn, who played the older version of Claire brought a lot of comic relief to the show. But also brought a tear to eye at points. But the thing that really shone about Claire for me is you could tell she was absolutely loving every second of being on that stage. She was beaming. Sarah Kate Howarth who played a younger Claire had stunning vocals and gelled wonderfully with the other girls.
Emily Joyce and Jayne McKenna also gave stunning performances as Zoe and Heather. The four women worked together perfectly. It was an absolute treat to watch. Katy Clayton, who played young Heather was brilliantly funny. Rachelle Diedericks played Debbie beautifully, this was a truly heart-breaking performance. Lauren Jacobs who played young Zoe also gave a lovely sweet performance.
Andy Williams, had me in stitches whenever he was on stage and Martin Miller gave such a sincere performance it was humble and heart-warming.
In a word, Go! Don't hesitate to go and see this show it'll make you laugh, cry and go home singing Take That into your hair brush. If you only went to see the final scene it's worth every penny for that alone.
Reviewer: Leanne Ashworth
Reviewed: 28th November 2017
North West End Rating: ★★★★★