Stoke-on-Trent get ready to don your leg warmers, curl your hair and dance like a 'maniac on the floor.' As Flashdance has hit the Regent Theatre stage. The show which is based on the classic 80's film features some legendary musical numbers that you will make you leave the theatre singing and in some cases dancing. A woman in front of me was showcasing her own take on some of the moves.
The stage is set when you enter the auditorium lit with a hazy blue tinge. One of my only gripes with the show is the sheer amount of stage smoke used. My eyes couldn't adjust as it was constantly being pumped into the audience during and before the show. I understand that some smoke will add to the ambiance of the show, but the amount used was a bit extreme. The staging itself was creative, clever and classic. I loved the use of projector screens and stairs it really brought the show to life. Some points of lighting were also a tad extreme, at one point a huge blinding whitewash was used for a scene change and every audience member in the path of the light winced. I also felt that at points the costume was a little too dull, some paler blue costumes got a bit lost.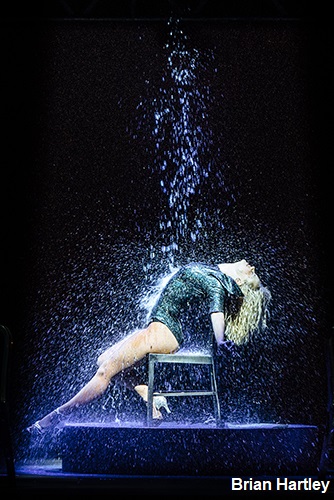 The choreography by Matt Cole is worth the price of your ticket alone! It's fast-paced, fearless and fantastic. The iconic moves linked with the film are all present but with some new exciting moves brought in too. Which the dancer's on that stage made look effortless. Every dancer on that stage gave it everything they had and more. The energy in this show is possibly the highest I've ever seen. That's down to an absolutely stellar cast.
That stellar cast is led by Joanne Clifton, of Strictly Come Dancing fame. Her performance was faultless, she gave it her all and brought the character of 'Alex' to life. Her dance skills are extremely apparent throughout the show and her voice was lovely too. She held her own in every song and I think she has a very long musical theatre career in front of her.
Ben Adams, of A1 fame, was her co-star as the love interest and boss figure Nick Hurley. His acting was superb his American accent didn't slip once, he maintained his character throughout. His voice was also very sweet, you could hear his boyband roots very clearly throughout his songs. The chemistry between himself and Clifton was really apparent throughout and during the encore they seemed to be having a whale of a time together. He also has a very long musical theatre career in front of him.
The sweetest and most humble performance came from Colin Kiyani as Jimmy. His presence on stage was warm and endearing. In the second half he was extremely moving to watch, he and his onstage uncle Rikki Chamberlain gave a beautiful dialogue that could melt the heart. Kiyani's song 'Where We Belong' was a standout performance for me. He and Hollie-Ann Lowe as Gloria had lovely chemistry on stage together. Carol Ball as Hannah was moving, endearing and heartbreaking she gave an incredible performance.
Overall, the show is a hit. There are a few minor glitches such as the stage smoke and blinding lights. But past that, the atmosphere was buzzing everyone in the theatre were up on their feet at the end of the show and dancing away. This is the perfect feel-good night out. I implore you to go and not leave smiling.
Reviewer: Leanne Ashworth
Reviewed: 25th September 2017
North West End Rating: ★★★★