The Regent Theatre is transported to Philadelphia in 1977 to play witness to a murder, a miracle and a musical as Craig Revel Horwood's production of Sister Act is brought to Stoke. Practically every knows this heart-warming story of a singer trying to find her way in the world of Soul Music but the way she ended up going was completely different. The film is now rated as a classic starring the comedy genius that is Whoopi Goldberg. Does the film transfer to a musical? Yes it does, with bows and whistles and throw a tambourine or two in there for good measure.
The stage is visually stunning on entrance to the auditorium with an organ being the main focus and the most stunning point for me was the two windows that reflected onto the floor these gave the perfect church setting without going too far. The costumes were also completely time consuming and at points beyond brilliant especially Eddie's costume during his solo.
Horwood's direction and choreography was brilliant mostly, however a few points looked a little clumsy and over-crowded but that could be the first night in a new theatre. He captured the essence of the show wonderfully. The choreography was a definite highlight throughout the show, he pushed when it needed to be full on and kept it reserved at other points. This I thought worked perfectly. Cast wise Horwood's creative team got this pretty spot on.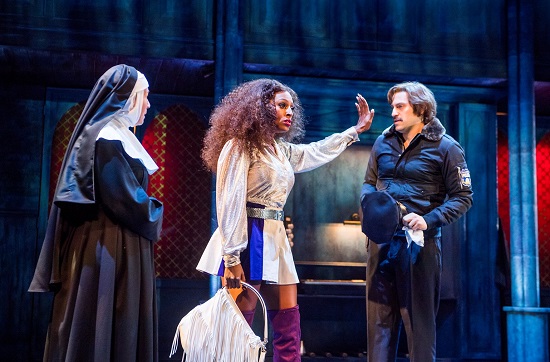 Alexandra Burke took on the role of Deloris Van Cartier, the X Factor winners voice is an absolute marvel. Every song seemed effortless. Her acting also surprised me as she was really very strong and her accent was kept up perfectly. A few of her comedy lines lacked a bit of gumption but that could have easily been a choice she's made. She is one big name that I'm glad has come into the theatre world as she played this role wonderfully.
Joe Vetch as Eddie was my favourite performance of the night. He had me and the rest of the audience completely in the palm of his hands. He was adorable, goofy and wholesome. I genuinely found myself wanting to jump up out of my chair at the end of the show when he plucked up the courage. Vetch's voice was so sweet and controlled. I heard people around me saying his song was their favourite it was very clear to me why. (It was also mine too.)
Karen Mann as the Mother Superior commanded the stage and rightly so. Her voice had so much authority. Alice Stokoe as Mary Roberts played the timidness wonderfully and what a set of pipes! Susannah Van Den Berg and Liz Kitchen brought the comedy amongst the nuns and both made me laugh out loud throughout. All the nuns worked together in perfect harmony. Even vocally at the end!
Aaron Lee Lambert as Curtis was the swarvest villain of all time I think. He was cool and collected, he and his 'boys' are definitely what I'd call characters you love to hate. They were hysterical at points and the songs we heard from them were too.
This is the kind of feel good show you want to see at the start of the week and even the end. You won't regret watching this show you'll come out being singing and wishing you had some sparkly nun attire so you could have jumped up and sang with them too. The show was practically sold out and every person in that theatre was up on their feet at the end and rightly so.
Reviewer: Leanne Ashworth
Reviewed: 8th May 2017
North West End Rating: ★★★★
Photo: Tristram Kenton