The Regent Theatre is playing host to a very hazardous guest this week as the Olivier award winning comedy The Play That Goes Wrong comes to Stoke-on-Trent. The second you walk into the auditorium you are greeted to an incredibly impressive set which resembles a 1920's stately home. Only later on in the show do you realise just how impressive this set truly is.
There is pre show interaction from three of the cast which instantly lets you know the type of night you've let yourself in for and that is one of the best nights you'll have at the theatre.
The script written by Henry Lewis, Jonathan Sayer and Henry Shields is witty, comical and fast paced throughout. My sides actually hurt when I left the theatre from the amount I'd laughed and I also resembled Alice Cooper as my mascara had ran down my face from actual tears of laughter. Some of the gags you knew what was coming but they still got you laughing and the ones you didn't expect, well they got you roaring with laughter.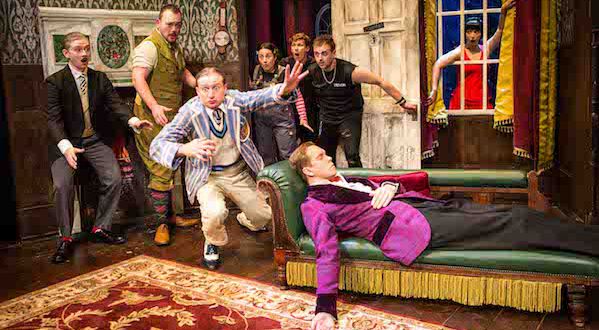 Mark Bell did an insanely good job directing this play as the pacing was perfection, every pause, every fall and every movement was just perfection. The set designed by Nigel Hook must be one of the most impressive theatrical sets I've ever seen when you walk in, yes it's striking, but how the set literally transforms throughout the play is the marvellous bit about it all.
The cast all worked together wonderfully. They completely got the feel of each character, they knew there funny points and knew when to tone down for others. They were all on such a high theatrical level not just as their own actor but as an entire ensemble they just worked. They brought this side splitting funny show to life and had the whole audience in the palms of their hands. The sheer amount of laughter coming from the theatre was at points colossal so colossal in fact that at points lines were being lost due to the sheer volume of laughter coming from the audience. The audience also; oohed, ahhed, winced and clapped during the entire show.
This is potentially my favourite comedy show of all time. If you want a show that will make you properly belly laugh, break those bank holiday blues and bring a genuine smile from ear to ear old your face The Play That Goes Wrong is the show for you. It's two hours of absolute delight and one that the entire family can enjoy as well. Please don't hesitate to book this show it's a laugh a minute and not one of those minutes dragged. It's very true what they say time flies when you're having fun and is this is the most fun you'll have at the theatre.
Reviewer: Leanne Ashworth
Reviewed: 1st May 2017
North West End Rating: ★★★★★
Photo: Helen Murray