The Potteries have been graced this week by the musical adaptation of the film most famous for its pottery throwing scene. The show adapted from Ghost the film has had mountains of success since it opened a few years ago in Manchester including a West End run and another tour. The theatre was packed last night with people of all ages excited to see the spirt of Ghost brought to life.
Now here's where this one is a different this version of the show. It is very scaled down in illusions and tricks and sometimes this worked wonderfully and other times not so much. If you hadn't seen the show before I think you'd be entirely blown away by the stunts. The set in this version is very cleverly done I especially liked the lit up skyline in blue as it very cleverly looked like a life support machine and was used brilliantly through the entire show. The flat looked homely and spacious and brought you into the scene and Manhattan remarkably.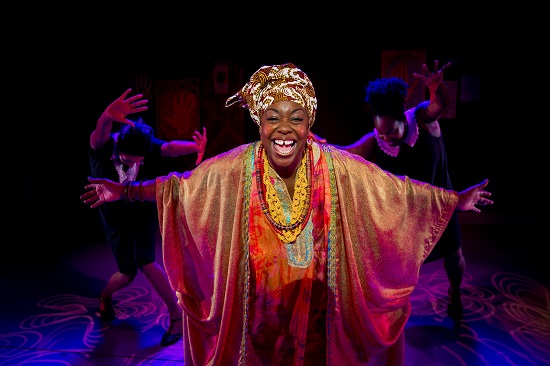 The cast as a whole were exceptional. I adored Jacqui Dubois as Ode Mae Brown she was the highlight of the show for me her comic timing was impeccable. She didn't need to overdo the role to be funny she just was hilarious naturally. Her bright costumes matched her bright character throughout. But when she needed to rein the comedy in she could and she did this effortlessly. She brought some really tear jerking moments to the show towards the end. This was a first class performance if I have seen one.
Andy Moss as Sam Wheat firstly what a voice! He sang every song which such a grace, his voice fitted the role perfectly. I was really drawn in by his performance. I felt every moment of his pain in the show, he never over did anything it was all just incredibly simplistic it was true emotion shown on that stage from Moss. I have a feeling we will be seeing him in musicals from now on and for a very long time and I for one can't wait to get tickets for them. I absolutely adored his performance last night.
Lauren Drew understudied the role of Molly last night, she was superb. Her version of With You was tear jerking. She sang every song beautifully her voice was effortless. Another song she sang stunningly was Nothing Stops Another Day. Sam Ferriday as Carl, caught this role perfectly he was smarmy and slimy but at the start you truly felt the friendship between him and Sam. Which made the fatal blow so much more upsetting. He bounced off every other character wonderfully.
James Earl Adair was another performance I adored. His hospital ghost was smooth, sweet and gracious performance. He introduced Sam into purgatory perfectly. The whole ensemble of the show were consistently brilliant. In many of their scenes however I couldn't take my eyes off Michael Ward and Lori Barker they hit every movement with such attack your eyes were instantly drawn towards the two of them.
Overall, the show was wonderful. Lacking in some of the big wow stunts that you'd expect if you've seen the film. But go and see the show before it gets 'Outta Here.'
Reviewer: Leanne Ashworth
Reviewed: 20th March 2017
North West End Rating: ★★★★
Photo: Matt Martin