"Green Door, what's that secret you're keeping?"
It is not often you see a powerful, heartfelt piece of theatre that also makes a point.
Green Door is a true story, simply told, with some lovely moments of humour and flashes of Shakin' Stevens (I can't say that I was ever a fan of old Shaky).
Originally, this piece was performed as a shorter, 20 minute, play in 2018 before the writer and performer, Ann Brown, expanded it into a fully formed 60 minute monologue.
She tells her tale with confidence and wit. It is a dark story of domestic abuse, but it needs to be told.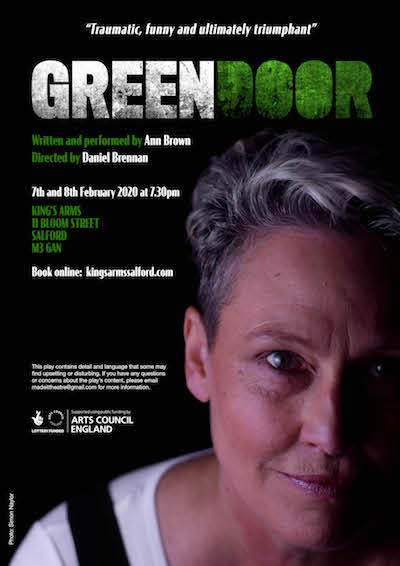 Director Daniel Brennan makes sure the monologue can be performed in as unfussy a manner as possible. There are a couple of chairs on stage, a disco light and some sunglasses. Lighting is minimal and used to illuminate, or not, crucial moments.
This is a shocking story told in a simple down to earth way by a woman of sense. There are moments of romanticism, poetry almost, but nothing gets in the way of the narrative. Her intelligence and depth of feeling shines through and you can't help but be moved by her and what happened to her.
It is, as she points out, not an uncommon story. With two women every week being killed by domestic violence, it is all too common.
Her story starts in the mid-nineties when she goes on a caravan holiday with her parents and two young children. One night she meets fellow Shakin' Stevens fan Danny and falls for his shiny shoes.
Secrets and lies, love and deceit, depression and guilt all follow. She tells her story with such honesty and clarity you wonder how she fell for this man.
It is hard to make a monologue work effectively. Without light and shade a monologue can become, well, monotonous. This play was anything but that, it remained compelling to the end. Ann was such an engaging presence on stage you wanted to hear everything she had to say.
She hopes that this play will help other women. Once she had come out of the other side of her experience she realised she was not alone. Ann knew she needed a platform to tell her tale. No longer would she be dismissed as a, 'mad woman.'
It is apposite that this play should emerge in the wake of the Harvey Weinstein scandal and the #MeToo movement. Her life may be a world away from Hollywood stars, but the effect of male control and violence are still the same.
After the play there was a question and answer session. Unfortunately, I couldn't stay for this, but Ann said she is happy to talk about her story for hours.
They are applying for an Arts Council grant to further develop Green Door. I hope they get it as this play deserves to be seen even if it does have Shakin' Stevens in it.
Reviewer: Adam Williams
Reviewed: 7th February 2020
North West End UK Rating: ★★★★